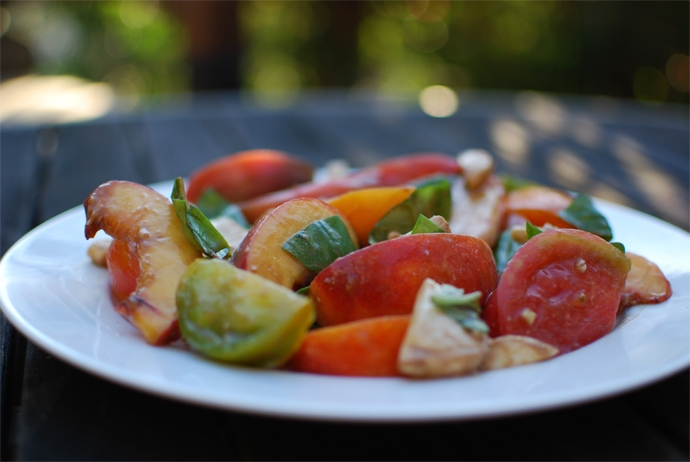 I'll have to admit that I've been feeling a little unhealthy over this past week – minimal time spent doing physical activities and maximum time spent consuming large quantities of processed junk.  In an attempt to turn things around, I made this Heirloom Tomato and Peach Caprese Salad last night.  Topped with a homemade balsamic vinaigrette, this salad is a fresh mix of heirloom tomatoes, sliced peaches, mozzarella cheese and chopped basil.  Followed by a lengthy walk through Balboa Park, this dinner was just what I needed to go from feeling no good to so good.  Continue reading for the recipe.
Heirloom Tomato and Peach Caprese Salad
Adapted from Appetite.
For the salad:
2 pounds ripe heirloom tomatoes, sliced into wedges or chunks
1 pound ripe peaches, sliced into wedges or chunks
10 ounces fresh mozzarella cheese, chopped
A handful or two of fresh basil leaves, roughly chopped
For the dressing:
¼ cup balsamic vinegar
½ cup extra virgin olive oil
1 teaspoon dijon mustard
2 cloves garlic, chopped
1 teaspoon dark brown sugar
Kosher salt
Freshly ground black pepper
Combine balsamic vinegar, extra virgin olive oil, dijon mustard, garlic and dark brown sugar in a mason jar.  Season with a large pinch of kosher salt and several turns of freshly ground black pepper.  Screw on the top of the jar and shake to combine.
Drizzle some of the dressing in the bottom of a large salad bowl.  Add sliced tomatoes, peaches, mozzarella cheese and basil.  Top with more salad dressing to taste.  Gently toss to combine.
Makes 6 servings.