You guys, these eggs.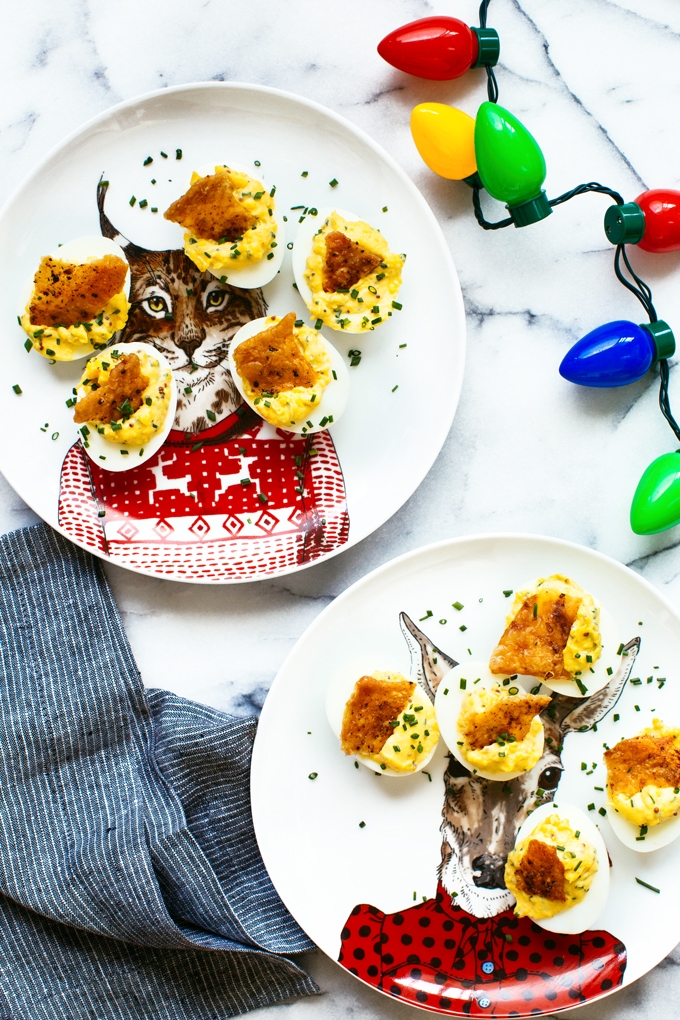 First, I need to talk about crispy chicken skins.  I feel like they might be the best thing that practically no one is eating.  The method is simple.  Season chicken skins with salt and pepper, and cook until golden and crispy.  I like to cook them in the oven between to baking sheets to eliminate mess and ensure a flat chicken chip.  No additional oil is needed, because the skins cook in the accompanying chicken fat.  Let. me. tell. you.  These chicken skins are one of my favorite salty, savory snacks.  The texture is shatteringly crispy, and the flavor is pure golden succulence.  I love them so much that I decided to build a deviled egg recipe around them 🙂
Mustard and chicken is a classic combination, so these deviled eggs are simply flavored with both Dijon and whole grain mustard.  Lime juice is added for brightness, and chopped chives for a mellow onion note.  The eggs are finished with a shard of chicken skin that provides a satisfying, salty crunch.  Mustard Deviled Eggs with Crispy Chicken Skin would be a perfect addition to any holiday appetizer table, and they pair beautifully with an ice cold beer.  Continue reading for the recipe.