Hello friends and Happy Monday!!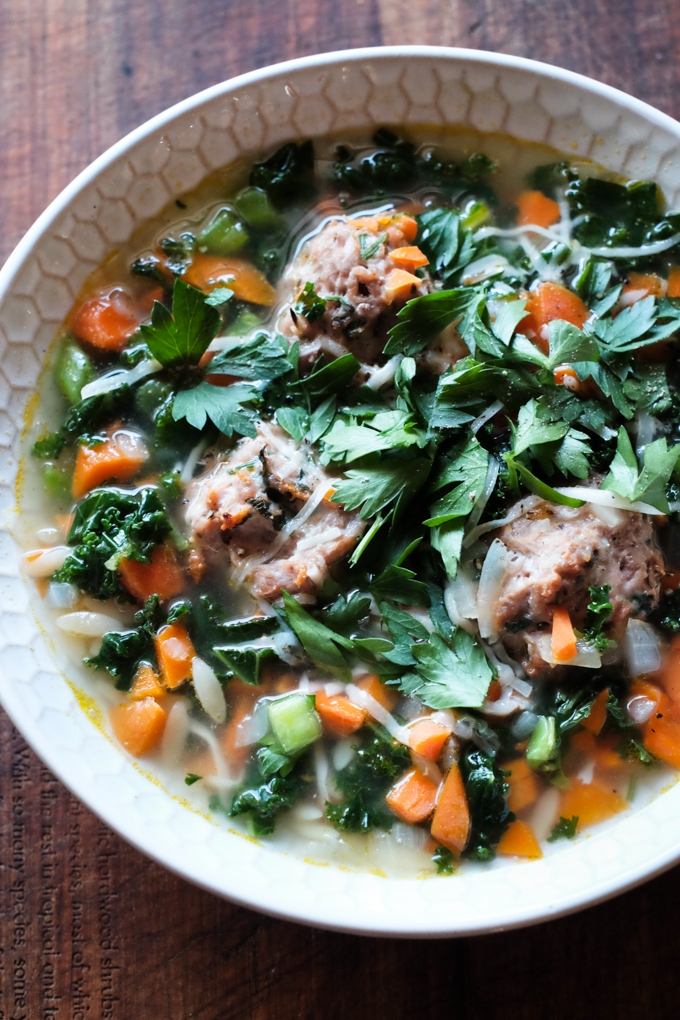 Today's soup recipe is a special one in partnership with Terra's Kitchen, a meal delivery service that specializes in healthy, 30-minute meals!  Jorge and I do a lot of cooking at home, but from time-to-time, we love to get meals delivered to switch things up.  Terra's Kitchen has a lot of tasty options, but I was immediately draw to this Turkey Meatballs, Kale and Orzo Soup.  The recipe starts with homemade turkey meatballs, flavored with parsley, oregano and Parmesan cheese, cooked until golden under a hot broiler.  Onions and carrots are then sizzled in olive oil to form the base of the soup.  Chicken stock then joins the pot along with orzo, a rice-shaped pasta, kale and the golden meatballs.  The dish is finished with more Parmesan cheese and chopped parsley.  I just love how simple the meal was to prepare (TK pre-portions and pre-chops the ingredients), and the finished soup was both healthy and satisfying.  We even added a little squeeze of lemon and a dollop of pesto at the end to add our personal touch.
Below, you'll find a series of photos that captures the prep and cooking of this soup recipe.  This is somewhat of a new style here on Kitchen Konfidence, so if you like it (or don't!), please let me know in the comments below.  Continue reading for the recipe.