Today I'm taking penne vodka, a childhood favorite of mine, and transforming it into a creamy, cheesy baked pasta topped with crunchy basil breadcrumbs.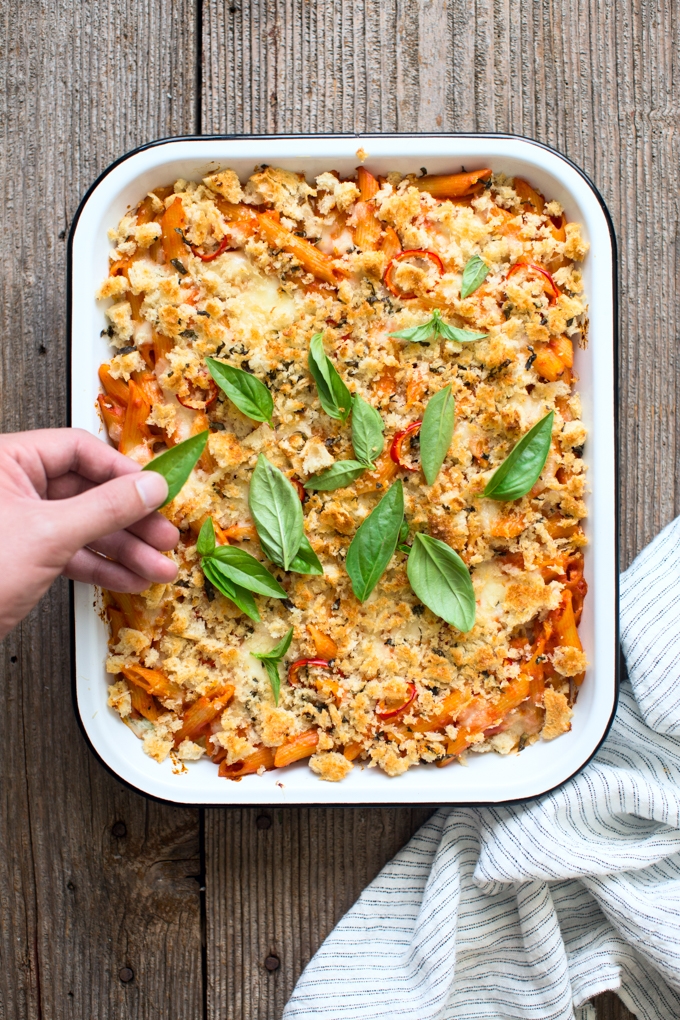 Growing up, my mother never made vodka sauce, but from time-to-time, she would make a special trip to an Italian market to purchase their pre made sauce.  It was rich and silky with some big, bold tomato flavor.  Such a treat.
In this penne vodka recipe, I tried to capture the spirit of that sauce (though it's been a while since I've had it!).  Finely chopped onions, garlic and red pepper flakes are simmered in olive oil then cooked with tomato paste, strained tomatoes and vodka.  Cream is added at the end for richness.  Vodka, although flavorless and odorless, adds some heat and brightness to the sauce once cooked down, helping to balance the cream.
The vodka sauce is then tossed with penne and baked with a Parmesan white sauce, sliced red chiles, fresh mozzarella, and a layer of buttery breadcrumbs infused with basil.  This baked pasta is impressive enough to serve to company, but comforting enough to enjoy on a casual weeknight.  Continue reading for the recipe!