Plums are in season right now, so get your hands one some good ones while you still can!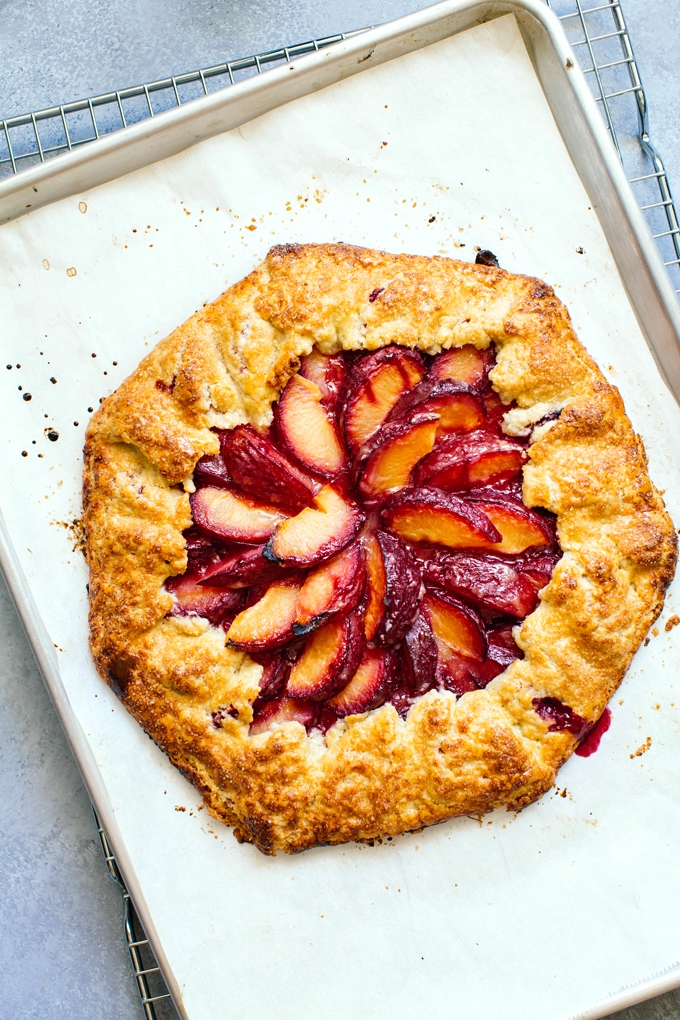 I recently managed to get my hands on a number of Flavor King Plums from Fog Hollow Farm located up near San Francisco.  These plums are absolutely gorgeous.  Vibrantly-hued and fragrant, the Flavor Kings just explode with sweet-tart juice at first bite, and somehow they manage to stay firm when ripe.  A perfect fruit for baking!
To honor this seasonal beauty, I decided to slice and bake them into flaky, golden galette (like a pie, but easier to make).  This recipe starts with a simple mix of white sugar, brown sugar, flour and salt, tossed together with the sliced plums.  The slices are then arranged in concentric circles on top of a smooth slab of butter-flecked pie dough. I like to make my own pie dough (more about that below), but you could certainly use store-bought. The galette is formed by bringing the sides of the dough up around the fruit, and then everything is baked until golden and bubbly.
This galette captures the pure essence of these Flavor King Plums. Enjoy as is or with a scoop of vanilla ice cream. I should mention too that this recipe is more of a template that can be applied to many other seasonal fruits. Don't have gorgeous plums? Try peaches, nectarines, apricots, pluots or berries instead. You could even use apples or pears in the autumn months! Continue reading for the recipe.