This recipe was born out of necessity.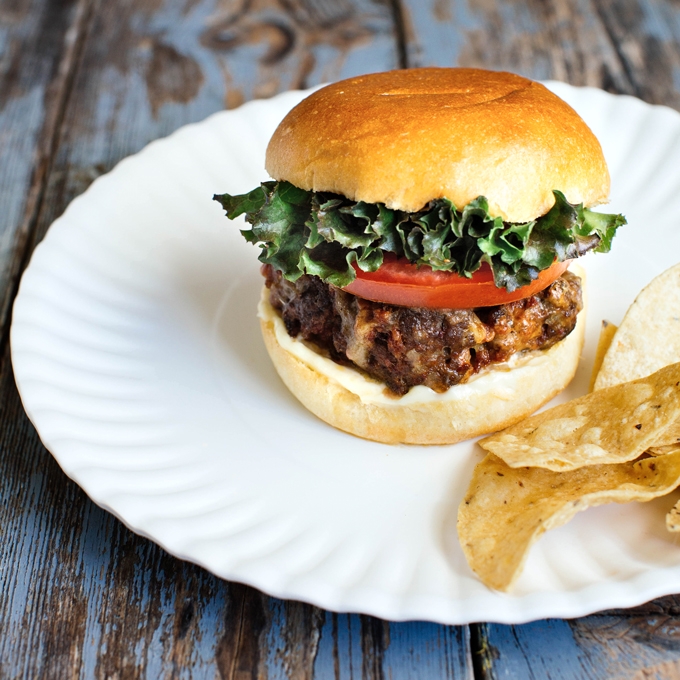 Several weeks ago, I made the unwise amazing decision to buy 6 pounds of Mexican chorizo at our Mexican Costco.  Mexican chorizo is the fresh kind, not cured (that's Spanish chorizo).  Pork impulse buys are a common occurrence when I'm strolling through the refrigerated aisles of Costco, and somehow I just couldn't help myself when I spotted the bundle of red-orange-hued chorizo.  After several batches of chorizo eggs, meatloaf and queso fundido, I found myself craving something different.  Given that it's summer and we've been doing a lot of our cooking outdoors, I landed on these Chorizo Cheddar Burgers.
The ingredient list is simple:  ground beef, Mexican pork chorizo, Kerrygold Aged Cheddar, garlic powder, salt and pepper.  Mix all that up in a bowl, divide into four patties, then grill, fry, broil or press into a sizzling round of golden brown perfection.  The combination of chorizo and aged cheddar is a major flavor bomb.  One that will surely induce a yum face.  Since this burger patty is quite bold, I like to serve it simply with lettuce, tomato, ketchup and mayo.  No fancy toppings needed here!  Continue reading for the recipe.