Are you ready for this?!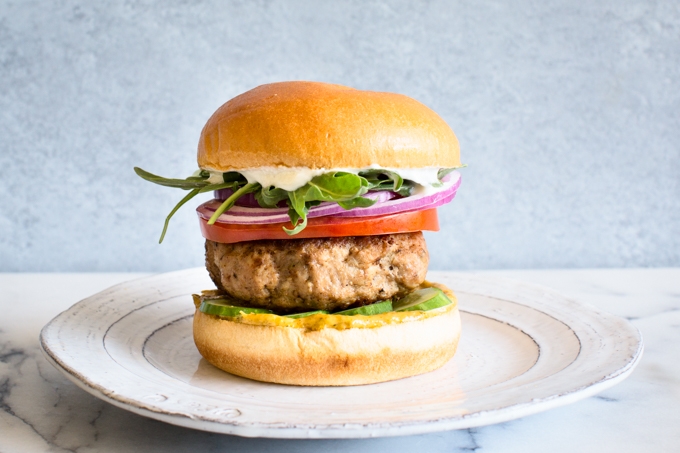 We're big burger fans at my house, so I'm always testing out new flavor combinations.  This Ultimate Mediterranean Turkey Burger was inspired by an incredibly delicious block of feta that I recently got a local market.  Both rich and salty, the brined cheese is transformed into a creamy wHipped feta, just 1 of the 2 sauces in this recipe.  To compliment the feta, I stacked up the burger as follows:
Bottom bun (brioche highly recommended)
Sun-dried tomato mayo
Sliced Persian cucumber
Turkey burger infused with garlic and fresh oregano
Tomato
Red onion
Arugula
wHipped feta
Top bun
Now THAT is a mouthful!  With each large bite, you'll get plenty of freshness from the veggies along with a sharp saltiness from the feta.  The 2-ingredient sun-dried tomato mayo adds some good moisture to the bottom half of the burger along with a surprising depth of flavor. And the turkey burger patty is hardly a throw-away.  Fresh oregano is quite strong compared to its dried counterpart, and when paired with garlic, it really takes turkey to the next level.  The marriage of all these flavors is what makes this burger recipe ultimate.  Continue reading for the recipe.