This cake is my secret weapon.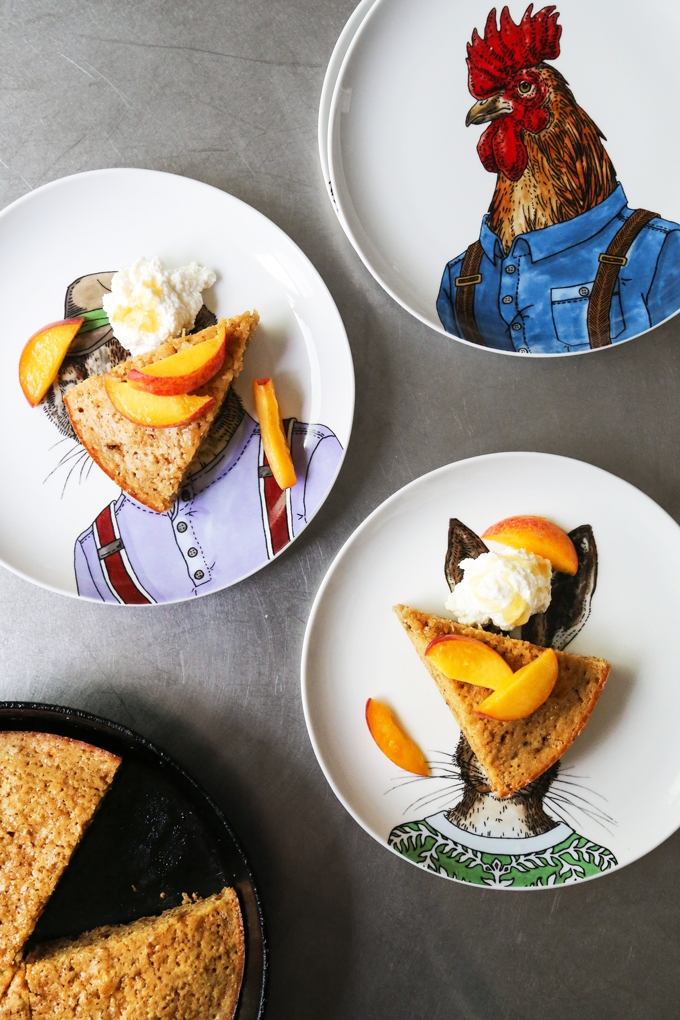 That's right, it's a secret weapon against any sweet cravings that may come along when I've got practically nothing in my refrigerator.  Made with the most basic ingredients, this Brown Butter Snacking Cake is a shining example of how, with a little technique, you can make something incredibly satisfying from just pantry and fridge staples.  Let's talk ingredients: butter, brown sugar, vanilla, flour, salt, baking powder, eggs, milk, sour cream, and turbinado sugar.  Simple, right?  The magic is the pairing of brown butter and brown sugar.
When you cook butter over a medium flame, the water in the butter evaporates, and the milk solids eventually caramelize, turning the liquid golden brown.  The resulting brown butter has a seductive, warm, nutty flavor and aroma that perfectly compliments the molasses notes of brown sugar.  Flour, baking powder, and eggs are added to the mix for structure; salt and vanilla to amp up flavor; and milk and sour cream for moisture.  A final sprinkling of turbinado sugar provides a crunchy contrast.
My Brown Butter Snacking Cake is not only tasty, it's also easy to prepare and super versatile.  After you brown the butter, this cake batter can be made in just one bowl.  No stand or hand mixers required.  I usually cook this cake in a 10″ cast iron skillet, but any baking dish would work.  I like to call this a "snacking cake," because I find myself snacking on it all day long.  A little slice with jam for breakfast, or a big slice with honey-sweetened ricotta and sliced peaches for dessert.  I've even layered it with vanilla ice cream and bourbon caramel sauce!  It pairs well with just about anything in your fridge/freezer.  Continue reading for the recipe.  I've also announced the winner of the WestRidge Beef Big Steaks package below.