Don't you just love a good buttermilk waffle?  I certainly do.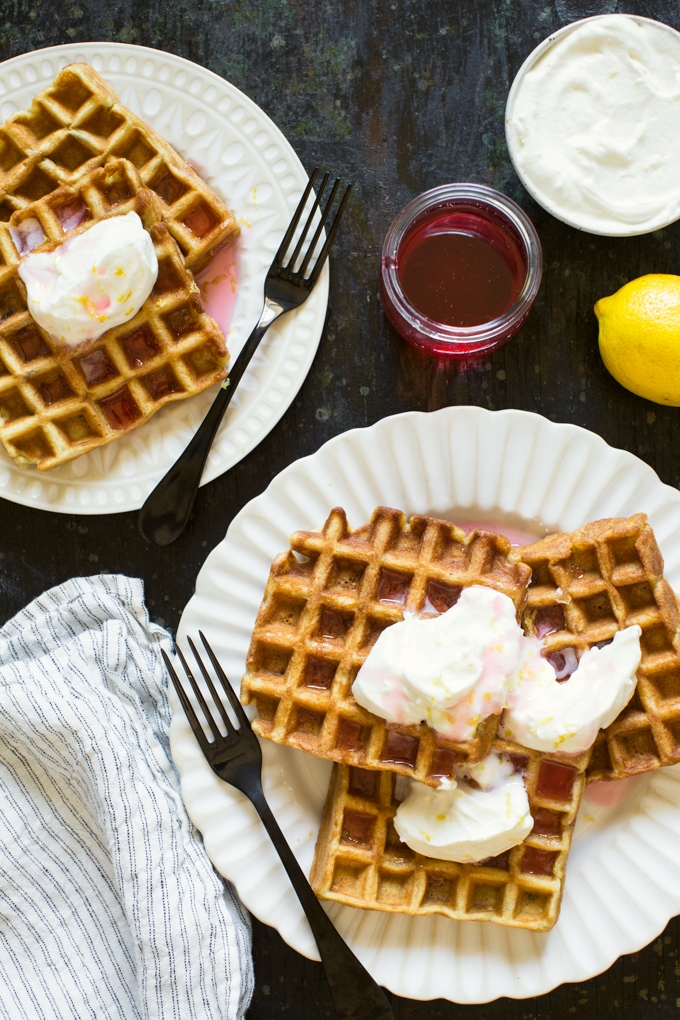 We make waffles frequently at our house, so I'm always experimenting with new flavors.  Recently I shared this spring cocktail recipe made with a strawberry rhubarb syrup, and while recipe testing, I thought to myself, "Wouldn't this syrup be perfect for breakfast too?!"  After a little additional tweaking and testing, I ended up with these Rhubarb Waffles with Lemon Whipped Cream.
The base here is a simple buttermilk waffle batter infused with butter and vanilla.  Sliced rhubarb is then cooked briefly in a mix of sugar and water.  The resulting poached rhubarb is folded into the waffle batter, and the remaining syrup is cooked down a little further until it takes on a maple syrup-like consistency.  This bubble gum-colored syrup gets drizzled over the golden waffles instead of maple syrup to add more rhubarb flavor.  The dish is finished with airy dollops of lemon-spiked whipped cream and a light dusting of lemon zest.  With each bite, you'll get a little sweet and a little tang followed by the buttery richness of the waffles. So. Darn. Tasty.  Continue reading for the recipe.