Hello friends and Happy Virtual Pumpkin Party Day!!  Today, 75+ bloggers are sharing their favorite pumpkin recipes, and I am bringing this Pumpkin, Olive Oil and Dark Chocolate Cake to the table!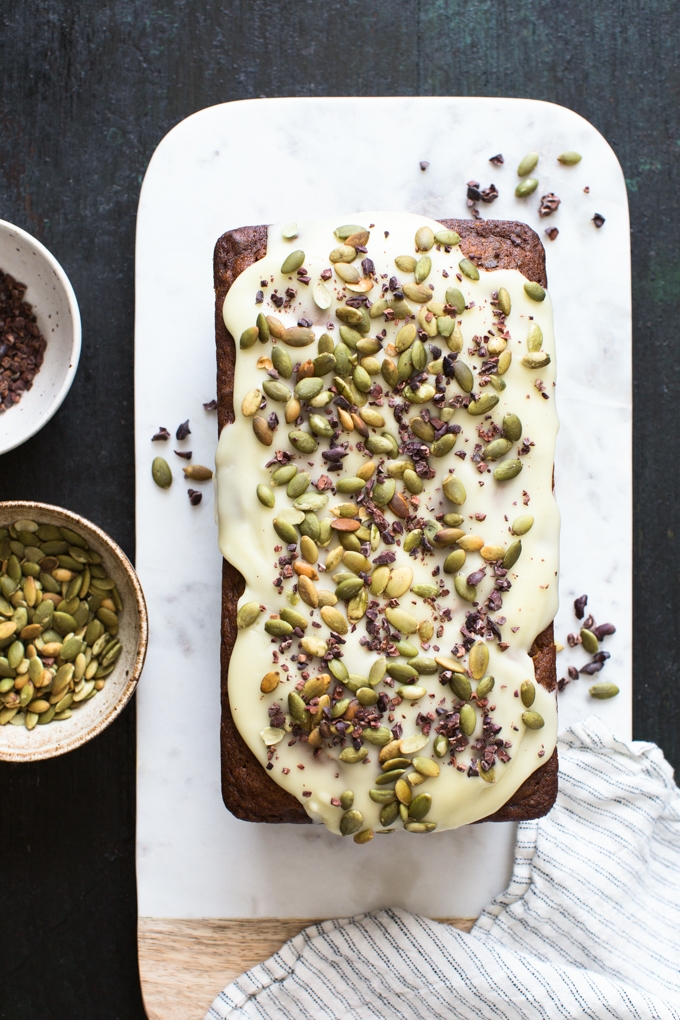 Every October, the lovely Sara from Cake Over Steak hosts the Virtual Pumpkin Party, and it's an event I look forward to each year.  In 2016, I made these Pumpkin Ricotta Gnocchi with Rosemary Brown Butter Sauce, and the year before that, I made Yeasted Pumpkin Waffles with Candied Ginger.  The recipes that the group comes up with are so inspiring, and they really push pumpkin to the limit!
My recipe today takes pumpkin bread to the next level.  Inspired by a recipe in the Gjelina cookbook, this cake starts with a can of pumpkin puree spread thin on a baking sheet.  The pumpkin is roasted in a hot oven until thick and rich (more about this below).  Next, you make a runny cake batter infused with cinnamon, nutmeg, roasted pumpkin and bits of bittersweet chocolate.  Pour the batter into a buttered loaf tin and bake until tender and golden.  The cooled cake is then blanketed with an olive oil glaze, toasted pepitas and cocoa nib shrapnel.  Each bite of this rich pumpkin cake is packed with chocolate and spice.  The glaze provides a hit of sweetness that has a surprisingly pleasant olive oil flavor while the confetti of toppings add bitterness and crunch.  Although somewhat casual in appearance, this pumpkin cake is a real special treat that is best enjoyed with a hot cup of coffee.  Continue reading for the recipe.