You guys!  This cocktail is so fresh and so delicious.  You absolutely must give it a try.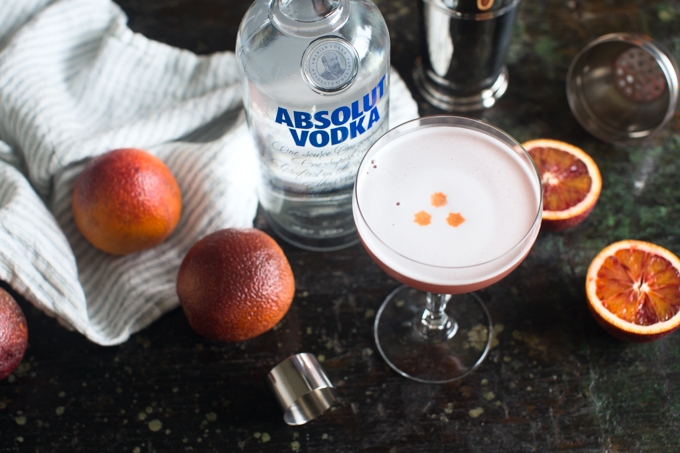 The base of this Blood Orange Vodka Sour recipe is a homemade sour mix made with one of my favorite seasonal ingredients, the blood orange.  Painted in blushing shades of orange and red, a blood orange has a distinct flavor with sweet notes of red berries.  When you slice one open, the fruit inside could be solid orange in color, solid maroon or a speckled mix of both.  To make the sour mix, you start by creating a simple syrup (equal parts sugar and water) infused with grated blood orange zest.  After the sugar is dissolved and the syrup cools, you stir in freshly squeezed blood orange and lemon juice.  Lemon is needed to add some sharpness to the mix.
Once you've made the sour mix, the rest of the cocktail is a breeze.  Fill a cocktail shaker with blood orange sour mix, Absolut Vodka and an egg white.  Shake to froth up the egg, add ice, then shake again to chill the drink.  Strain into a coupe glass and finish with a few drops of Angostura bitters.
Deep rouge beneath a pristine cap of white foam, this cocktail is a beauty perfect for Valentine's Day.  The combination of smooth vodka, ethereal texture and fresh blood orange make for one special drink with your loved one.  Continue reading for the recipe!