A couple of weeks ago I shared this Superfood Salad with Easy Roasted Chickpeas.  Since then, I've been obsessed with developing flavor variations for the chickpeas.  Here are three tasty options I've come up with in partnership with USA Pulses & Pulse Canada.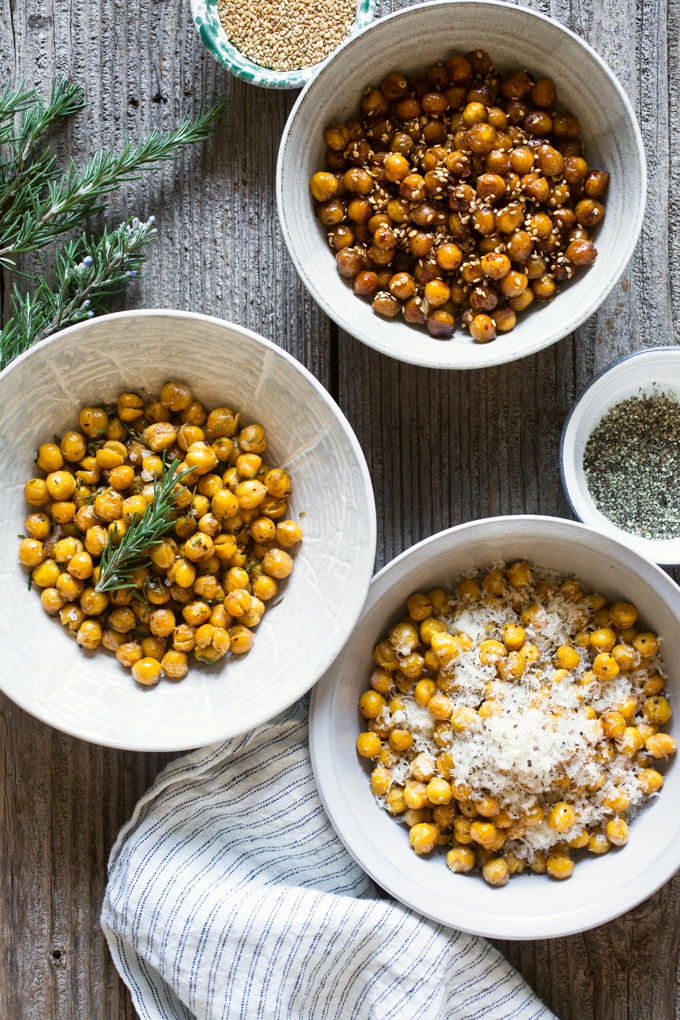 Roasted chickpeas are a healthy and delicious snack that is simple to prepare.  They also pair well with a lot of different flavors, so you can easily customize based on what's in your pantry and fridge.  I've got three recipes to share with you today, but just use these as a guide and have fun getting creative with flavors!
The first roasted chickpea recipe pairs woodsy rosemary with olive oil, crushed red pepper flakes and crunchy sea salt.  You cook the chickpeas with rosemary and then add more chopped rosemary once they come out of the oven.  They're wonderfully herbaceous with just a hint of heat.  The second variation, cacio e pepe, is rich with flavors of a classic Italian pasta dish.  Chickpeas are roasted simply with olive oil, salt and pepper.  As soon as they come out of the oven, they are blanketed with freshly grated Parmesan cheese and more black pepper.  The final recipe for roasted chickpeas is savory with umami-packed ingredients like soy sauce, fish sauce, maple syrup, garlic and red chile flavors.  These burnished morsels are deep with flavor and 100% irresistible.
All of the recipes below are best enjoyed warm, so snack on them shortly after they come out of the oven.  The recipes can easily be scaled up if you want to serve at a party.  They would be a perfect healthy treat for a Game Day party!  Continue reading for the recipes.