Good morning friends and Happy Tuesday!!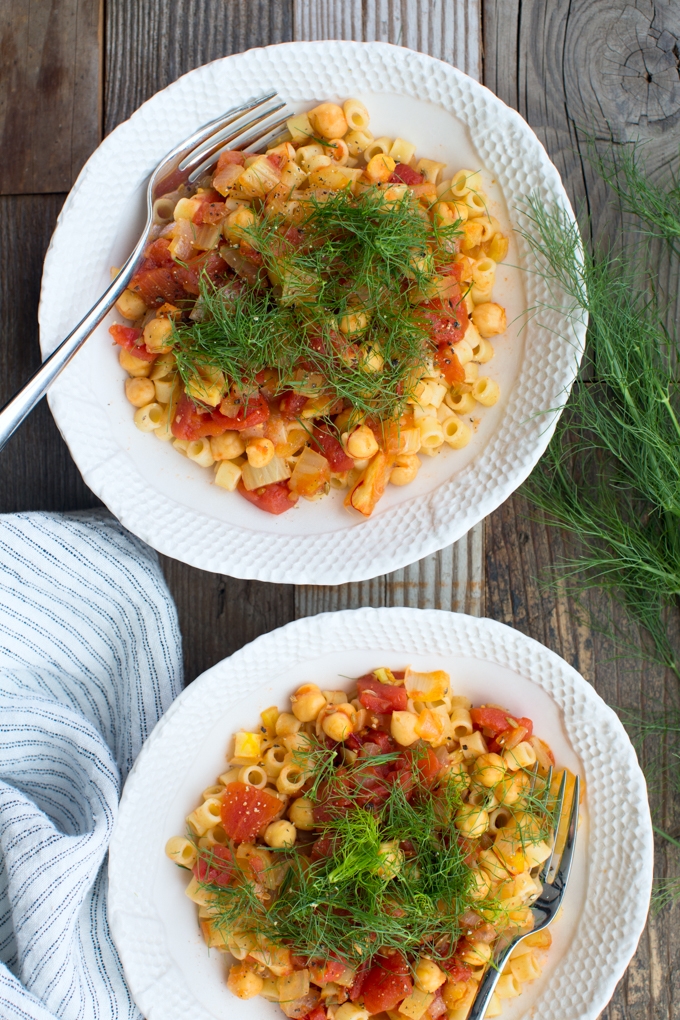 I've been on a total pasta binge recently.  Last week, I made this super creamy and delicious Baked Red Pepper Pasta.  This week, I'm switching things up and going light and fresh.  My Pasta with Chickpeas, Fennel and Saffron is a simple summer dinner that comes together in about 30 minutes.  The recipe starts with chopped onions and fennel sizzling in olive oil.  Once the aromatics are soft and tender, garlic, fennel seeds and wisps of heady saffron are stirred in and cooked until fragrant.  Finally, chickpeas and chopped tomatoes join the pot, and the sauce simmers for just 15 minutes to let the flavors blend together.  This flavor-packed sauce is spooned over a bowl of ditalini (small tube-shaped pasta), and finished with grassy fennel fronds.
The textures in this dish are super satisfying.  The sauce is hearty and rustic while the chickpeas lend an earthy creaminess.  Fennel is at the forefront flavor-wise while the saffron lends a wonderful depth of flavor.  None of the ingredients are heavy or overbearing, making this a perfect, light meal for a warm summer evening.  Continue reading for the Pasta with Chickpeas, Fennel and Saffron recipe!