I hate to admit this, but I recently spent $200 on a new waffle iron.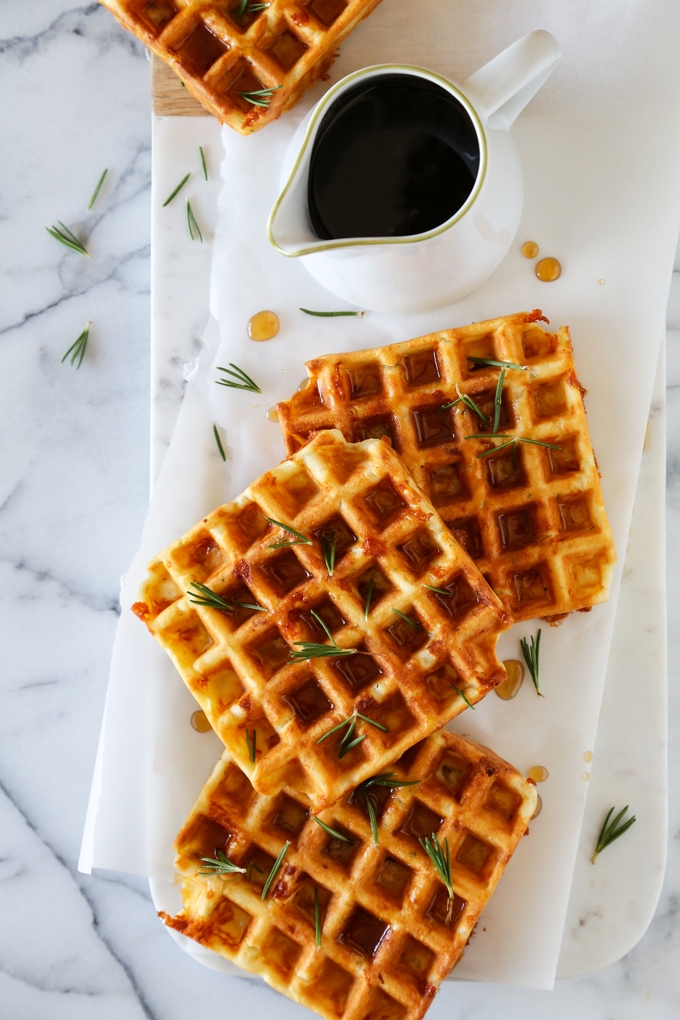 Crazy, I know. But I love waffles. And so does Jorge. So I feel like it's more of an investment piece for the kitchen ;).
Since purchasing this beast of a machine, I've been cooking up waffles almost every weekend. Buttermilk waffles topped with fresh fruit and nuts. Pumpkin waffles drizzled with ginger syrup. Spiced vanilla waffles dotted with leftover cranberry sauce. And these Savory Waffles with Rosemary, Ham and Dubliner Cheese.
Studded with rosy chunks of Black Forest ham, these buttermilk waffles are laced with woodsy rosemary and caramelized bits of Irish cheese. Similar to mature cheddar, Kerrygold Dubliner has a complex flavor with both sweet, nutty tones and a sharp bite like Parmesan. The marriage of these flavors just works.
Serve these savory waffles with warm maple syrup, a sunny-side up egg or fried chicken. Eventually, I'd love to use them as the bread component in a BLT.  Cook up a batch of these cheesy waffles for a special Holiday breakfast or serve for dinner with some more savory accompaniments.  You could even cut them into smaller squares and serve as an appetizer.  Fried chicken and waffle bites, oh damn!!  Continue reading for the recipe.