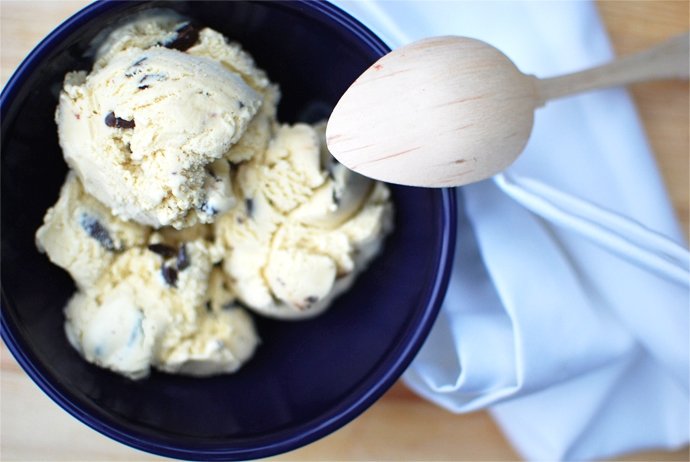 It was around this time last year that my roommate first brought home an ice cream maker. I remember being so excited. Like really excited. Over the years, I had seen so many mouth-watering recipes for all sorts of ice cream, but I never had the equipment to prepare them. Since acquiring the ice cream maker, I've made countless cold creations including ice cream, fro yo (aka frozen yogurt), gelato and sorbet.
This post may contain affiliate links.
This recipe for Java Chip Ice Cream pairs an intensely delicious coffee ice cream with a mixture of bittersweet and semi-sweet chocolate. If you do not have an ice cream maker, I would highly recommend getting one. The higher priced makers are more convenient; however, they are not required. I made this recipe with a cheaper ice cream maker that uses ice and rock salt! Continue reading for the recipe.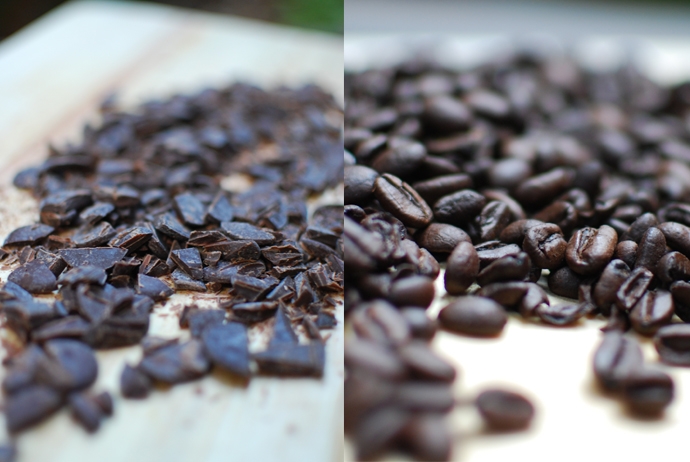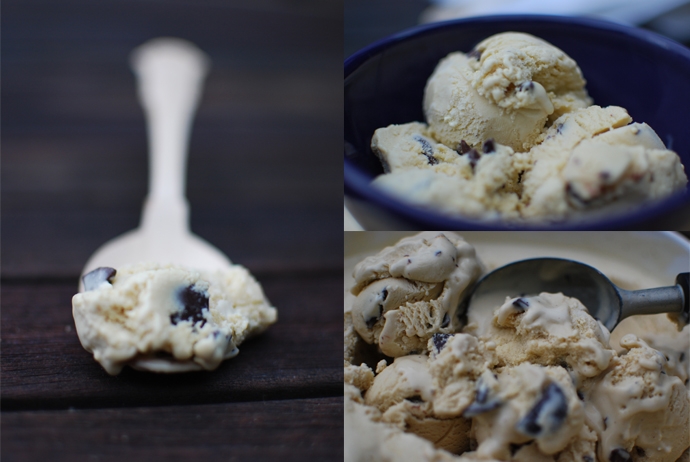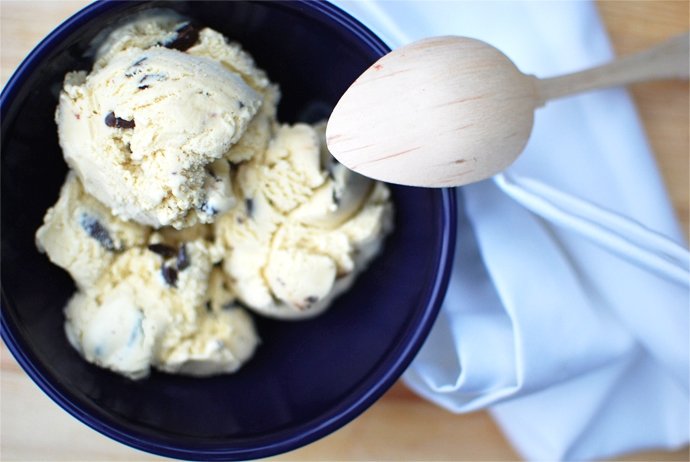 Java Chip Ice Cream
adapted from ad hoc at home by Thomas Keller.
Ingredients
3

tablespoons

coffee beans*

2

cups

whole milk

2

cups

heavy cream

½

cup

plus 6 tablespoons sugar

10

large egg yolks

Pinch

of kosher salt

5

oz

bittersweet or semi-sweet chocolate chips (I used 2.5 oz of each**)
Instructions
Spread coffee beans out in a single layer between two pieces of plastic wrap. Using a rolling pin or kitchen mallet, smash the coffee beans, splitting each into 2 or 3 pieces. These will be strained out later, so don't get too crazy here.

Place milk, heavy cream, smashed coffee beans and ½ cup of sugar into a large saucepan. Bring mixture to just below a simmer over medium heat, stirring to dissolve the sugar (the liquid should just begin to bubble).*** Remove the saucepan from the heat and let steep, uncovered for 1 hour.

Return the pan to the heat and heat until the liquid is just below a simmer.

Meanwhile, whisk the remaining 6 tablespoons of sugar and the yolks in a bowl until slightly thickened. Slowly, while whisking, add ½ cup of the hot milk mixture to the yolks. Take your time here so you don't scramble the yolks. Once the ½ cup of hot milk is whisked in, add the remaining milk mixture (this process is known as tempering). Set a fine-mesh strainer over a clean saucepan and strain the milk-yolk mixture into the pan. Discard the coffee beans.

Prepare an ice bath in a large bowl. Set a medium sized bowl in the ice bath and have another strainer ready.

Put the saucepan over medium heat and cook, stirring constantly with a wooden spoon. You will know the custard is thick enough when you see steam rise from the surface and the custard coats the spoon. Strain the custard into the ice bath bowl, add the kosher salt and let cool.

Refrigerate until cold.

Freeze custard in an ice cream maker according to the manufacturer's instructions. When the ice cream is three quarters of the way done, add chocolate chips and continue to freeze until frozen.
Notes
* Since the coffee beans provide the main flavor for the ice cream, make sure your beans are fresh and a good quality. I used a Starbucks black label blend and the final product was just amazing.
** You can use either chocolate chips or whole chocolate (chopped up) here. I prefer the rustic look of different sized chunks and shards, so I chose to chop up some flat chocolate chips I had in the pantry.
*** It takes only a few moments for the cream and milk to go from just below a simmer to boiling over your saucepan, so make sure you are paying attention. This is nothing to stress about. Just try not to plan other tasks during the heating periods of this recipe.
Tried this recipe?
Tag @brandiego on Instagram so I can check it out!
2