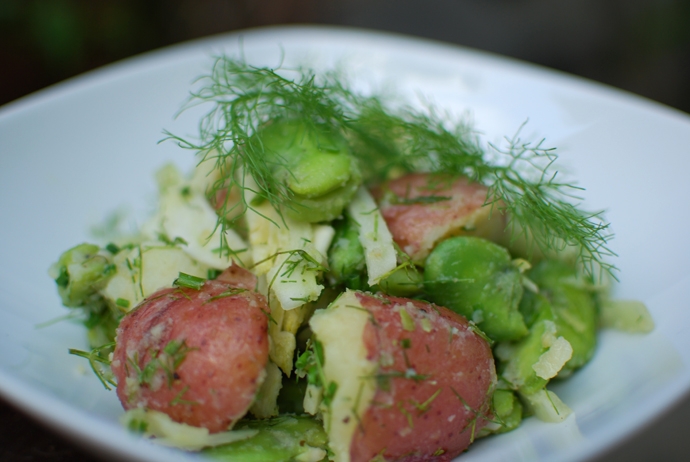 I find that I have a love-hate relationship with most potato salads. I love the rich, creamy (sometimes bacony) flavor of mayonnaise based potato salads; however, I hate all of the calories that come along with them. To solve this little dilemma, I have come up with two possible solutions: 1. eat mayonnaise based potato salads in moderation (difficult) or 2. prepare a potato salad that is both healthy (well… healthier) and satisfying (easy). Tossed in a lemon-olive oil dressing, this Potato Salad with Fava Beans and Fennel is crisp, colorful and refreshing. Continue reading for the recipe.

This post may contain affiliate links.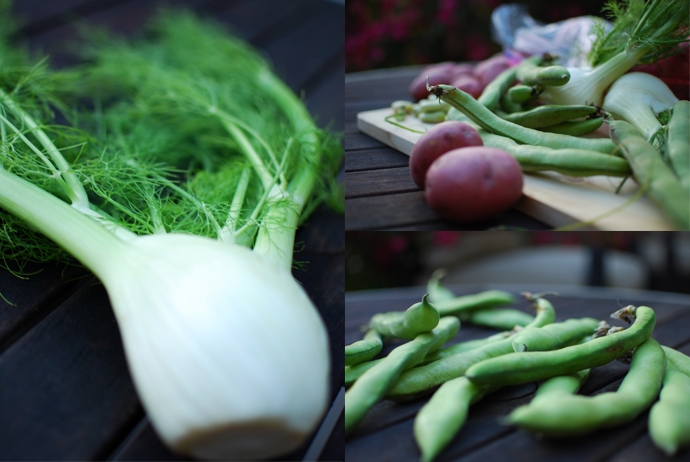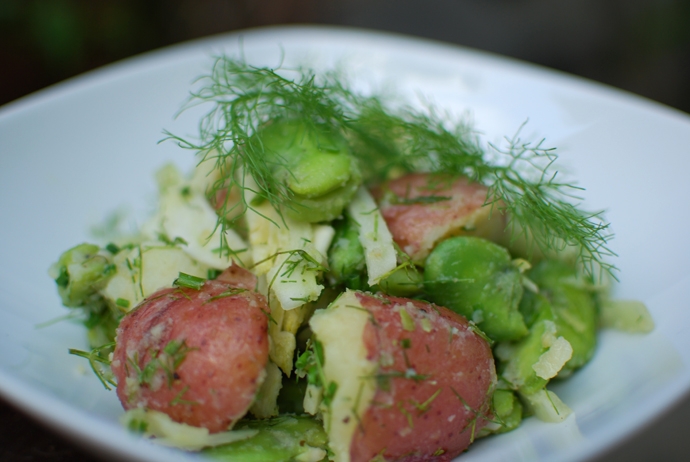 Potato Salad with Fava Beans and Fennel
Ingredients
1

pound

red new potatoes (or other waxy boiling potato), scrubbed

1

pound

fava bean pods (also known as broad beans)

1

small fennel bulb, thinly sliced

2

tablespoons

chopped fennel fronds

2

tablespoons

chopped chives

3

tablespoons

extra virgin olive oil

1

tablespoon

lemon juice

1

teaspoon

lemon zest

Kosher salt

Freshly ground black pepper
Instructions
Start by shelling your fava bean pods*. To open a pod, grab the stem and gentle pull down the entire length of the pod. If this process doesn't grant you access to the delicious beans inside, simply use your fingers to pry open the seam of the pod. Once opened, remove all beans from the pod. Next, you'll need to remove the waxy outer coating surrounding the beans.

Bring a pot of salted water to a boil over high heat. Also, fill a large bowl with ice water and set to the side. Add the fava beans to the boiling water for just a minute. Remove the beans using a slotted spoon and transfer them into the ice water. This will stop the cooking process. Once cool, drain the beans and remove the skins; they should easily slip off.

Place the red new potatoes in a large pot. Cover with cold water by about an inch and add a generous pinch of kosher salt. Bring to a boil over high heat, then reduce heat to medium and simmer until potatoes are fork tender (can easily be pierced by a fork). Drain and set aside to cool.

While the potatoes are cooking, lightly steam your prepped fava beans. Using a steamer, cook the beans until they are just tender. This process should take about 5 minutes. Steaming times can vary, so be careful not to overcook the beans. They should be tender, but still have a little bit of a bite (think al dente). Remove the beans from the steam, set aside and let cool.

Halve or quarter the cooled potatoes and place them in a large bowl. Create the lemon dressing by whisking together the olive oil, lemon juice, and lemon zest. Pour the dressing over the potatoes and gently toss. Add the fava beans, sliced fennel, fennel fronds, and chives to the bowl and toss. Season with kosher salt and pepper.

This potato salad can be served at room temperature or chilled.
Notes
* You can prep your fava beans up to five days in advance. Just store the shelled fava beans in the fridge until you are ready to steam them.
Tried this recipe?
Tag @brandiego on Instagram so I can check it out!
1