August is National Peach Month, and to celebrate, I made a tasty batch of Spiced Poached Peaches. I found that the hardest part of this recipe was resisting the urge to devour the peaches right from the start. If you can also resist the urge, you'll find that the finished product is really a treat.
This post may contain affiliate links.
Poaching is simply the process of gently simmering food in some sort of liquid (water, stock, syrup, wine, etc.).  In this recipe, ripe peaches are poached in a sugar-water mixture spiced with cinnamon, ginger and star anise.  The finished peaches can be eaten as is or as a delicious topping on vanilla ice cream or a creamy panna cotta.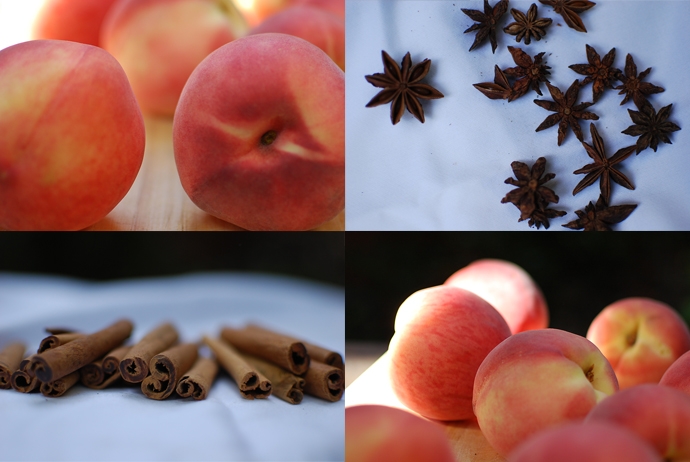 Spiced Poached Peaches
Adapted from BBC Food.
Ingredients
6

ripe peaches

6

cups

cold water

1

cinnamon stick

4

whole star anise

4

thin slices fresh ginger, peeled

1

cup

fine natural cane sugar
Instructions
Prepare an ice bath in a large bowl (ice and water). Bring a large pot of water to a boil. Score an X in the bottom of each peach. Place the peaches into a large bowl and cover with boiling water. Wait 30 seconds, then transfer peaches to the ice bath. Let the peaches sit in the ice bath for about a minute, then drain and peel using a sharp knife.

In a large saucepan, combine 6 cups water, cinnamon, star anise, ginger slices and sugar, stir well and bring to a boil. Reduce the heat and simmer, stirring occasionally, until the sugar has dissolved and the mixture has reduced by ⅔ (the mixture will start to thicken and resemble a thin syrup).

While the syrup is reducing, cut a parchment paper circle the same diameter as your sauce pan. Add the peaches to the syrup mixture and cover with the parchment paper. Cover the saucepan and cook the peaches on low for 15 – 20 minutes or until the peaches are cooked through*. Remove the peaches from the poaching liquid and set aside.

Increase heat to medium and boil the syrup until it reduces to about ¾ cup. Cool slightly before serving.

Slice peaches and serve with yogurt, ice cream or a panna cotta. Drizzle spiced syrup on top.
Notes
* Test the doneness of your peaches by piercing them with a fork or the tip of a knife.  If the peach offers no resistance, it is done!
Tried this recipe?
Tag @brandiego on Instagram so I can check it out!
7