Let me start by saying that I definitely have a soft spot for beautiful tarts. Especially tarts topped with fresh, glistening fruit or a geometric array of sliced vegetables. Savory or sweet, I just love the contrast of the crisp crust and the creamy filling. Topped with feta cheese, this Zucchini Tart pairs a savory ricotta filling with fresh slices of zucchini and a textural cornmeal crust. Continue reading for the recipe.
This post may contain affiliate links.
In terms of taste and presentation, this Zucchini Tart has a huge wow factor. Be sure you give yourself enough time to complete all of the necessary baking, cooling and waiting time periods. If you are looking to save some time, you could use store bough puff pastry instead of the cornmeal crust.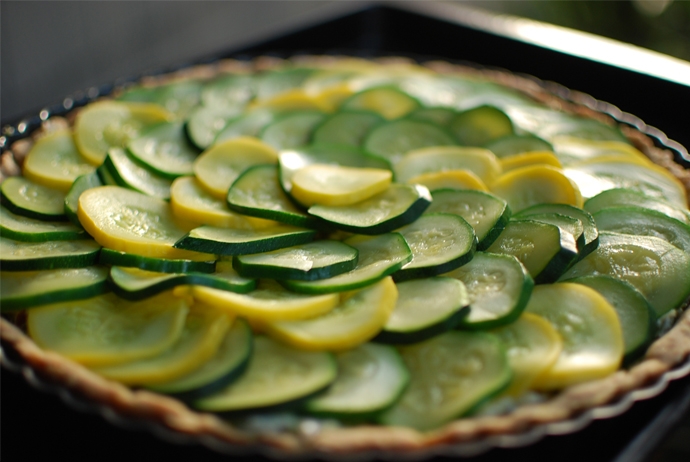 Zucchini Tart
Ingredients
Cornmeal Tart Crust:
2 ¼

cups

all-purpose flour

1

cup

whole wheat flour

scant 1 cup medium coarse corn meal

¾

teaspoon

fine grain salt

1 ¼

cups

cold unsalted butter, cut in cubes

1

large egg yolk

¼

cup

– ¾ cup cold water
Zucchini, Ricotta, Feta Cheese Filling:
4

– 5 medium zucchini, trimmed (about 2 ½ lbs.)*

2

tablespoons

butter plus 1 tablespoon melted butter

3

shallots. finely chopped

10

cherry tomatoes, finely chopped, drained of excess moisture

1

cup

crumbled feta cheese

½

cup

ricotta

2

tablespoons

chopped dill (or to taste)

Kosher salt

Freshly ground black pepper

1

egg, lightly beaten
Instructions
Begin with the cornmeal tart crust. Combine flours, cornmeal and salt in a food processor and pulse to combine. Add cold butter cubes and continue to pulse until the butter is coarsely mixed in (stop pulsing when the mixture forms bits roughly the size of peas). Pulse in the egg yolk and ¼ cup of water. Trickle in more water if needed, just until the dough comes together. Turn the dough out onto a floured surface and form a ball. Divide the dough into two equal pieces, shape each into a ball, press into a flat disk and wrap in plastic. Chill for at least an hour.

Preheat oven to 350°F. Place one rack in the middle of the oven.

Once the dough is chilled, place one of the disks on a lightly floured surface (I used a Silpat). and roll out until the dough is large enough to line your tart pan. You can also lightly flour your rolling pin if you find the dough is sticking. Try to complete this process quickly since the dough is easier to work with when it is cold. Transfer the dough to the pan. Working your way from the center out, press the dough along the bottom of the pan, then to the edges and finish with the sides. Trim any excess dough. Keep the scraps handy to patch any tears. Place the pan in the refrigerator and chill for 30 minutes.

Take the pan out of the refrigerator and pierce the bottom of the crust all over with a fork. Line the crust with parchment paper and fill with pie weights. Place the circular tart pan on a rimmed baking sheet and bake for 25 minutes. Remove the pie weights and finish baking for another 5 minutes or until the crust is just barely starting to brown. Remove from the oven and let cool completely.

To make the filling, start by grating one of the zucchini into a large bowl (use the large holes of a box grater). Add 1 tablespoon of salt, toss well and let sit for 30 minutes. This will draw all of the moisture out of the zucchini. Transfer to a clean kitchen towel and wring out thoroughly.

During this 30 minute period, slice remaining zucchini into rounds with a mandolin (to ensure even slices). Blanch slices in a large pot of salted, boiling water for 1 minute. You will need to do this in several batches. Drain and transfer to a paper towel-lined baking sheet.

Heat 2 tablespoons of butter in a large skillet over medium heat, add shallots and cook until soft (about 5 minutes). Add drained, grated zucchini and cook until just beginning to brown (about 6 minutes). Transfer to a large bowl and let cool.

Stir tomatoes, ricotta, half of the feta cheese and dill into the zucchini-shallot mixture. Season with salt and pepper to taste. Stir in the egg and spread the mixture evenly onto the cornmeal crust. Arrange zucchini rounds on top (get creative here!). Bake for 15 minutes, then brush the top with 1 tablespoon of melted butter. Continue to bake for another 10 minutes. Let cool slightly and finish with a sprinkling of feta cheese over top.
Notes
* I purchased a mixture of green and yellow zucchini to make a more interesting design on the top of the tart.
Tried this recipe?
Tag @brandiego on Instagram so I can check it out!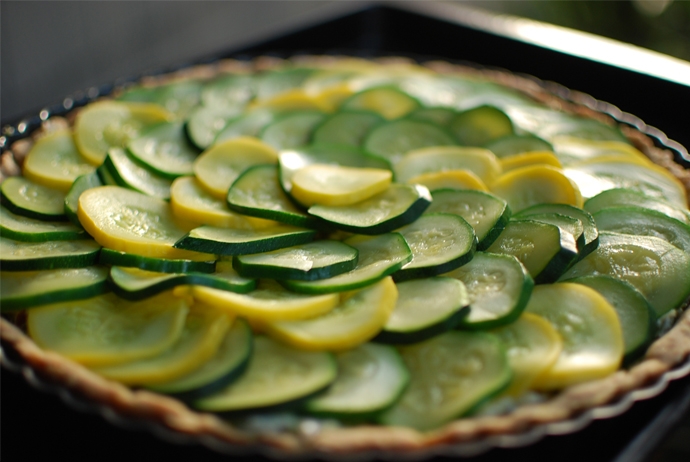 0