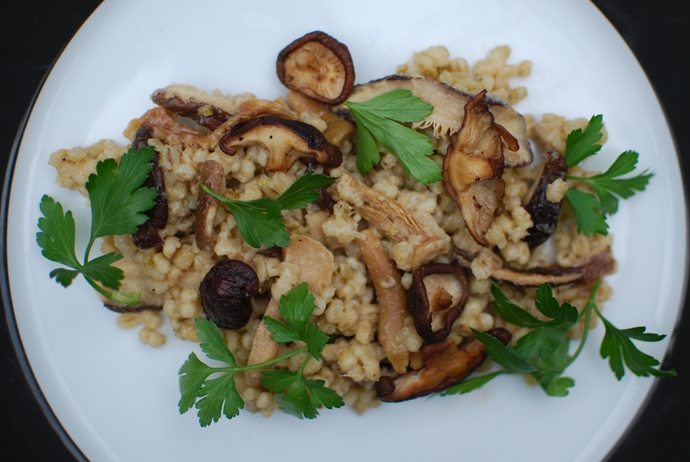 This post may contain affiliate links.
Sweet Paul recently released his latest edition of Sweet Paul Magazine: Fabulous Fall.  Filled with gorgeous photography, mouth-watering recipes and helpful design tips, Sweet Paul Magazine is a valuable resource and truly an inspiration.  To celebrate, I whipped up two recipes from the magazine that I will be posting throughout the week.  This Barley Mushroom Risotto is an adaption of Sweet Paul's Mushroom Risotto.  Continue reading for the recipe.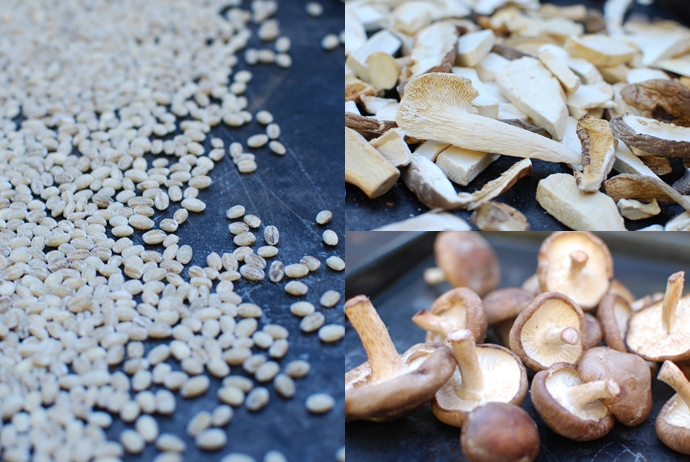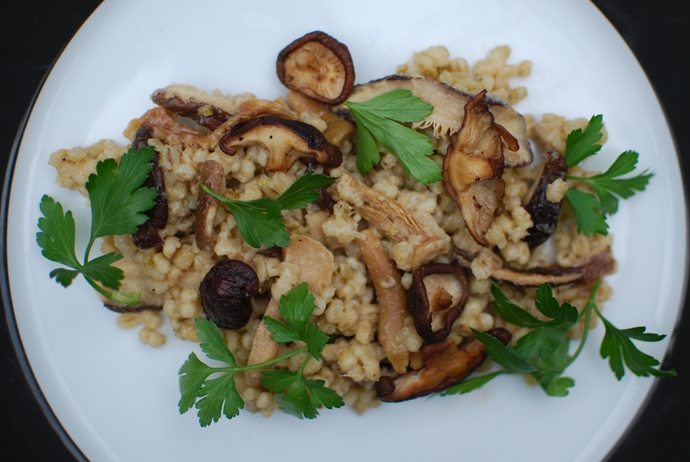 Barley Mushroom Risotto
Ingredients
2

quarts

chicken stock

1

ounce

dried mushrooms

4

ounces

shiitake mushrooms (or other fresh mushrooms), washed, trimmed and sliced

4

tablespoons

butter

2

tablespoons

extra virgin olive oil

1

medium onion, finely chopped

2

garlic cloves, finely chopped

1½

cups

pearled barley, rinsed

½

cup

white wine

½

cup

grated Parmesan cheese

Kosher Salt

Freshly ground black pepper
Extra Parmesan cheese (for garnish)
A handful of parsley leaves (for garnish)
Instructions
Place chicken stock in a large pot and bring to a boil over medium-high heat. Place the dried mushrooms in a large bowl and cover with two cups of the boiling stock. Let the mushrooms stand for 5 minutes. Reduce the heat down to low under the chicken stock.

Meanwhile, warm 2 tablespoons of butter in large frying pan over medium-high heat. Add the sliced shiitake mushrooms and sauté until golden brown, stirring occasionally. Season with kosher salt and freshly ground black pepper and set aside.

After 5 minutes, remove the reconstituted mushrooms from the stock and set aside. Line a fine mesh basket strainer with cheesecloth. Pour the liquid (mushroom infused chicken stock) through the strainer back into the pot of simmering chicken stock.

Warm remaining 2 tablespoons of butter and extra virgin olive oil in a large, heavy bottomed saucepan over medium heat. Add the onions and celery to the pan and sauté for 4 minutes. Add the garlic and continue sauté until the vegetables are soft and translucent (but not browned).

Add the pearled barley, stir and continue to sauté for another 2 minutes. Stir in the white wine and cook until most of the liquid has evaporated.

With a ladle, add 1 cup of warm stock and cook, stirring, until the barley has absorbed the liquid. Continue adding the remaining stock, 1 cup at a time. Each time, cook and stir until the barley has absorbed the stock before adding more. Stop adding liquid once the barley is al dente (soft on the outside, a bit firm on the inside). This process takes about 35 – 40 minutes.

Add the soaked mushrooms, sautéed mushrooms and Parmesan cheese. Cook, stirring, for another 2 minutes to rewarm the mushrooms. Season with kosher salt and freshly ground black pepper to taste.

Divide risotto between 4 plates. Top each serving with Parmesan cheese shavings and hand-torn parsley leaves.
Tried this recipe?
Tag @brandiego on Instagram so I can check it out!
0