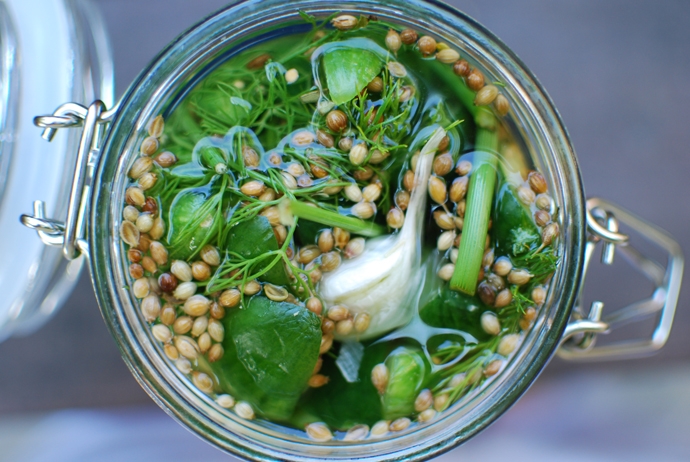 This post may contain affiliate links.
Pickling is one of those culinary processes that I've always wanted to dive into, since I find myself eating pickles at least once or twice a week.  I just love crisp dill pickle slices on top of a juicy burger or spicy pickled green beans submerged in my Sunday morning Bloody Mary.  I'm actually not sure why I haven't tried this process sooner – it's so easy.  Simply combine fresh cucumbers with brine, herbs and spices.  Let the mixture sit for several days and you have homemade pickles!  Continue reading for the recipe.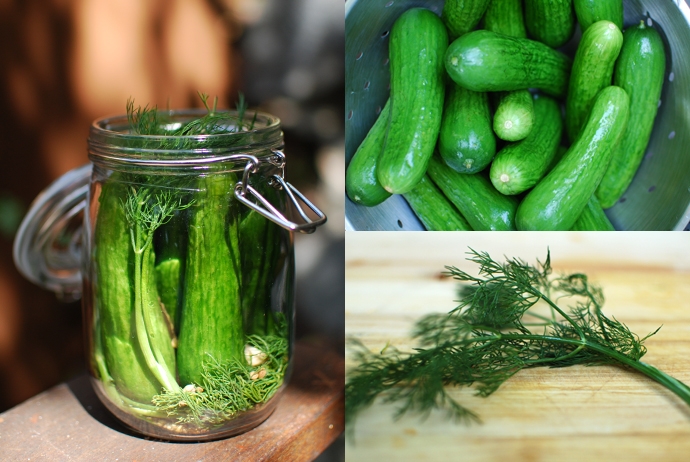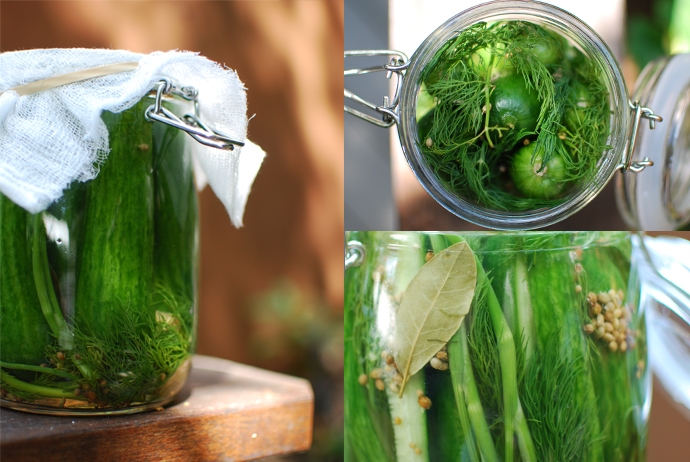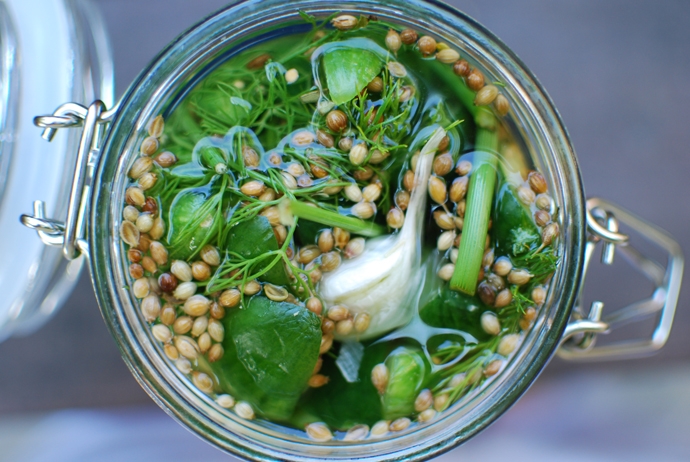 Kosher Dill Pickles
Ingredients
4

quarts

water

6

tablespoons

kosher salt

18-20

small cucumbers, scrubbed (I used mini hot house cucumbers)*

9

garlic cloves, unpeeled and lightly crushed

2

tablespoons

pickling spice

6

bay leaves

1

large bunch of dill, washed
Instructions
Start by making the brine. In a large pot, combine 1 quart of water with 6 tablespoons of kosher salt. Bring mixture to a boil, stirring until salt is dissolved. Remove from heat and add the remaining water.

Prepare three 1 quart jars by filling them with boiling water, then dumping it out. This will ensure that the jars are good and sterilized.

Keep in mind that you will need to divide the garlic, spices, bay leaves and dill between your three jars. Start by placing some of the spices and dill at the bottom of each jar. Pack the cucumbers vertically into the jars, making sure they fit snugly together. Insert bay leaves and garlic while you are packing the cucumbers. Finally, top each jar with remaining dill and spices.

Fill the jars with brine so that the contents are completely covered. Cover the jars with cheesecloth and secure with a rubber band or kitchen twine. Store in a cool, dark place for 3 – 6 days.**

Start tasting your pickles on day 3. Once they reach a desired taste, refrigerate them.
Notes
* Your final product will only be as good as your starting cucumbers.  Be sure to taste one of the cucumbers before pickling.  If the cucumber tastes bitter, don't use it.
** Making pickle spears requires less time than whole pickles.  You can start tasting your pickle spears on day 2.
Tried this recipe?
Tag @brandiego on Instagram so I can check it out!
68