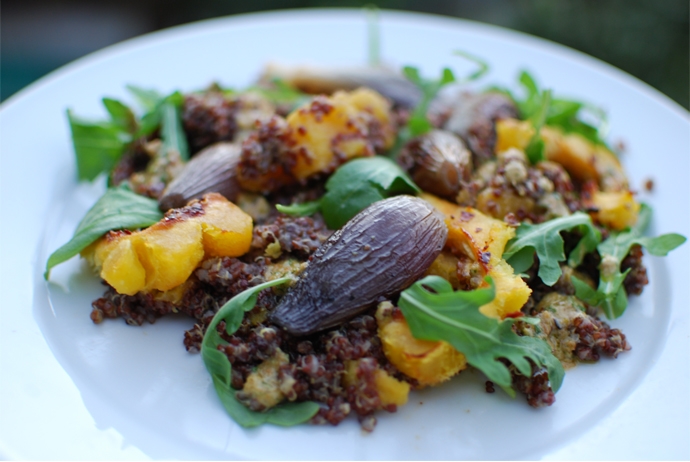 This post may contain affiliate links.
Autumn is my favorite time of the year.  Although I no longer get to enjoy the beauty of the changing leaves here in San Diego, I still get to enjoy new fall fashions and seasonal ingredients.  Around this time of the year, I usually trade in my whites, linens and shorts for darker neutrals, tweeds, leather and denim.  What intrigues me the most about fall fashion is the wide variety of prints and textures (great for layering).  In regard to autumn produce, I just love squash, figs, apples, pears, onions and sweet potatoes (I could go on and on here, but I'll stop).  This Red Quinoa Salad with Roasted Acorn Squash features two of my seasonal favorites – squash and red onions.  Topped with a pistachio arugula dressing, this salad is healthy, hearty and deliciously complex.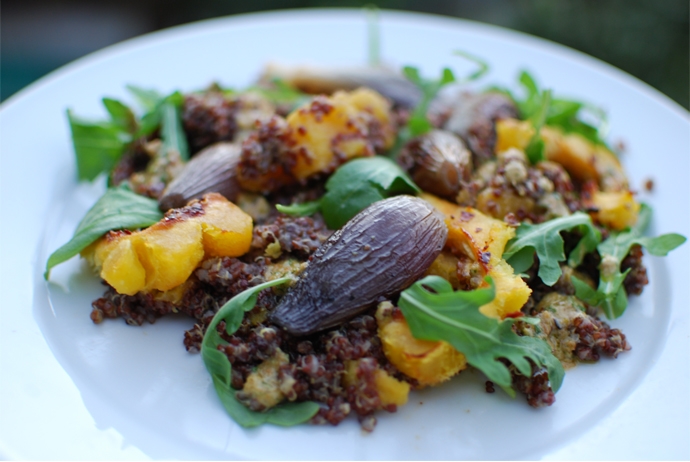 Red Quinoa and Roasted Acorn Squash Salad
Ingredients
For the salad:
1

acorn squash

2

tablespoons

maple syrup

1

tablespoon

extra virgin olive oil, plus more for the onions

½

teaspoon

crushed red pepper flakes

Kosher salt

Freshly ground black pepper

12

red torpedo onions, peeled (you could also use small shallots or red onions)

2

cups

cooked red quinoa* (you could also use white quinoa)

1

cup

arugula
For the Pistachio Arugula dressing:
⅓

cup

shelled pistachios

⅓

cup

olive oil

2

tablespoons

lemon juice

¼

teaspoon

kosher salt

1

tablespoon

honey

2

tablespoons

warm water

½

cup

arugula
Instructions
Preheat oven to 375°F.

Slice the acorn squash in half from top to bottom and scoop out the seeds. Cut the squash halves into ½ inch wide half moons and place in a medium bowl. Toss the half moons with the maple syrup, olive oil, crushed red pepper flakes, a pinch of kosher salt and a few turns of freshly ground black pepper. Spread the slices out on a parchment-lined baking sheet and set aside.

Toss the torpedo onions with a drizzle of extra virgin olive oil, a pinch of kosher salt and a few turns of freshly ground black pepper. Spread out on a separate baking sheet. Roast both the squash and the onions for 45 minutes or until the squash turn golden brown and the onions are soft and caramelized. Once the squash slices are cool enough to handle, peel the skins off.

While the squash and onions are roasting, assemble the dressing. In a blender or food processor, puree the pistachios, olive oil, lemon juice, salt and honey until creamy. If the dressing seems to thick, you can thin it out with a tablespoon or two of warm water. Pulse in the ½ cup arugula (don't over pulse though – you want to see visible bits of arugula in the dressing). Season with additional kosher salt and freshly ground black pepper to taste.

In a large bowl, gently toss the red quinoa, 1 cup of arugula and roasted torpedo onions. Divide the quinoa salad amongst six small plates. Top each serving with several slices of roasted acorn squash and a drizzle of pistachio arugula dressing.
Notes
* To cook red quinoa: Rinse 1 cup of of red quinoa thoroughly. In a medium sauce pan, bring 2 cups of chicken stock (or water) to a boil with 1 tablespoon of butter and 1 teaspoon of gray salt (or kosher salt). Add the rinsed quinoa and return to a boil. Reduce to a simmer and cook for approximately 20 minutes or until the quinoa is tender and all of the liquid is absorbed.
Tried this recipe?
Tag @brandiego on Instagram so I can check it out!
2