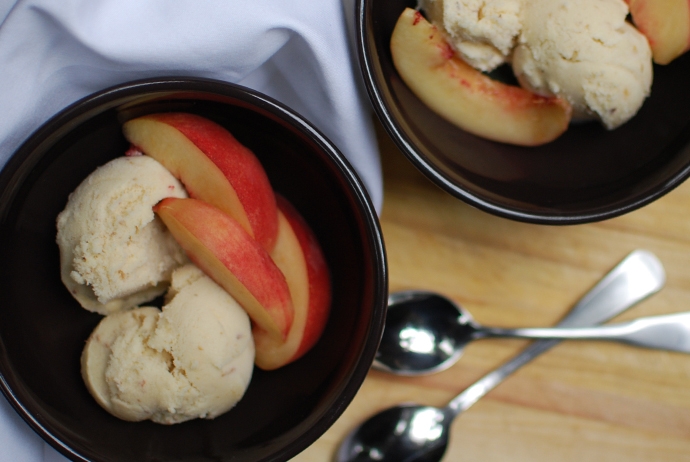 This post may contain affiliate links.
By now, I am sure you are all well aware of the fact that I enjoy making ice cream (and sorbets, and granite and … more ice cream).  So you can imagine my excitement when I was recently gifted a brand new KitchenAid Ice Cream Maker attachment!  With so many different flavor combinations racing through my head, I was having a difficult time deciding what my first ice cream would be.  After much consideration, I chose this White Peach Ginger Ice Cream as the maiden voyage of my new attachment.  White peaches are in season right now and pair perfectly with the spicy, fresh notes of ginger (and this recipe is one of my favorites).  Enjoy!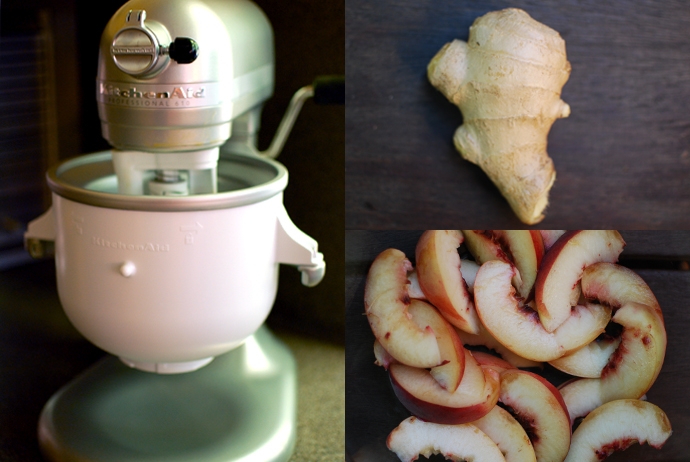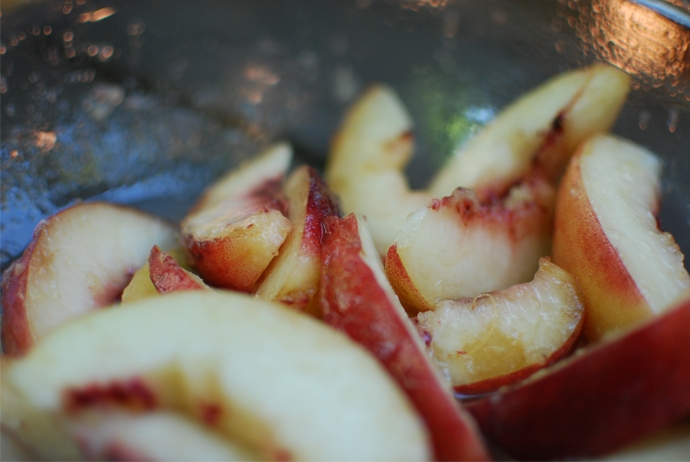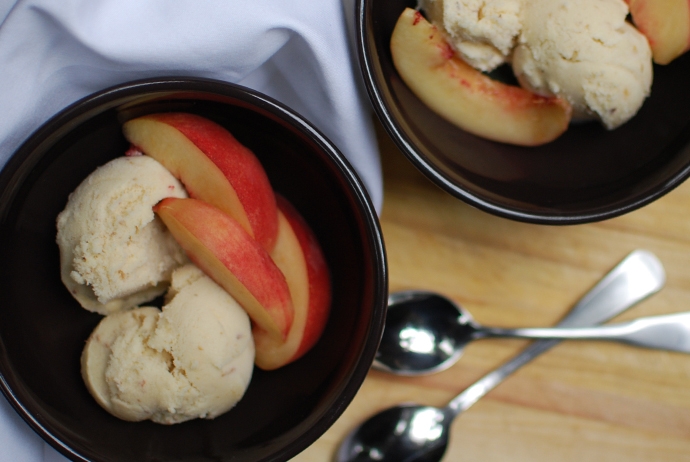 White Peach Ginger Ice Cream
Ingredients
1

pound

ripe white peaches (2 – 3 peaches)

⅓

cup

plus ½ cup sugar

1

teaspoon

fresh grated ginger

⅔

cup

heavy cream

⅔

cup

milk

3

egg yolks
Instructions
Slice the white peaches into a medium bowl. Toss with ⅓ cup sugar and grated ginger. Cover and set aside for 30 minutes (this is know as maceration).

Meanwhile, prepare an ice bath in a large bowl.

Add the milk and cream to a small saucepan. Bring the mixture to just under a boil over medium-high heat. You still see steam rising from the surface.

In a medium bowl, whisk the remaining ½ cup sugar and egg yolks together until slightly thickened. Slowly, while whisking, add ½ cup of the hot milk mixture to the sugar-yolk mixture. Once the ½ cup of hot milk is whisked in, add the remaining milk mixture (this process is known as tempering).

Place the medium bowl into the ice bath to cool the mixture, stirring occasionally. Make sure you don't get any water in your custard! Once the mixture is cooled, cover and transfer to the refrigerator to chill completely.

While the custard is chilling, add the macerated white peach slices to a blender and puree until smooth. Add the custard mixture to the white peach puree and pulse to combine.

Freeze custard in an ice cream maker according to the manufacturer's instructions.
Tried this recipe?
Tag @brandiego on Instagram so I can check it out!
6