This post may contain affiliate links.
I was pleasantly surprised during my recent visit to the farmer's market to find chanterelle mushrooms being sold for just $5 a basket.  Chanterelle mushrooms are normally $20 – $25 a pound and I managed to walk away with a sizable haul for just $10.  The vendor had mentioned that there was some sort of overabundance of chanterelle mushrooms this year.  I am not sure if this is true or not; however, I would highly recommend checking your local markets for lower priced chanterelles.  The flavor, aroma and texture of chanterelle mushrooms are just amazing.  Continue reading for the Chanterelle Bread Pudding recipe.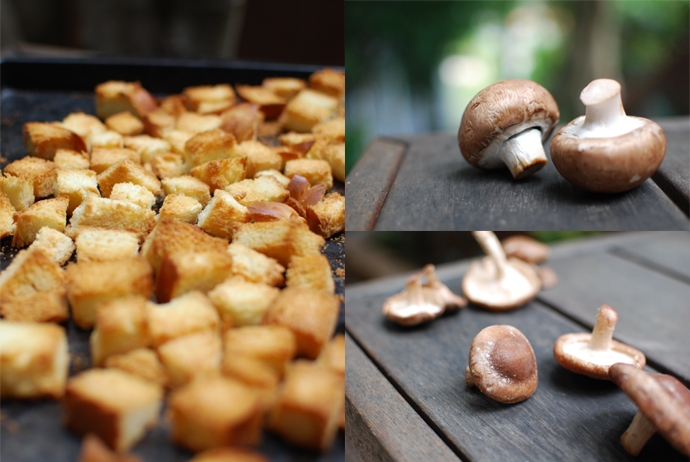 Chanterelle Bread Pudding
Ingredients
4

cups

fresh bread cubes (1 inch cube, preferably challah or brioche)

1

pound

fresh chanterelle mushrooms

¼

pound

fresh cremini mushrooms, stems trimmed

¼

pound

fresh shiitake mushrooms, stems trimmed

½

cup

finely chopped shallot

2

tablespoons

unsalted butter

Kosher salt

Freshly ground black pepper

½

cup

finely chopped Italian flat-leaf parsley

3

garlic gloves, finely chopped

2 ½

cups

half and half

4

large eggs

½

cup

grated Parmiagiano-Reggiano, plus more for topping

Whole Italian flat-leaf parsley leaves, for garnish
Instructions
Preheat oven to 350°F. Place a rack in the middle of the oven.

Spread bread cubes in an even layer on a rimmed baking sheet. Bake until golden-brown (about 20 minutes).

Chop cremini and shiitake mushrooms into ¼ inch thick pieces. Tear the chanterelle mushrooms into similar sized pieces.

Warm butter in a 12-inch heavy skillet over medium heat. Add shallot and cook, stirring occasionally, until they start to soften (about 3 minutes). Add mushrooms, ½ teaspoon kosher salt and ¼ teaspoon freshly ground black pepper. The mushrooms will give off a lot of liquid. Cook the mixture until all of the liquid has evaporated (about 15 – 17 minutes). Add parsley and garlic and continue cooking for an additional 2 minutes, stirring occasionally (don't let the mushrooms start sticking to the bottom). Remove from the heat.

In a large bowl, whisk together half and half, eggs, Parmiagiano-Reggiano, ½ teaspoon kosher salt and ¼ teaspoon freshly ground black pepper. Stir in the mushroom mixture and bread cubes. Fold gentle until the bread cubes are well coated. Let stand for 10 minutes.

While waiting, lightly butter a 9 x 13 baking dish.

Spread the mushroom-bread mixture evenly into the buttered baking dish and bake until firm and golden brown (about 45 minutes).

Spoon a serving into a small bowl and garnish with parsley leaves.
Tried this recipe?
Tag @brandiego on Instagram so I can check it out!
2