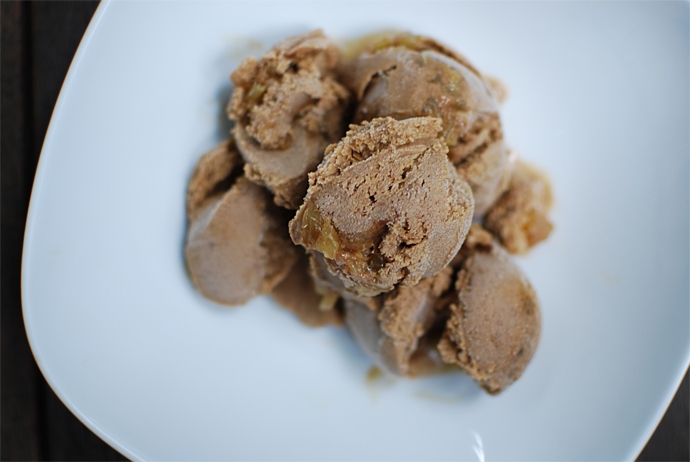 This post may contain affiliate links.
This Gingerbread and Trappist Ale Ice Cream is another cold treat created by Ethan Frisch and Max Falkowitz (see also Smoked Chocolate and Tequila Ice Cream).  These two gentleman are really coming up with some spectacular flavor combinations over at Serious Eats.  I was drawn to this recipe in particular because it seems to capture the pure essence of the fall season.  Flavored with a handcrafted mix of spices, this ice cream smells and tastes just like gingerbread and the Trappist ale provides a depth of flavor that is deliciously complex.  Scoop this Gingerbread and Trappist Ale Ice Cream over a warm slice of gingerbread and some sauteed apples for a perfect fall dessert.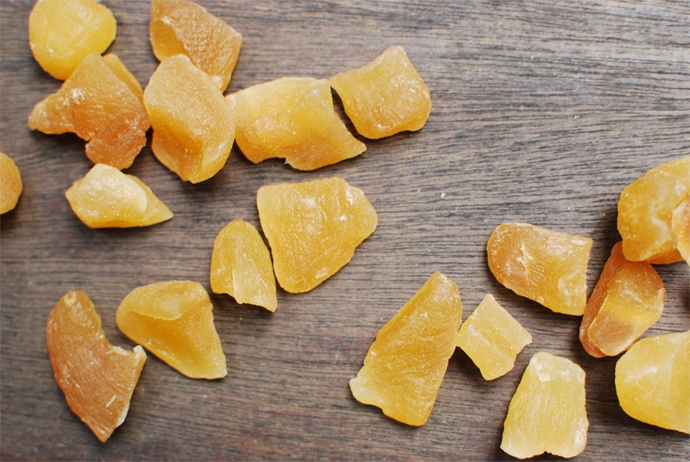 Gingerbread and Trappist Ale Ice Cream
Ingredients
2

cups

heavy cream

1

cup

whole milk

1 ⅔

cup

Trappist ale (I used Chimay red label, divided)

5

tablespoons

molasses

1

inch

nub of ginger, peeled and sliced thin

4

cinnamon sticks

5

whole cloves

3

star anise "petals"

4

allspice berries

2

cardamom pods

½

teaspoon

freshly grated nutmeg

½

teaspoon

black peppercorns

6

large egg yolks

½

cup

dark brown sugar, packed

½

oz.

dark chocolate, finely chopped

Zest of half a large lemon

1

teaspoon

vanilla extract

1 ½

teaspoons

kosher salt

½

cup

candied ginger, minced
Instructions
In a large saucepan, add heavy cream, whole milk, 1 ⅓ cups Trappist ale and molasses, stirring to combine. Add thinly sliced ginger, cinnamon, cloves, star anise, allspice, cardamom, nutmeg and black peppercorns. Cook over a medium-low heat until just below a simmer, stirring frequently (you want to see steam rising from the surface, but minimal to no bubbles), about 15 minutes.

Whisk the egg yolks and brown sugar in a bowl until slightly thickened. Slowly, while whisking, add ½ cup of the hot cream mixture to the yolks. Take your time here so you don't scramble the yolks. Repeat this process with another ½ cup of the hot cream, then return everything to the saucepan.

Prepare an ice bath in a large bowl. Set a medium sized bowl in the ice bath and have a strainer ready.

Return the saucepan to a medium heat and cook, stirring constantly with a wooden spoon. You will know the custard is thick enough when you see steam rise from the surface and the custard coats the spoon. Add the chocolate, lemon zest and the last ⅓ cup Trappist ale. Continue to cook for another minute or two until the proper thickness is achieved again.*

Strain the custard into the medium sized bowl sitting in the ice bath. Stir in the vanilla extract and kosher salt. Stir occasionally until the mixture has cooled.

Refrigerate until cold (preferably overnight).

Freeze custard in an ice cream maker according to the manufacturer's instructions. When the ice cream is three quarters of the way done, add candied ginger and continue to freeze until frozen.
Notes
*Max and Ethan provide a great process to test the doneness of an ice cream custard. Dip a spoon in the custard. Run your finger across the back of the spoon to create a clear line. If the custard is thick enough, then the line should remain clear. If the custard is too thin, then it will run and disrupt the line.
Tried this recipe?
Tag @brandiego on Instagram so I can check it out!
1