This post may contain affiliate links.
I had some friends over this past weekend for a Harvest Halloween dinner party.  Following a sizable spread of appetizers, this Spicy Pumpkin Soup with Toasted Cumin Crema was served as the first course.  Pureed pumpkin is spiced with a fiery blend of curry powder, coriander, crushed red pepper and cayenne pepper.  The Toasted Cumin Crema both compliments the exotic flavors of the soup and offers a cool counter to the heat.  Continue reading for the recipe.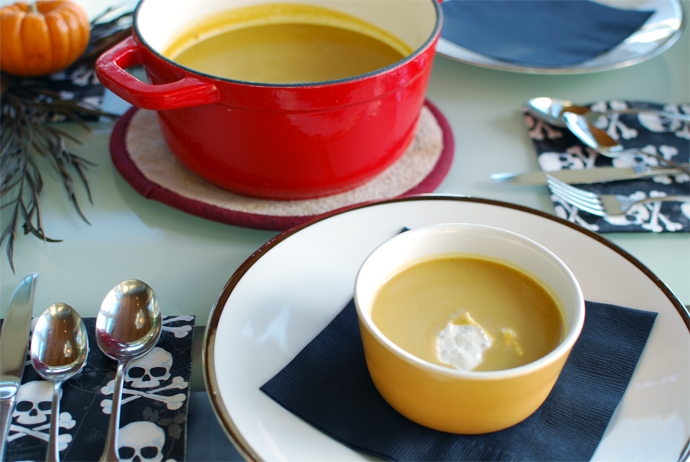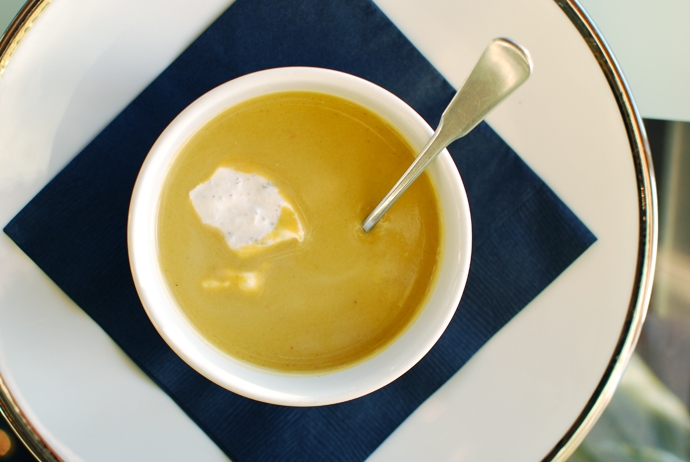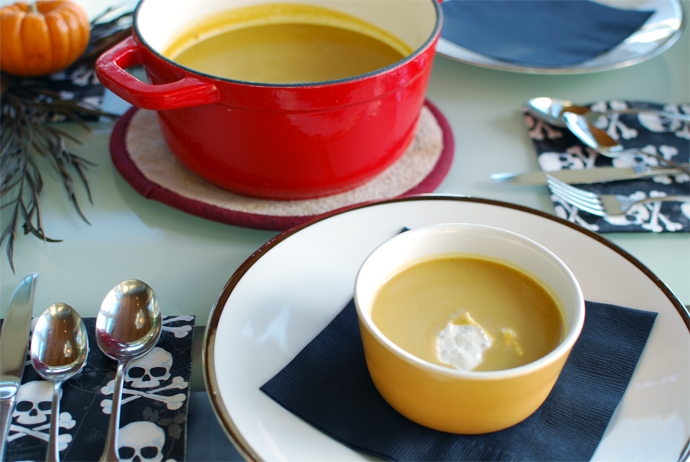 Spicy Pumpkin Soup with Toasted Cumin Crema
Ingredients
For the Spicy Pumpkin Soup:
4

tablespoons

unsalted butter

2

medium yellow onions, chopped

2

teaspoons

minced garlic

¼

teaspoon

crushed red pepper

2

teaspoons

curry powder

½

teaspoon

ground coriander

Pinch

of ground cayenne pepper

3

15 oz. cans

100% pure pumpkin (not pumpkin pie filling)

5

cups

low sodium chicken broth

2

cups

milk

½

cup

brown sugar

½

cup

heavy cream

Kosher Salt
For the Toasted Cumin Crema:
1

tablespoon

whole cumin seeds

1

cup

Mexican sour cream, you could also use regular sour cream, plain yogurt or crème fraîche
Instructions
Warm butter in a large, heavy-bottomed saucepan over medium high heat. Add onions and cook for two minutes, stirring frequently. Add the garlic and continue to cook and stir until softened (about another 3 minutes). Add crushed red pepper, curry powder, coriander and cayenne pepper. Continue stirring and cooking until spices become very fragrant (1 – 2 minutes).

Add canned pumpkin and chicken broth, stirring to combine. Bring mixture to a boil, reduce heat and simmer for 15 minutes, stirring occasionally.

While the soup is cooking, assemble the Toasted Cumin Crema. Place the whole cumin seeds in a small sauté pan over medium heat. Toast until fragrant and lightly golden. Swirl the seeds around in the pan every few minutes to keep them from burning on one side. Place the toasted cumin seeds in a spice grinder or mortar and pestle and grind until coarse. Stir into the sour cream and season with salt and pepper to taste.

After 15 minutes, blend the soup until smooth. I used an immersion blender to do this; however, you could also use a regular blender. Simply transfer the soup (in several batches) to a blender, cover tightly* and blend until smooth. If using a regular blender, return the soup back to the saucepan over low heat.

Add brown sugar, stirring to combine. Slowly stream in milk and heavy cream, stirring until completely incorporated. Taste your soup and adjust seasonings to taste. I added about a teaspoon and a half of kosher salt. If you find the soup is not spicy enough, you can add a bit more cayenne pepper (or some of the other spices). If the soup is too spicy, you can add more heavy cream.

To serve, ladle the soup into a small bowl and spoon in a dollop of crema.
Notes
* Be sure to use caution when blending hot liquids. If you don't secure the lid properly, the soup could potential blow the top off! To be safe, make sure the lid is on tightly. Then, take a dish down and cover the lid. Use your hand to hold the lid in place while blending. Start with a few pulses or on a low speed then increase to your desired speed.
Tried this recipe?
Tag @brandiego on Instagram so I can check it out!
0