This post may contain affiliate links.
Happy Thanksgiving everyone!  Tonight, 18 guests will be arriving at my house for Thanksgiving dinner.  I couldn't be more excited!  Thanksgiving is one of my favorite holidays throughout the year.  I am so thankful for my loving family and friends. I also wanted to thank all of the loyal Kitchen Konfidence readers.  I launched Kitchen Konfidence in July 2010 and I never thought it would reach this level of readership so quickly.  I truly appreciate all of your comments, likes, love and feedback.
Since I've been so busy prepping and cooking over the past several days, I haven't had the time to update KK this week.  I wanted to take a moment to post my Thanksgiving 2010 lineup.  Recipes are available upon request.
Please note that I will be tweeting live T-Day updates all day today on Twitter.  Check them out: @brandiego.  If you would like to join the party, include #kktday2010 in your tweet.
Thanks again and Happy Thanksgiving.  Here's the menu:
Appetizers: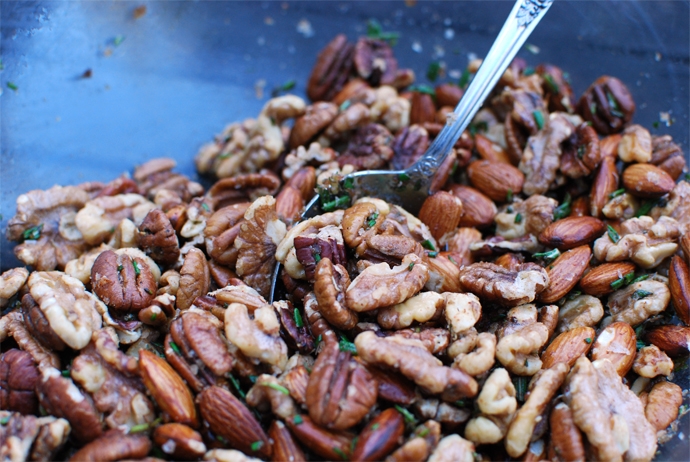 Baked Brie en Brioche with Apples and Cranberries
Blue Cheese Spread with Rosemary and Toasted Walnuts
Seasonal Produce Selection
Devilish Eggs
Smoked Salmon
Raw Oysters with an Apple Ginger Mignonette
Signature Cocktails:
Cozy Cabins
Cranberry Orange Vanilla Spritzer
Meyer Lemon Drops
First Course:
Spicy Pumpkin Soup with Toasted Cumin Crema
Harvest Salad with Shaved Apples and Fennel
Second Course:
Turkey in Parts
Gravy
Italian Chard Stuffing
Chanterelle and Pear Stuffing
Zinfandel Cranberries
Brussels Sprouts and Caramelized Shallot Gratin
Sweet Potato Crunch
Sweet Potato Mash
Green Beans and Chanterelle Mushrooms with Toasted Hazelnuts
Lyn's Hot Buns
Palate Cleanser:
Dessert:
Pecan Pie
Pumpkin Pie
Coconut Custard Pie
Persimmon Fool Pudding with Fresh Whipped Cream
1