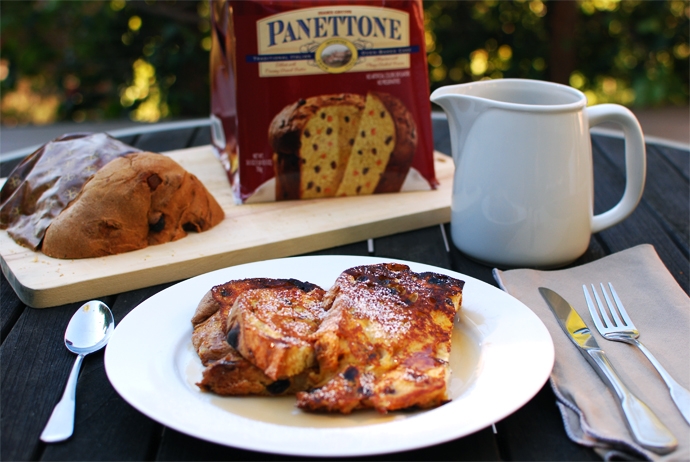 This post may contain affiliate links.
For some reason, this Holiday season seems a bit busier than previous years.  Since Thanksgiving, I have been going non stop with various work functions, special events, parties and projects.  This past weekend, I finally had a brief moment to breathe.  My first thought:  Brunch.  Brunch is one of my favorite meals.  It's like breakfast with the dial turned way up.  And… who doesn't love a meal that encourages day drinking?  So on Sunday, I invited one of my friends over and whipped up a delicious batch of Panettone French Toast.  Served beside crispy strips of bacon and a fiery bloody mary, this dish is exactly what I needed to get through the rest of the Holiday season.  Continue reading for the recipe.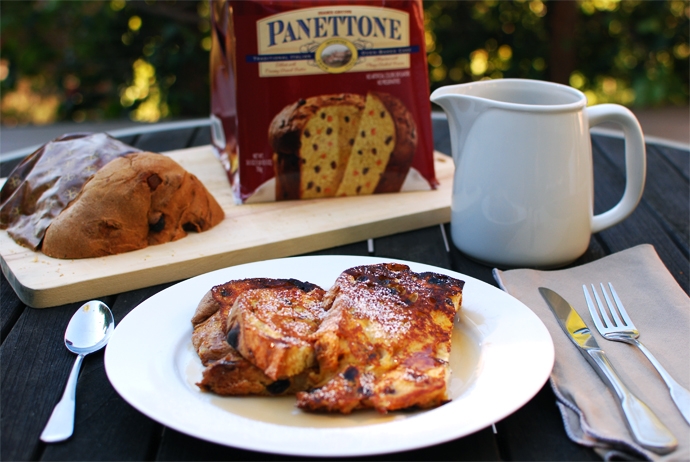 Panettone French Toast
Ingredients
1

lb

panettone (about ½ a loaf)

3

eggs

1

cup

milk

Zest of 1 orange

½

cup

freshly squeezed orange juice

3

tablespoons

sugar

¼

teaspoon

ground cinnamon

Freshly grated nutmeg, to taste

Unsalted butter, room temperature

Powdered sugar, for dusting

Warm maple syrup, for drizzling
Instructions
Cut the panettone into 5 thick, vertical slices. Discard any ends pieces. Cut the remaining slices in half lengthwise.

In a medium bowl, whisk the eggs lightly to break up the yolk. Add milk, orange zest, orange juice, sugar, cinnamon and nutmeg, whisking to combine. Pour the egg mixture into a large, shallow baking dish.

Heat an electric griddle or large frying over medium heat. Slice a small pat of butter onto the griddle. Using a paper towel, spread the butter evenly over the surface.

Place a few slices of bread into the egg mixture. Let the bread soak for about 10 seconds and then flip. Once the second side has soaked for 10 seconds, carefully lift the bread from the mixture and let any excess egg drip off. Place the slices on the heated griddle and cook, turning once, until golden brown on both sides (about 4 - 5 minutes per side). Using a spatula, transfer cooked slices to a 200°F oven.* This will keep your finished French toast warm while other slices are cooking.

Divide French toast between 4 plates, top each serving with a dusting of powdered sugar and drizzle of warm maple syrup.
Notes
* I like to place a plate sitting a top a rimmed baking sheet into the 200°F oven. Once each batch of French toast is completed, place the slices on the plate inside the oven. When you are finished, simply pull the cookie sheet out and serve. I find it much easier to grab the cookie sheet from the oven rather than a plate full of French toast.
Tried this recipe?
Tag @brandiego on Instagram so I can check it out!
3