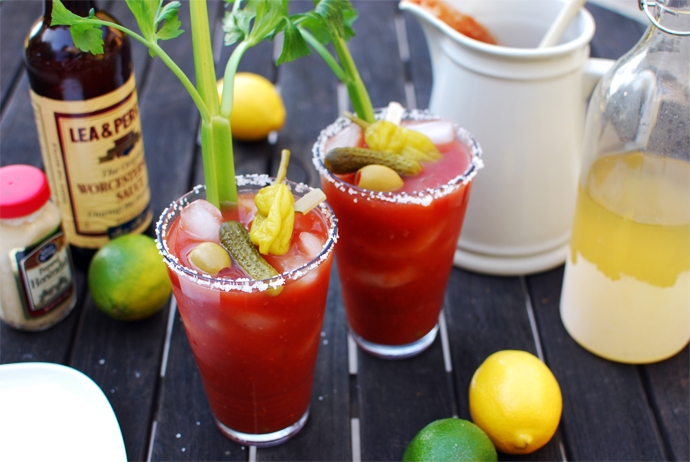 This post may contain affiliate links.
I must admit that over the years, I've become quite the connoisseur of bloody marys.  Particularly, spicy bloody marys.  I almost always choose the bloody mary over the mimosa when faced with cocktail options at brunch.  Paired with all manner of pickled goodies, the savory, spicy bloody mary is, for me, pure perfection on a lazy Sunday morning.  This Bacon Bloody features a bright, flavorful bloody mary blend mixed with spicy Bacon and Habanero Vodka.  Adorned with grassy celery, pepperoncini, olives and cornichons, this drink might just be the ultimate bloody mary.  Continue reading for the cocktail.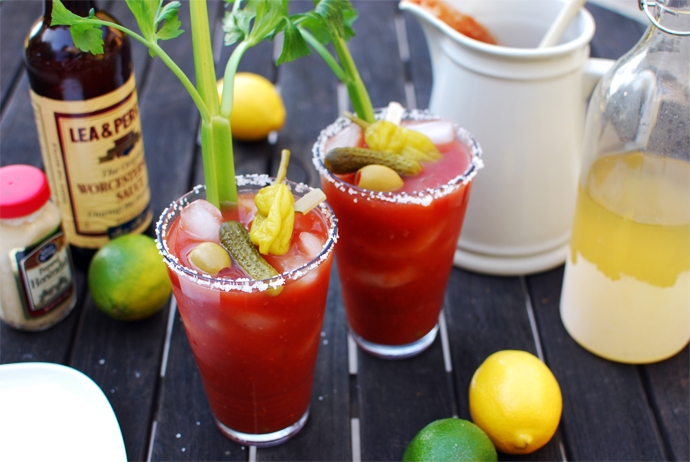 The Bacon Bloody
Adapted from Croce's Restaurant & Jazz Bar (no longer in service).
Ingredients
3

cups

tomato juice

3

tablespoons

freshly squeezed lemon juice

3

tablespoons

freshly squeezed lime juice

1

tablespoon

Worcestershire

1

teaspoon

prepared horseradish

1

teaspoon

finely minced garlic

Fine grain sea salt

Freshly ground black pepper

Lemon wedges, for rim

Kosher salt, for rim

Pepperoncini, for garnish

Cornichons, for garnish

Olives, for garnish

Celery stalks, with leaves attached, for garnish
Instructions
Add tomato juice, lemon juice, lime juice, Worcestershire, horseradish and garlic to food processor or blender. Process until smooth and combined. Season to taste with sea salt and freshly ground black pepper (I used just under 1 teaspoon of salt), pulsing to incorporate. Transfer to a pitcher and set aside.

To make the cocktail, have three glasses ready, all the same size. One glass will be used to serve, the other two glasses will be used to "shake" the cocktail.

Place a tablespoon or so of kosher salt on a small plate. Run a lemon wedge around the glass to wet the rim. Dip the rim of the serving glass in the kosher salt and move around to coat evenly. Set aside.

Fill one of the remaining glasses completely with ice. Add desired ratio of vodka and bloody mary mix. I filled my glass ⅓ with vodka and ⅔ with bloody mary mix. Carefully, slide the drink back and forth several times between the two "shaking" glasses. This will mix and chill your cocktail.

Transfer the drink from the "shaking" glass to your prepared serving glass. Garnish with a stalk of celery, pepperoncini, cornichon and olive (the last three speared with a toothpick).
Tried this recipe?
Tag @brandiego on Instagram so I can check it out!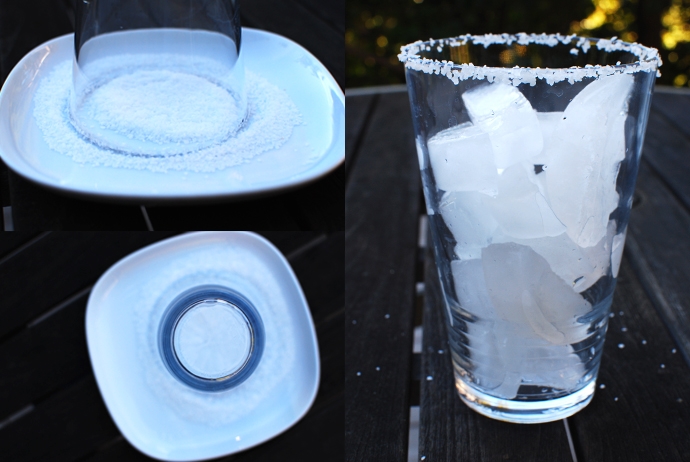 6