This post may contain affiliate links.
I know some of you may be thinking… "Seriously Brandon? I just got done shoveling myself out of 10 feet of snow.  Totally not in the mood to make sorbet."  Being that I lived a good portion of my life on the East Coast, I can certainly sympathize with those of you dealing with the snow right now.  But now I live in San Diego.  It is 78 degrees and sunny today (don't hate), so this sorbet is perfectly appropriate.  Granny Smith apples are steeped in a mixture of sparkling cider and sugar and then churned into a luscious, frozen treat.  I really like what the apple puree does for the texture.  This sorbet seems smoother (almost creamier) than my others.  Serve this Green Apple and Sparkling Cider Sorbet with some thinly sliced apples, a dollop of whipped cream and a dusting of ground cinnamon.  Yum.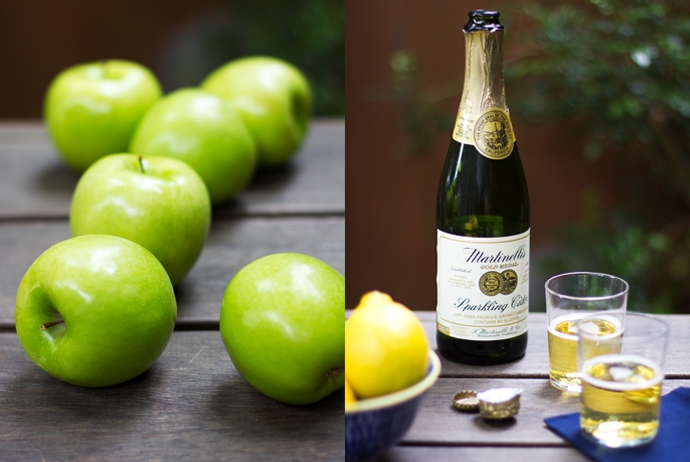 Green Apple and Sparkling Cider Sorbet
Ingredients
4

Granny Smith apples (about 2 pounds)

2

cups

sparkling apple cider

⅓

cup

sugar

½

cup

water

Freshly squeezed lemon juice to taste (about ½ teaspoon)
Instructions
Do not peel your apples. Keeping the skins on, cut the apples into quarters and scoop out cores and seeds (I used a corer and then quartered). Cut each quarter into 1 inch pieces (one slice lengthwise, two crosswise).

In a medium saucepan, combine sparkling cider, sugar and water. Bring to a boil, stirring to dissolve the sugar. Add the apple chunks, reduce heat to low, cover and simmer for 5 minutes. Turn off the heat and let the apples steep covered until the mixture reaches room temperature.

Pour the apples and their liquid through a coarse mesh strainer into a clean bowl. Using a silicon spatula, press the cooked apples to get all of the pulp through the strainer.* Don't fuss with the skins, just try to extract the flavorful pulp and juice. Discard the peels. Stir in lemon juice to taste.

Cover the mixture and place in the refrigerator to chill thoroughly.

Freeze sorbet in an ice cream maker according to the manufacturer's instructions.
Notes
*This process can take a little time. You could also pass the liquids and solids through a food mill fitted with a fine disk (if you have one) to speed things up.
Tried this recipe?
Tag @brandiego on Instagram so I can check it out!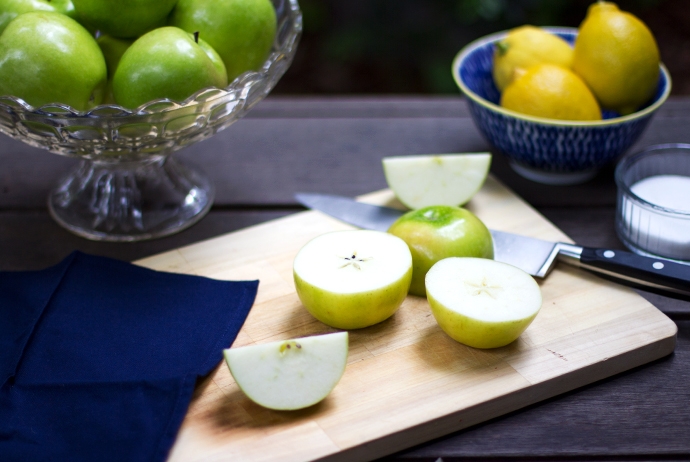 1