This post may contain affiliate links.
I've already mentioned my love affair with Meyer lemons in a previous post.  This Meyer Lemon Curd is further evidence.  Made with only four ingredients, this curd is creamy, delicious and so versatile.  Spread a layer of Meyer Lemon Curd on a warm scone or crispy slice of morning toast.  Mix into a bowl of crunchy granola for an afternoon snack.  Or, dollop on a piece of angel food cake for dessert.  If you don't feel like fussing with all of that, simply eat this Meyer Lemon Curd by the spoonful.  It's that good.  Continue reading for the recipe.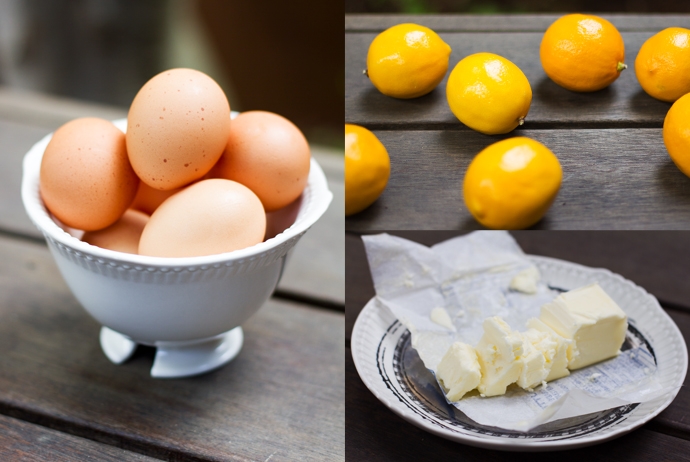 Meyer Lemon Curd
Ingredients
½

cup

Meyer lemon juice

2

teaspoons

finely grated Meyer lemon zest

½

cup

sugar

2

large eggs

½

cup

unsalted butter (1 stick), cut into 4 chunks
Instructions
Fill a large saucepan with 2 inches of water. Bring to a boil over high heat. Reduce heat to low and keep the water simmering.

In a medium sized metal bowl, whisk together Meyer lemon zest, juice, sugar and eggs. Add butter and set bowl over the saucepan. The bowl should be large enough to fit on top of the saucepan without touching the simmering water. Whisk until thickened and an instant-read thermometer reaches 160°F*. This should take about 6 - 8 minutes.

Pour the curd through a fine mesh basket strainer into a clean bowl, pressing with a silicon spatula. Cover and chill in the refrigerator.
Notes
* If you do not have an instant-read thermometer, you can check for doneness using the spoon test. Once you feel the curd thickening, dip a wooden spoon into the mixture. Run your finger across the back of the spoon to create a clear line. If the curd is thick enough, then the line should remain clear. If the curd is too thin, then it will run and disrupt the line.
Tried this recipe?
Tag @brandiego on Instagram so I can check it out!
1