This post may contain affiliate links.
Yesterday, I showed you how to make homemade Drunken Salsa.  Today, I am going to continue the Mexican theme with this Slow Cooker Mole with Grilled Chicken.  A Mole is a dark Mexican sauce that typically has chile peppers, tomatoes, dried fruit, sesame seeds, chocolate and a wide variety of fragrant spices.  Start to finish, this recipe takes about 9 hours (mainly inactive slow cooking time), so plan accordingly.  This may seem very involved; however, compared to a traditional Mole (which can have 20+ ingredients, take several days to make and require a small army of Mexican grandmothers), this recipe is both quick and easy.  I'll have to say that the flavors and aromas of this dish are just unreal.  Rich and bold, this sauce has a mouth-watering depth of flavor that is like nothing you've ever tasted.  Well worth the effort.  Continue reading for the recipe.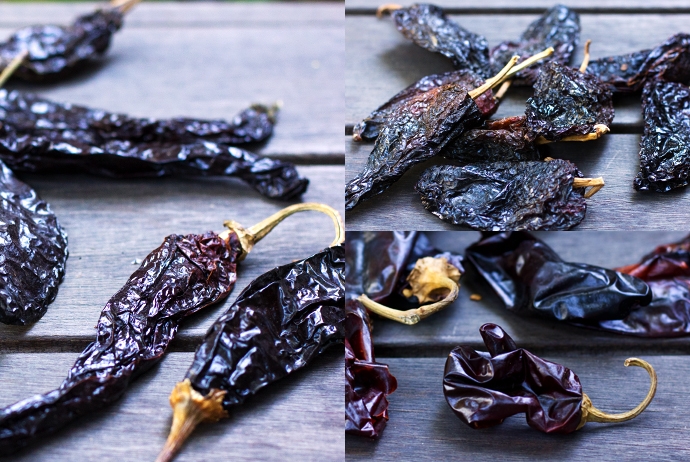 Slow Cooker Mole with Grilled Chicken
Ingredients
3

oz.

dried New Mexican chiles*

1½

oz.

dried ancho chiles

1½

oz.

dried pasilla chiles

½

cup

pork lard or vegetable oil

4

cloves

garlic, peeled

¾

cup

whole almonds

½

cup

raisins

1 (15

oz.

can) fire roasted diced tomato

½

teaspoon

cinnamon (I used freshly ground canela, Mexican cinnamon)

¼

teaspoon

freshly ground black pepper

¼

teaspoon

freshly ground anise

Scant ⅛ teaspoon freshly ground clove**

1

oz.

Mexican chocolate, roughly chopped***

1

slice

firm white bread (darkly toasted and torn into a few pieces)

¼

cup

sugar, plus more to taste

1½

teaspoons

kosher salt, plus more to taste

2

quarts

chicken stock

12

pieces

of chicken (breasts or thighs), preferably bone-in, skin on

⅓

cup

sesame seeds, toasted

Tortilla chips, for serving

(try making your own flavored chips)

Cilantro sprigs, for garnish
Instructions
Start by preparing your chiles. Give them a quick rinse and dry. Using a sharp knife, carefully slice from the stem end to the bottom end on one side of the chile. Pull off the stem and discard. Open the chile like a book. Using your knife, scrape out the ribs and seeds. Roughly chop chile into 1 inch pieces. Repeat this process with remaining chiles.

In a very large pot**** (7 quart +), warm pork lard or oil over medium heat. Add the chile pieces, almonds and raisins. Stirring slowly and continually, cook until the chiles and almonds are nice and toasted. The insides of the chiles will look lighter in color and the almonds will give off a toasted aroma (5 - 6 minutes).

Add the fire roasted diced tomato (juices and all), cinnamon, black pepper, anise, cloves, Mexican chocolate and torn bread, stirring to combine. Cook until the mixture has reduced and thickened (3 - 4 minutes).

Stir in 2 cups of water, sugar and salt and bring the mixture to a simmer. Once the mixture reaches a simmer, transfer everything to a large slow cooker (scrape everything in there!). Cook on low for 6 hours. This mixture is known as the mole base.

Turn off your slow cooker and transfer the mole base to a medium sized bowl. Scoop half of the mole base into a blender. Add 2 cups of chicken stock and blend until smooth (this takes a little while, about 5 minutes). While the mixture is blending, take a moment and give your slow cooker a quick wash and dry. Set a large medium-mesh basket strainer over your slow cooker. Once the mixture is blended smooth, pour it through the strainer into your slow cooker with the help of a spatula. Repeat the blending/pouring process with the remaining half of the mole base.

Stir in 3 more cups of chicken stock. Turn your slow cooker on high and simmer the mole for 2 hours. I can almost guarantee your kitchen will smell amazing. After two hours, check your mole for consistency and seasoning. The mole should be as thick as a creamy soup. If it is thicker than that, thin out the sauce with additional chicken stock (just a bit) until desired consistency is achieved. Season to taste with additional salt (I added about 2 teaspoons) and sugar (I added about 2 tablespoons sugar).

Finally, prepare your chicken (you can also do this while your mole is cooking if you are adept at multitasking). Fire up your grill (outside or countertop). While your grill is heating up, give your chicken a quick rinse and thorough dry. Season both sides of the chicken with kosher salt. Once your grill is nice and hot, place the chicken pieces skin side down on the grill. Let them cook for about 15 - 20 minutes then flip. The chicken is done when the internal temperature reaches 160 degrees (35 - 45 minutes). If you don't have a grill, you could certainly

cook the chicken in the oven.

To serve, place a place a piece of grilled chicken on a plate. Ladle a generous amount of mole over the chicken and sprinkle with toasted sesame seeds. Add a serving of brown rice and tortilla chips. Garnish with a few sprigs of fresh cilantro.
Notes
*I didn't include number amounts for the chiles because they can vary in weight and size. It is best to use a kitchen scale to measure your chile amounts.
**You can use pre ground spices for this recipe, but freshly ground spices are highly recommended.
***Mexican chocolate is prepared with various different spices. You should be able to find this ingredient online or at a Mexican market. If you can't, simply use bittersweet chocolate.
****Some slow cookers have a removable cooking crock that is safe to use on the stove top (mine doesn't). If you have one of these, you can complete the first several steps in the crock on the stove top and then easily transfer the crock to your slow cooker.
Tried this recipe?
Tag @brandiego on Instagram so I can check it out!
0