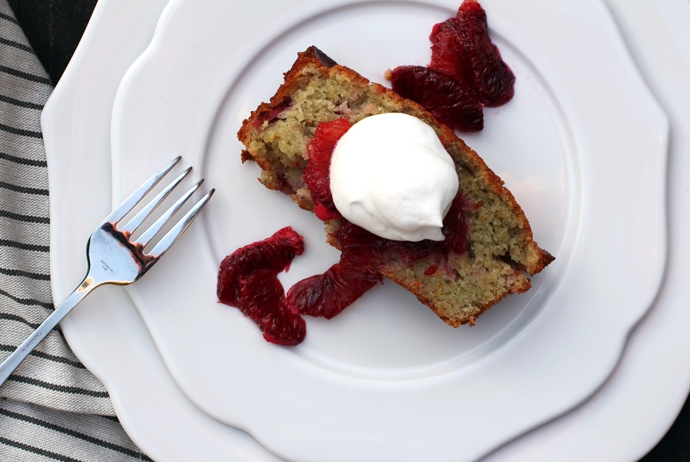 This post may contain affiliate links.
Blood oranges are by far one of my favorite seasonal ingredients (perhaps second to only meyer lemons).  I'm lucky enough to have a friend here in San Diego with a citrus grove in his backyard.  Last year, his grove was teeming with fresh fruit (blood orange tree pictured below).  Armed with every reusable tote I could find, I gleefully filled my bags with pounds and pounds of blood oranges, meyer lemons, limes, buddha hand citrons and eureka lemons.  This year, unfortunately, the blood orange trees were not producing (*single tear*).  Apparently they take a year off every now and then.
To my surprise, I saw a small display of blood oranges at my local Trader Joe's.  I picked up several bags with this Blood Orange Olive Oil Cake in mind.  Elaborate descriptions of this cake are not needed.  Plain and simple, this cake is just amazing.  Seriously, grab a bag of blood oranges while you still can and give this a try.  You won't be disappointed.  Plus… it is made with olive oil, so it's healthy, right?  Continue read for the recipe.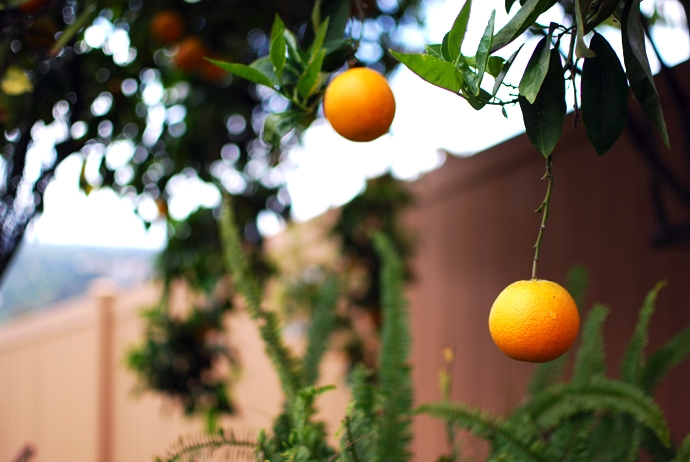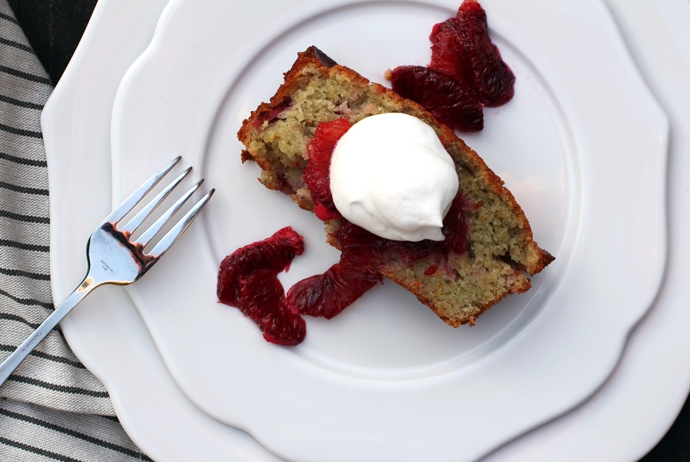 Blood Orange Olive Oil Cake
Ingredients
For the cake:
Unsalted butter, for greasing the pan

1

cup

sugar

3

blood oranges

Buttermilk

3

large eggs, lightly beaten

1 3/4

cup

all-purpose flour

1 1/2

teaspoons

baking powder

1/4

teaspoon

baking soda

1/4

teaspoon

fine grain sea salt

2/3

cup

extra virgin olive oil
For the honey-blood orange compote:
3

blood oranges

1 to 2

teaspoons

honey
Instructions
Preheat oven to 350°F. Grease a 9 by 5 inch loaf pan with unsalted butter. I actually had a little trouble getting my cake out of the pan, so you might want to also flour the pan or line with parchment paper.

Place sugar in a large bowl. Grate zest from 2 blood oranges into the bowl with sugar. Using your fingers, rub the the zest and sugar together until evenly distributed.

Next, supreme (segment) 5 of the blood oranges (2 for the cake, 3 for the compote) into two piles. To supreme a blood orange, cut off the top and bottom just until the pulp is exposed. Stand the blood orange up on one of the flat ends. Working from top to bottom, cut away the the peel and pith, following the curve of the fruit. Slice out each orange segment by cutting in towards the center of the fruit along the connective membranes. The segment should fall out on its own, but you can use your knife to help if needed. Repeat with remaining 4 oranges.

Place the larger pile of segments (from 3 oranges) in a small bowl and set aside for the compote. Roughly chop the remaining segments and set aside for the cake.

Halve the remaining blood orange and squeeze juice into a measuring cup (about 1/4 cup). Add buttermilk to the measuring cup until you reach the 2/3 cup mark. Pour juice-buttermilk mixture into the bowl with sugar and zest and whisk until combined. Whisk in eggs.

In a different bowl, combine flour, baking powder, baking soda and salt, whisking to combine. Add dry ingredients to wet ingredients and gently whisk until combined. Switch from whisk to spatula and fold in extra virgin olive oil in several additions (4 to 5 additions is fine). Fold in roughly chopped orange pieces. Pour batter into prepared pan and smooth the top.

Bake for 50 - 55 minutes or until the cake is golden brown and a skewer (or knife) inserted into the center comes out clean. Let cool on a rack for 5 minutes. Carefully unmold the cake and let cool to room temperature.

While the cake is cooling, prepare the honey-blood orange compote. Drizzle 1 to 2 teaspoons of honey over prepared blood orange segments (from paragraph 3 above). Let sit for 5 minutes, then stir gently.
To serve, place a slice of cake on a small plate. Spoon honey-blood orange compote over the cake and finish with a dollop of whipped cream.
Tried this recipe?
Tag @brandiego on Instagram so I can check it out!
6