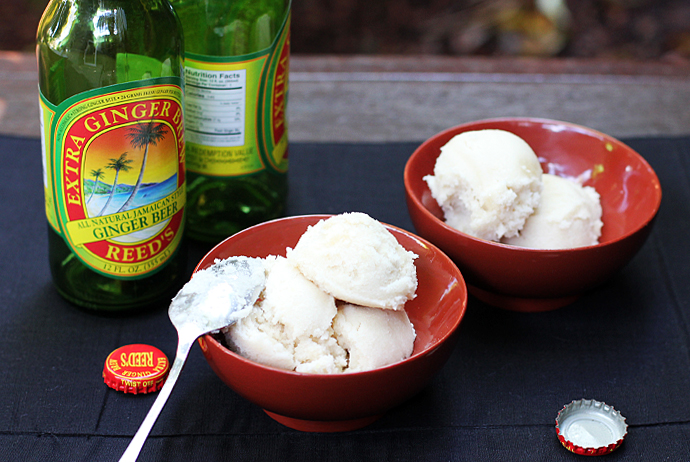 This post may contain affiliate links.
Last week, I showed you a ginger centric recipe perfect for a cold evening.  Given the variable nature of weather this time of the year, I am also going to show you a ginger dessert more suitable for warmer temperatures.  This Ginger Beer, Coconut, Rum Sorbet is a cool, refreshing treat that just screams Summer.  Vibrant ginger beer is blended with raw sugar, creamy coconut milk and freshly grated ginger.  Dark rum is churned in at the last minute, adding another layer of rich, bold flavor.  I'll have to say that this is one of the most flavorful sorbets I have ever made.  The first spoonful will ignite your palate (in a good way).  There is also a high chance you might raise your eyebrows, widen your eyes and let out an elongated, dramatic "Wow".   Continue reading for the recipe.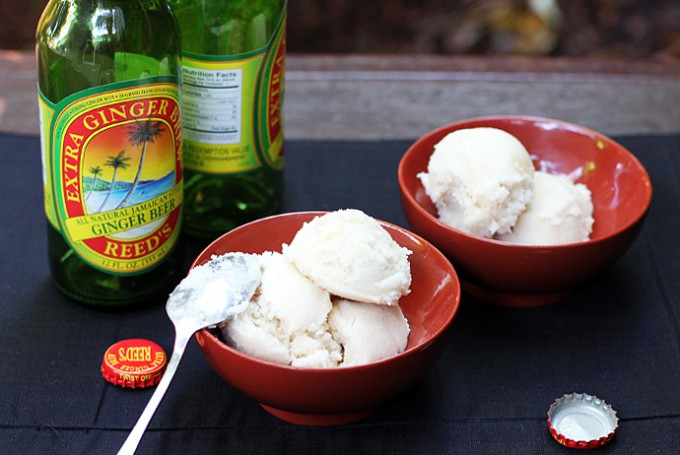 Ginger Beer, Coconut, Rum Sorbet
Ingredients
24

oz.

ginger beer (2 bottles), thoroughly chilled

1/2

cup

plus 2 tablespoons turbinado sugar

1

cup

coconut milk (I would recommend full fat. Be sure to give your can a good shake before opening)

3/4

teaspoon

kosher salt

1

tablespoon

grated ginger

2 1/2

tablespoons

dark rum (I actually used Sailor Jerry's Spiced Rum)

Lime zest, for topping (optional)*
Instructions
Add ginger beer and turbinado sugar to a large bowl, whisking until the foam subsides and sugar is completely dissolved (3 - 5 minutes). Whisk in coconut milk, kosher salt and grated ginger.

Freeze sorbet in an ice cream maker according to the manufacturer's instructions. When sorbet is finished, slowly stream in dark rum and churn until incorporated (1 to 2 minutes longer). Transfer to a freezer safe container, cover and freeze until solid and scoopable (about 3 to 4 hours).

To serve, scoop sorbet into a small bowl and top with a sprinkling of lime zest.
Notes
*I did not have lime zest while photographing this sorbet; however, I did add a sprinkling of zest while enjoying this sorbet several days later. The zest worked so well with the sorbet, I had to add it to the recipe (despite it not being pictured). Enjoy!
Tried this recipe?
Tag @brandiego on Instagram so I can check it out!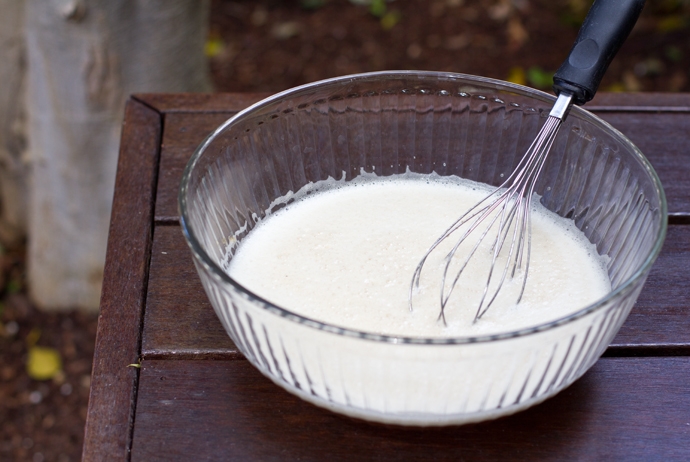 5