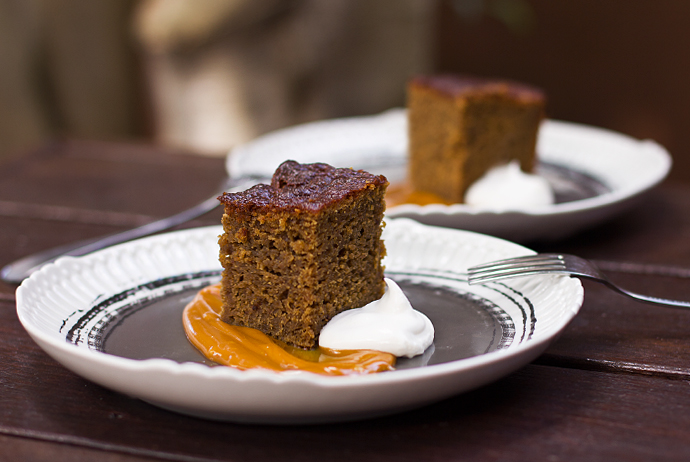 This post may contain affiliate links.
The weather in San Diego has been quite sporadic recently.  Our beautiful, sunny days interrupted by bouts of wind, rain, sub 70° temperatures and even… hail!  During one of these recent cold spells, I found myself craving a Holiday-esque dessert.  Something one would eat while bundled in a blanket next to a crackling fire enjoying the catty banter of the Real Housewives.  My answer to this craving: Ginger Cake with Salted Caramel Sauce.  Spiced with fresh ginger, ground ginger, cinnamon, clove and white pepper, this ginger cake is warm, moist and so comforting.  The spiced cake is perfectly accented by a salty-sweet caramel sauce and cool whipped cream.  If you find making caramel at home daunting, I urge you to just try making the cake.  It is seriously legit.  Continue reading for the recipe.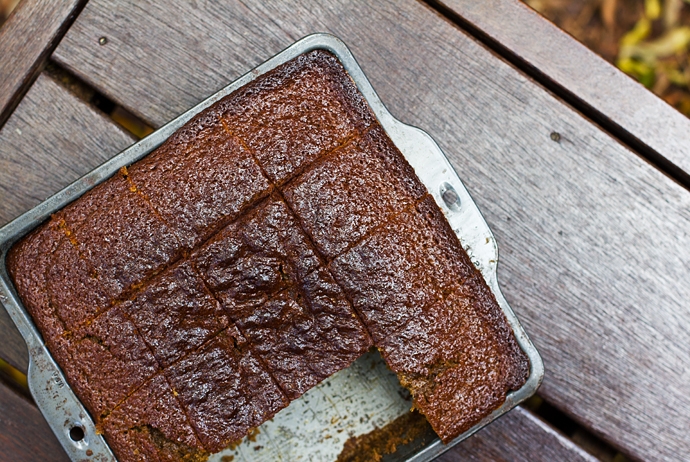 Ginger Cake with Salted Caramel Sauce
Ingredients
For the cake:
Butter and flour

for the pan

2 1/2

cups

all purpose flour

1/2

teaspoon

cinnamon

1/2

teaspoon

ground cloves

1/2

teaspoon

ground white pepper

1/2

teaspoon

ground ginger

1

tablespoon

baking soda

2

oz.

ginger, peeled and finely grated (about 3 tablespoons)

1

cup

sugar

3/4

cup

neutral flavored oil (I used vegetable)

3/4

cup

dark molasses, not blackstrap

4

large eggs
For the salted caramel sauce:
1/2

cup

sugar

1 1/2

teaspoons

light corn syrup

1/2

teaspoon

cream of tartar

1

cup

heavy cream, room temperature

1/4

teaspoon

kosher salt

1/2

cup

(1 stick) unsalted butter, cut into tablespoon sized chunks
Instructions
To make the cake:
Preheat the oven to 350°F. Lightly grease an 8 by 8 inch cake pan with butter and dust lightly with flour.

Sift flour, cinnamon, cloves, white pepper, ground ginger and baking soda into a bowl. Set aside.

In the bowl of a stand mixer, combine grated ginger, 1/2 tablespoon water, sugar, oil and molasses. Mix on low speed. Add eggs and continue mixing on low until completely combined.

Slowly add dry ingredients to wet ingredients, continuing to mix on low, scraping down the sides of the mixing bowl when needed. Once all dry ingredients are slightly incorporated, increase speed to medium and mix for 2 minutes. Scrape down the sides, decrease speed to low and slowly add 3/4 cup hot tap water. Mix until just combined, scraping down the sides one last time.

Pour mixture into the prepared cake pan. Bake until a toothpick inserted into the center of the cake comes out clean (40 - 45 minutes).
To make the salted caramel sauce:
While the cake is baking, prepare your sauce. In a medium sized pot (with high walls), combine sugar and 1 3/4 cups hot water, stirring until the sugar dissolves. Stir in corn syrup and cream of tartar. Bring mixture to a boil over high heat and place a lid on the pot (preferably a lid you can see through). This will prevent sugar crystals from forming on the sides of your pot. Do not stir. Cook mixture until it reaches a deep caramel color and a candy thermometer reaches 335°F.*

Remove the pot from the heat and slowly and carefully stream in the heavy cream, stirring to incorporate (a high walled pot should keep you safe from any splattering). Stir in kosher salt and butter, one tablespoon at a time. The finished caramel sauce will be a little thin. If you want to thicken the sauce before serving, transfer sauce to a bowl or small pitcher and cool in the refrigerator for 5 - 10 minutes (but not too long!).
To serve, spoon some of the caramel sauce on a plate or shallow bowl. Place a square of ginger cake in the middle of the sauce. Finish with a dollop of freshly whipped cream.
Notes
* I did not time this process. I just watched the caramel until it looked golden brown, removed the lid and tested with my thermometer. My initial reading was about 310°F, so I knew it wouldn't be much longer till the caramel was done. The key to this process is attention. Once you see your caramel getting darker, stop multitasking and pay attention 🙂
Tried this recipe?
Tag @brandiego on Instagram so I can check it out!
5