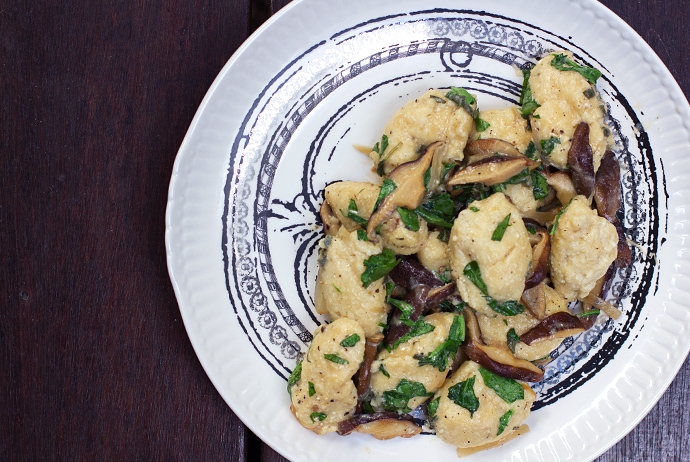 This post may contain affiliate links.
The process of making traditional gnocchi has always seemed a little daunting to me.  And I find this perplexing.  First, I am Italian.  So, this should come naturally, right?  Second, given the short, simple ingredient list (potato, flour, egg, salt), one would think that gnocchi are easy to make!  However, they aren't.  The key to making delicious, light gnocchi is in the technique.  A technique I have yet to master.
Several months ago, I stumbled upon this recipe for Ricotta Cheese Gnocchi (via Mark Bittman).  Despite my preexisting worries surrounding gnocchi making, I decided to give this recipe a try.  Results: amazing.  The simple process outline below will result in light, fluffy gnocchi that are utterly delicious.  Made with shiitake mushrooms, brown butter, shallots, sherry and sage, the accompanying mushroom sauce pairs well with the pillow-like gnocchi.  However, if you are looking to focus more on the gnocchi, I would recommend serving with a simple sauce such as a basic tomato sauce or a brown butter sage sauce.  Continue reading for the recipe.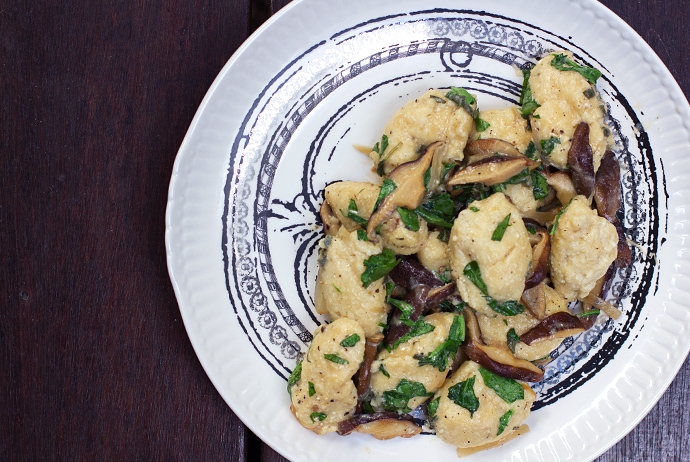 Ricotta Cheese Gnocchi with Mushroom Sauce
Ingredients
For the gnocchi:
Kosher salt

1 (15

oz.

container) ricotta cheese (I used whole milk)

2

eggs, lightly beaten

1 1/4

cup

freshly grated Paremsan

Freshly ground black pepper

3/4 to 1

cup

all purpose flour
For the mushroom sauce:
2

tablespoons

butter

2

tablespoons

olive oil

12

oz.

shiitake mushrooms, cleaned, stemmed and sliced

1/2

cup

sliced shallots

1 1/2

cup

chicken stock

1/4

cup

good quality sherry

1

tablespoon

chopped fresh sage

2

tablespoons

heavy cream

Kosher salt

Freshly ground black pepper

3

cups

coarsely chopped arugula

Grated Parmesan cheese
Instructions
To make the gnocchi:
Bring a large pot of water to a boil and salt well (should taste like the sea). In a large bowl, combine ricotta cheese, eggs, parmesan, a pinch of salt and several turns of ground black pepper. Add 1/2 cup flour and stir. Continue to add flour (a little at a time) until the dough comes together (will be fairly sticky). Using a spoon, scoop a small bit of dough (about 1 teaspoon) and drop it into the boiling water. If the gnocchi holds it's shape, then you have added just the right amount of flour. If you see bits shedding off of the gnocchi, then you need to add more flour to the dough. Stir in a bit more flour and repeat the testing process above till your gnocchi holds together.

Line a baking sheet with foil or parchment paper. Scoop tablespoon sized gnocchi onto the baking sheet (I made quenelles). Set aside while preparing the sauce.
To make the sauce:
Warm butter and olive oil in a large skillet over medium high heat. Cook just until the butter begins to brown (about 2 minutes). Add sliced shiitakes and shallots and cook, stirring occasionally, until golden brown (about 10 minutes). Add stock, sherry and sage, stirring to combine. Simmer until liquid is slightly reduced (about 6 - 8 minutes). Stir in heavy cream, then season to taste with kosher salt and freshly ground black pepper. Reduce heat to low to keep sauce warm while gnocchi are cooking.

Working in small batches (about 6 - 8 gnocchi at a time depending on size), drop gnocchi into the boiling, salted water. When the gnocchi rise to the surface, scoop out with a slotted spoon and add to the skillet with the mushroom sauce. Repeat until all gnocchi are cooked.

Return heat to medium, add chopped arugula and toss. Cook until arugula is wilted and everything is nicely heated through (about 1 minute). Finish with a healthy dusting of freshly grated Parmesan cheese.
Tried this recipe?
Tag @brandiego on Instagram so I can check it out!
2