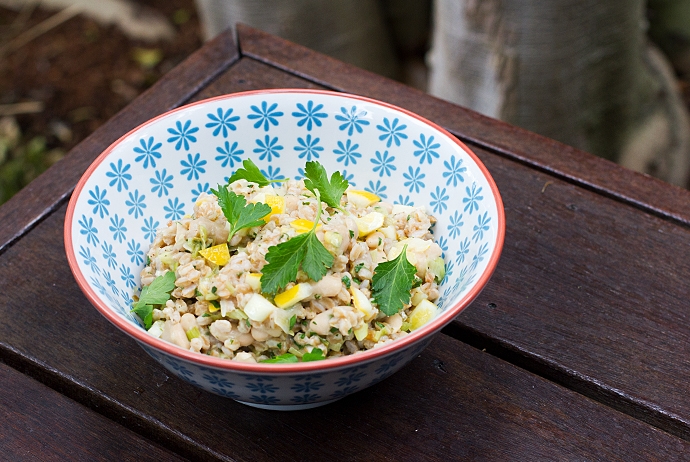 This post may contain affiliate links.
I have two special treats for you all today. First, a recipe for the most amazing Farro, White Bean and Preserved Lemon Salad. Hearty, healthy and satisfying, this colorful salad is just packed with bold, fresh flavor. So, so tasty. Second, a brief overview of my recent experience at a Food Styling & Photography Workshop hosted by Matt Armendariz and Adam Pearson. I had such a fantastic time at this workshop. Matt and Adam's entertaining teaching style made learning the material fun and engaging. Their studio space was a perfect setting fully stocked with a drool-worthy collection of props and equipment. I also really enjoyed my fellow classmates. Being surrounded by such a talented group of individuals that also share my love for food and photography was a real inspiration. Continue reading for the recipe and more details on the workshop.
Our first task was to style and photograph one of my favorites, a hamburger. I decided to top my burger with some chopped cornichons, sweet onion and thyme leaves to add a little drama to the picture.
Next, we built a plate of pasta (another favorite of mine. how did they know?). Fresh zucchini and basil were woven amongst coils of olive oil drizzled spaghetti. Topped with bright lemon zest, red chili flake and shaved Parmesan, this pasta dish would be perfect for a warm summer evening.
Our final project was definitely the most challenging. The perfect dollop. I initially struggled with this task; however, after several tries, I was able to master the method. My last picture features a double dollop of whipped cream accented by fresh berries, vibrant mint and a refreshing glass of white wine "sangria".
To conclude, I really enjoyed this workshop. Such a valuable learning experience! I would highly recommend attending the next class if you are interested in getting some great hands on experience with food styling and photography. Also, please take a moment and check out the blogs of my fellow classmates:
Nancy Buchanan: A Communal Table
Jen Choi: Jen Choi Design
Jennifer Chong: J Chong Design
Kim Hudson: 180 360
Krystal Regueiro: Mrs. Regueiro's Plate
Traci Swain: Teaching Traci
Averie Sunshine: Love Veggies and Yoga
Adam's Assistant – Jenny Park: Jenny Park Food Style
Now… on to the recipe!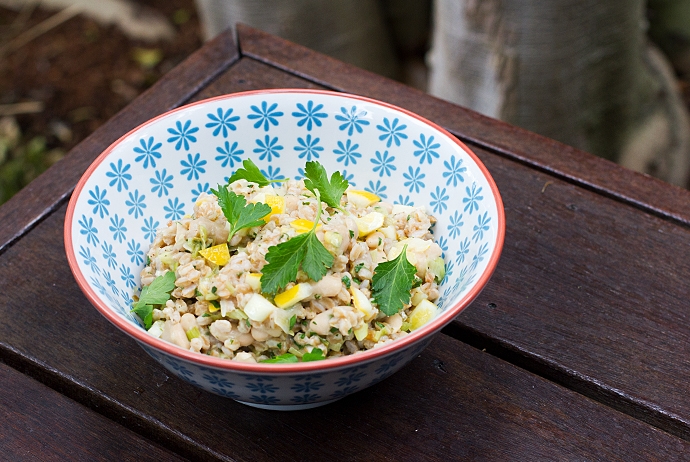 Farro, White Bean and Preserved Lemon Salad
Ingredients
1

cup

uncooked farro

Kosher salt

2

tablespoons

extra virgin olive oil

1

leek, washed thoroughly, halved lengthwise and thinly sliced

1

clove

garlic, minced

1/4

cup

chopped parsley

1 (15

oz.)

can white beans, cannelini or great northern, drained and rinsed

2 - 3

tablespoons diced preserved lemon

(or quick preserved lemon)

Freshly ground black pepper
Instructions
Place farro in a mesh basket strainer and rinse under cold, running water for 1 - 2 minutes. Add farro to a medium pot with 3 cups of water and 1 teaspoon of kosher salt. Bring mixture to a boil over high heat, reduce heat to low and cook until al dente (soft on the outside, some bite left on the inside, about 25 - 30 minutes). If the farro has reached a desired texture, but hasn't absorbed all of the water, drain and return to the pot. Turn off heat and cover.

While the farro is cooking, warm extra virgin olive oil over medium heat in a large skillet. Once you see the oil start to shimmer, add sliced leeks. If you have difficulties recognizing the shimmer level of oil, try testing the heat level by dropping one slice of leek in the oil. If it doesn't sizzle, you need to warm the skillet more. If you hear a satisfying sizzle when the leek hits the oil, it is ready. If the oil is smoking in skillet, then it is too hot and you need to lower the heat (or start over). Cook leeks until they start to soften, stirring occasionally (5 - 7 minutes). Add garlic and cook until soft and fragrant, stirring occasionally (1 - 2 minutes).

Stir in white beans, chopped parsley and preserved lemon, then transfer the entire mixture to the pot with the cooked farro, stirring to combine. Season to taste with kosher salt and freshly ground black pepper.
Tried this recipe?
Tag @brandiego on Instagram so I can check it out!
0