This post may contain affiliate links.
This recipe for Goat Cheese Ice Cream with Fried Bread Crumbs and Balsamic Strawberries is the last menu item featured at my recent west elm event.  Rich, creamy goat cheese ice cream is perfectly accented by crunchy pops of salted bread crumb and sweet, tangy balsamic strawberries.  I clearly remember the chatter that rolled through the crowd when I announced this dish.  Distinct and daring, this ice cream may not have been the crowd favorite; however, it was a unique experience the spurred excitement and conversation.  Creating a wow moment at an event, whether it be a small dinner party or a large gathering, is something I would highly recommend doing.  These moments can be fun for you and your guests and will remain in their thoughts long after the event is over.
A quick side note on the recipe for the balsamic strawberries below (very similar to Strawberries in Lemon Syrup).  The method for making these strawberries will result in two extremely tasty byproducts.  First, a strawberry lemon syrup that can be used to flavor drinks or desserts.  I made a cocktail last night with this syrup, lemon juice, orange bitters, strawberry puree, vodka and dimmi.  Uhhh… yum.  Second, a flavorful strawberry infused vinegar.  Shake some of the vinegar up with dijon mustard and extra virgin olive oil to make a quick strawberry balsamic vinaigrette.  Continue reading for the recipes.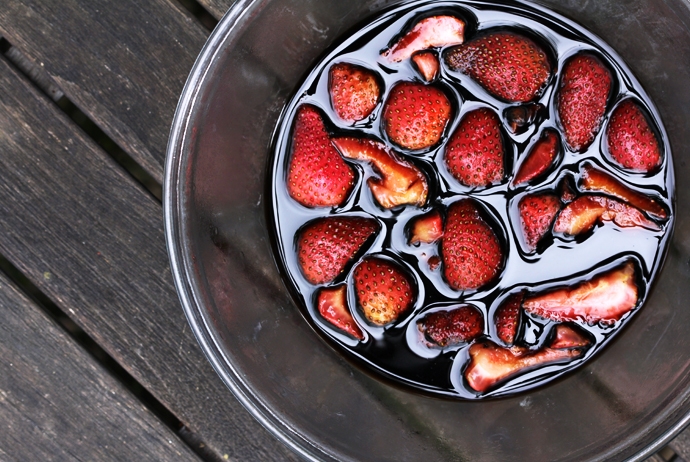 Goat Cheese Ice Cream with Fried Bread Crumbs and Balsamic Strawberries
Ingredients
1 1/2

cups

whole milk

2/3

cup

sugar

8

oz.

fresh goat cheese

6

large egg yolks

For the fried bread crumbs:

1/4

day-old baguette, in slices

1/4

cup

olive oil

Kosher salt

For the balsamic strawberries:

1/2

cup

sugar

Zest of 1 lemon, cut in strips

1

cup

strawberries, quartered

1/2

cup

balsamic vinegar
Instructions
To make the ice cream:
Prepare an ice bath by filling a bowl with cold water and ice. Set aside. Place goat cheese in a large bowl and set a fine mesh basket strainer over the bowl. Set aside.

In a small saucepan warm milk and sugar over medium heat. Bring mixture to just below a simmer, stirring to dissolve the sugar (the liquid should just begin to bubble).

Meanwhile, whisk the large egg yolks in a bowl until slightly thickened. Slowly, while whisking, pour the hot milk mixture into the yolks. Take your time here so you don't scramble the egg (this process is known as tempering). Once tempered, return the egg-cream mixture to the saucepan.

Put the saucepan over medium heat and cook, stirring constantly with a wooden spoon. You will know the custard is thick enough when you see steam rise from the surface and the custard coats the spoon. Pour the custard through the mesh basket strainer into the bowl with the goat cheese. Stir until goat cheese is melted. Place the bowl in the ice bath and stir until cool.

Refrigerate until thoroughly chilled. Freeze custard in an ice cream maker according to the manufacturer's instructions.
To make the fried bread crumbs:
Place the sliced baguette into a food processor and pulse until the crumbs are coarsely chopped.

Warm olive oil in a large skillet over medium high heat. Once the oil is warm and shimmering, add the bread crumbs. Stir to coat the crumbs in oil. Season with a pinch of kosher salt. Cook, stirring occasionally, until lightly brown and crispy (about 5 minutes). Transfer crumbs to a paper towel covered plate. Let cool.
To make the balsamic strawberries:
Place the sugar and lemon zest in a small saucepan with 1 cup of water. Warm over medium low heat, stirring until the sugar is dissolved. Put the strawberries in a medium sized bowl, pour the lemon syrup over the strawberries and cool for 2 - 3 hours.

Drain the syrup and save for another use (flavoring iced tea or cocktails). Place the strawberries in a clean bowl and add vinegar. Cover tightly and refrigerate for several hours or until ready to use. The leftover strawberry vinegar makes a damn good vinaigrette.
To serve:
Scoop ice cream into a bowl and top with fried bread crumbs and balsamic strawberries.
Tried this recipe?
Tag @brandiego on Instagram so I can check it out!
2