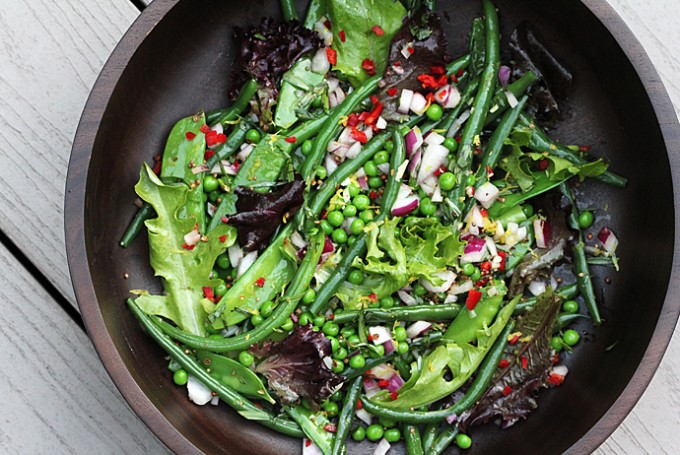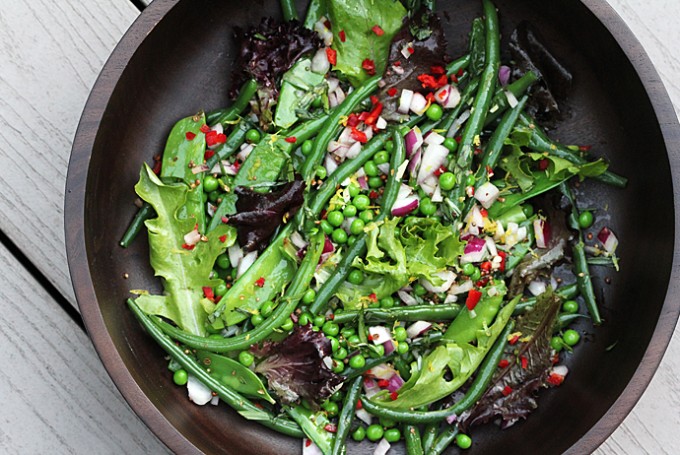 This post may contain affiliate links.
Gosh, I can't even believe that I launched Kitchen Konfidence one year ago today.  In my opinion, it has been quite the enjoyable ride.  Would you agree?  I was looking back through my recipe archives this week just smiling at everything that I've accomplished.  Infused alcohols, homemade ice creams, signature cocktails, seasonal treats and delectable desserts seem to be my "specialties."  I will continue to focus on these categories over the next year and also try to branch out a bit.  Suggestions?
My first year of blogging brought many surprises.  My recipes have been featured on a number of popular websites.  I also developed a partnership with one of my favorite stores, west elm.  Recently, I launched Kitchen Konfidence LIVE, an in home cooking experience where I teach other home cooks how to be more konfident in the kitchen (moments from my first event below).  In the next year, I am going to be experimenting with cooking videos.  I really can't wait to see what unfolds in the future.
I was originally thinking about posting a cake for my 1 Year Anniversary; however, cakes are not really one of my strengths.  Yet.  Instead, I decided to post something more characteristic of me.  This Green Bean Salad with Mustard Seeds and Tarragon is a fresh, seasonal recipe packed with flavor, color and texture.  Vibrant peas and beans are tossed with red onion, garlic, red chile, lemon zest and tarragon then dressed in coriander and mustard seed infused olive oil.  This salad is an experience.  No joke.  Fresh, bold and spicy, each bite will ignite your taste buds.
I just want to take a moment to say thank you to all of you who have been with me during this experience.  I really appreciate all of your comments and participation.  Continue reading for the salad recipe.
Here is a series of photos from my first Kitchen Konfidence LIVE event.  Lucy and Sergio (the students) graciously allowed me to photograph the experience.  The menu for the evening included:
Saffron Aioli and Watercress Aioli with Pommes Frites and Frizzled Leeks
Green Bean Salad with Mustard Seeds and Tarragon
Chicken in Tarragon Sauce
Salted Caramel Pot de Cremes
The first and last courses were prepared in advance.  Lucy and Sergio did a stellar job cooking the middle three courses.  One of my favorite moments from the evening was seeing the look on Lucy's face when she finished up the Summer Vegetable Tart (see below), a complicated yet beautiful and delicious recipe.
Lucy chops tomatoes and Sergio gets daring on the mandolin.
Lucy, beaming with konfidence, finishes a Summer Vegetable Tart by beautifully arranging blanched zucchini slices.
Sergio trims snow peas and crushes coriander for the Green Bean Salad.
Chopped tarragon, red chile, red onion, garlic and grated lemon zest are tossed into the salad.
Luna snacking on some dropped dill.
Pommes Frites with Frizzled Leeks, Saffron Aioli and Watercress Aioli to start.  Green Bean Salad with Mustard Seed and Tarragon afterwards.
Lucy snaps a pic of the dinner, Chicken Breasts in a Tarragon Sauce and a Summer Vegetable Tart.
If you live in the San Diego area and are interested in going through a Kitchen Konfidence LIVE experience, please email me at brandon [at] kitchenkonfidence [dot] com for seasonal menus, pricing and availability.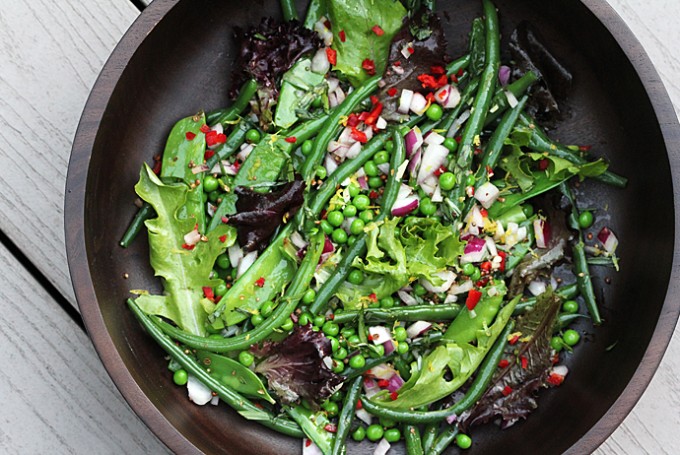 Green Bean Salad with Mustard Seeds and Tarragon
Ingredients
1 1/4

cup

green beans

2 1/4

cups

snow peas

1 3/4

cup

green peas

2

teaspoon

coriander seeds, roughly crushed

1

teaspoon

mustard seeds

3

tablespoons

olive oil

1/2

small red onion, finely chopped

1

mild fresh red chile, seeded and finely diced

1

garlic clove, minced

Zest of 1 lemon, grated

2

tablespoons

chopped tarragon

Flaky sea salt

1

cup

baby lettuce

Red Onion, Red Chile, Lemon Zest, Garlic and Tarragon
Instructions
Prepare an ice bath (a large bowl of cold water and ice). Set aside.

Fill two medium saucepans with cold water and bring to a boil. While you are waiting for the water to boil, trim green beans and snow peas. In one pot of boiling water, blanch the green beans for 4 minutes. Lift them from the pan with a slotted spoon and transfer to the ice bath.

In the other pot of boiling water, blanch the snow peas for 1 minute. Transfer snow peas to the ice bath. Blanch the green peas in the same pot for just 20 seconds. Transfer green peas to the ice bath. Drain all beans and peas, dry thoroughly then place in a large mixing bowl.

Place the crushed coriander seeds, mustard seeds and olive oil in a small frying pan and warm over medium heat. When the seeds start to pop, pour the oil and spices over the beans and peas. Toss, then add red onion, chile, garlic, lemon zest and tarragon, mixing to combine. Gently fold in baby lettuce and season with flaky sea salt.
Tried this recipe?
Tag @brandiego on Instagram so I can check it out!
5