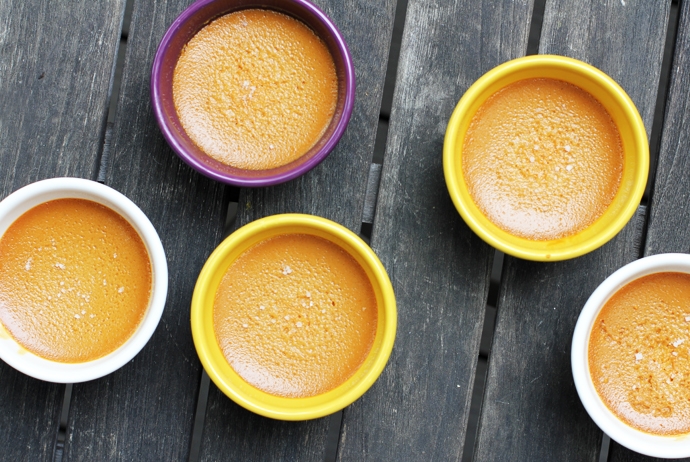 This post may contain affiliate links.
I recently served this dessert at a Kitchen Konfidence LIVE cooking experience.  French for "pot of cream", pots de creme are a barely firm, baked custard typically made with eggs and cream.  A fancy pudding if you will.  Pots de Creme can be flavored with just about anything: vanilla, chocolate, butterscotch, pumpkin, cardamom and this list really could go on forever.  I have an affinity towards salted caramel, so I decided to go that route.  In this recipe for Salted Caramel Pots de Creme, a quick caramel made with white sugar and sea salt is mixed with eggs, cream, milk and sugar then baked into a rich, creamy custard.  Finished with a sprinkling of crunchy fleur de sel, these pots are an easy yet elegant dessert that will not disappoint.  Continue reading for the recipe.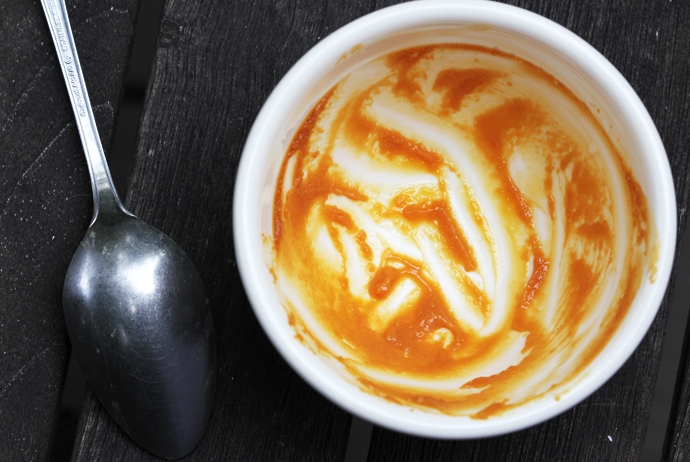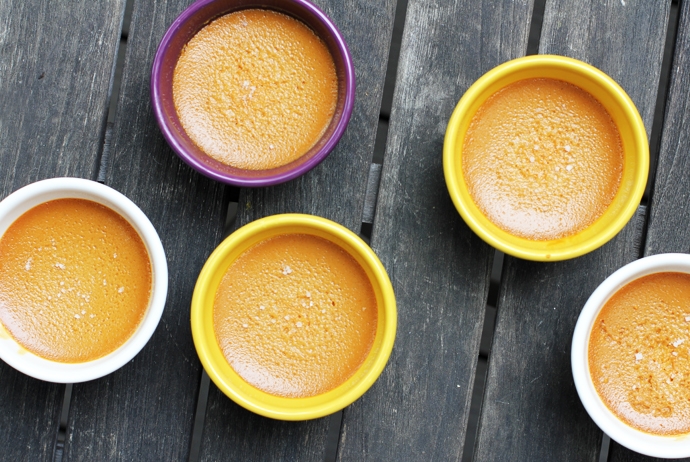 Salted Caramel Pots de Creme
Ingredients
3/4

cup

granulated sugar, divided (1/2 cup for the caramel, 1/4 cup for the custard)

A pinch of fleur de sel (or flaky sea salt)

3/4

cup

heavy cream

1/2

cup

whole milk

4

egg yolks

1/4

teaspoon

vanilla extract

Additional fleur de sel, for sprinkling
Instructions
Warm 1/2 cup sugar and salt in a medium saucepan over medium heat. Moisten the sugar with just a few drops of water.

Stirring constantly, cook sugar until it caramelizes. The sugar will liquefy, bubble and eventually thicken. Once the caramel turns a rich amber color, remove from the heat and add the cream and whole milk, constantly stirring to combine.

Return the pan to the heat and keep stirring until smooth. At first, the caramel will have some lumps, but don't worry, these will eventually smooth out. Take the caramel off the heat and set aside to cool.

Preheat oven to 300°F.

In a mixing bowl, whisk together egg yolks, 1/4 cup sugar and vanilla until thick. Slowly, whisk in the cooled caramel until fully incorporated. Let the mixture sit still for a minute then skim off any foam that has developed on the surface.

Fill ramekins with the custard mixture and place in a roasting pan. Fill the roasting pan with boiling water halfway up the ramekins. Cover with aluminum foil and pierce with holes.

Carefully place in the oven and cook for 30—40 minutes. They are finished once they are wobbly in the center but completely firm to the touch. Let sit 10 minutes covered. Refrigerate for 2 hours before serving.

Sprinkle finished pots de creme with additional fleur de sel right before serving.
Tried this recipe?
Tag @brandiego on Instagram so I can check it out!