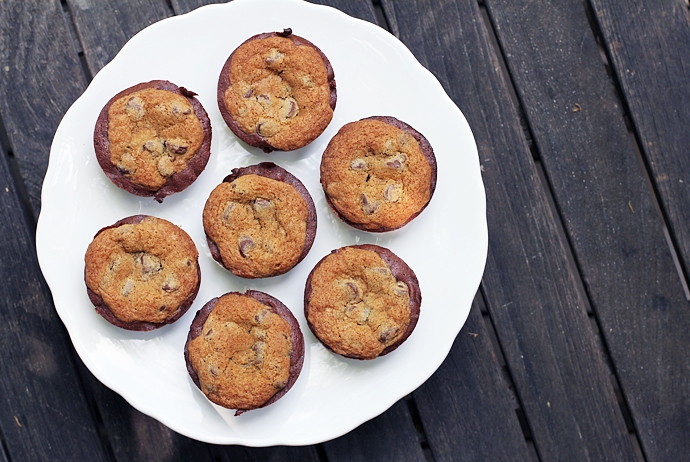 This post may contain affiliate links.
You might be wondering what a Brookster is right now.  It's a mini Brookie.  Which is a brownie cookie.  In other words… delicious.  This ingenious idea is courtesy of those talented Baked boys, Matt Lewis and Renato Poliafito.  I was wandering around William-Sonoma last week when I noticed a box of Brookster mix sitting on the shelf.  I'm not one for purchasing boxed mixes; however, the idea definitely intrigued me.  I just had to recreate it at home.  This Brookster recipe features decadent, golden brown chocolate chip cookies baked atop dense, incredibly chocolatey brownie cups.  The marriage of these two well known confections results in a dessert that is just pure perfection.
An important note about the cooking times and temperatures for this recipe.  I baked several batches of these Brooksters at different times and temperatures to test out various textures and consistencies.  First, I baked the Brooksters at 375 for about 17 minutes.  This resulted in cooked outsides with a molten, fudge-like core.  I baked the next batch at 350 for about 20 minutes and the finished desserts were more evenly cooked through.  I am partial to undercooked brownies, so I definitely preferred the first batch.  For this reason, my instructions below suggest cooking the Brooksters at 375 for 17 – 19 minutes.  If you like your brownies completely cooked, then I would recommend going lower and slower (350 or 325 for 20 – 25 minutes).  Continue reading for the recipe.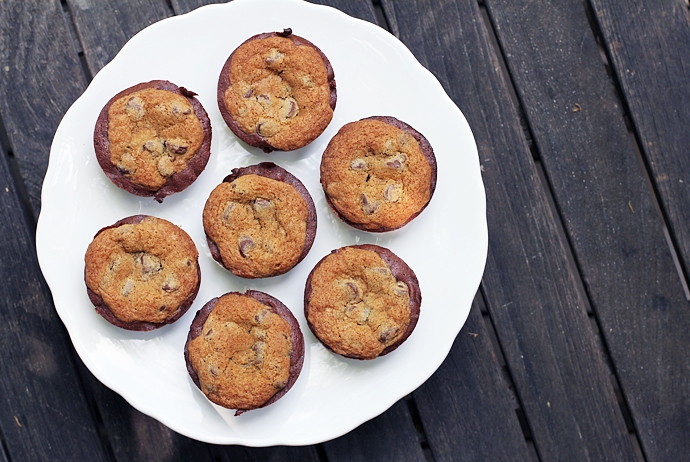 Brooksters [Brownie + Cookie]
Ingredients
For the chocolate chip cookie dough:
1

cup

plus 2 tablespoons all purpose flour

1/2

teaspoon

fine grain sea salt

1/2

teaspoon

baking soda

1/2

cup

(1 stick) unsalted butter, softened

1/2

cup

packed dark brown sugar

1/4

cup

white sugar

1

large egg

1

teaspoon

pure vanilla extract

6

oz.

semisweet chocolate chips
For the brownie batter:
1/2

cup

(1 stick) unsalted butter, cut into 1-inch cubes, plus more for muffin tin

3/4

cup

all purpose flour

1

tablespoon

dark cocoa powder

1/2

teaspoon

fine grain sea salt

5

oz.

dark chocolate (top quality, 60 to 72 percent cacao), coarsely chopped

3/4

cup

white sugar

1/4

cup

light brown sugar

3

large eggs, room temperature

1

teaspoon

pure vanilla extract
Instructions
To make the chocolate chip cookie dough:
Add flour, fine grain sea salt and baking soda to a large bowl, whisking to combine. Set aside.

In the bowl of an electric mixer fitted with the paddle attachment, mix together butter, white sugar and dark brown sugar on medium speed until smooth and creamy. Using a spatula, scrape down the sides of the bowl. Add the egg and beat until light and fluffy. Add vanilla and mix until just incorporated. Add half of the flour mixture to bowl. Mix for a few seconds on low then increase the speed to medium. Beat until just combined (15 – 20 seconds). Add the remaining flour mixture and repeat the process above. Do not overmix here. Gently fold in the chocolate chips.

Cover bowl, transfer to the refrigerator and chill for at least 3 hours before using.
To make the Brooksters:
Using butter or nonstick spray, grease the bottom and sides of a 12 cup muffin tin. Set aside.

Add flour, fine grain sea salt and cocoa powder to a medium bowl, whisking to combine. Set aside.

Bring a large pot filled with 2 inches of water to a simmer. Set a heatproof bowl on top of the pot, but make sure the bottom of the bowl is not touching the simmering water. Add butter and chocolate to the bowl, stirring until melted and combined. Turn off the heat, but keep the bowl on the pot. Whisk white sugar and light brown sugar into the chocolate mixture. Remove the bowl from the pot and let cool to room temperature.

Add eggs to the chocolate mixture, whisking until just combined. At this point, switch from a whisk to a spatula. You want avoid adding extra air to the batter. Add vanilla and stir until just combined. Gently fold flour mixture into the chocolate mixture until just incorporated. Do not overmix here.

Fill each well of the muffin tin halfway with batter. Transfer muffin tin to the refrigerator and let chill for at least 1 hour. Both the cookie dough and brownie batter must be well chilled before baking to ensure even cooking.

Preheat your oven to 375°F and place a rack in the center of the oven (please see notes above regarding cooking times and temperatures).

Once thoroughly chilled, take the muffin tin from the refrigerator. Using a small spoon, scoop out a small amount of chilled cookie dough. Using your hands, shape dough into ball then slightly flatten it into a disk. The disk should be a bit smaller than the top of the muffin tin wells. Gently press the disk into one of the wells of batter. Repeat this process with remaining 11 wells.*

Place the muffin tin in the oven and bake until the cookies are golden brown ( 17 – 19 minutes), rotating the muffin tin halfway through.
Notes
*You will have extra chocolate chip cookie dough leftover. Don't throw this out. Make cookies. Roll remaining dough into balls. Slightly flatten the balls into disks and place on a cookie sheet lined with a silpat or parchment paper. Bake in a 375 oven until golden brown (9 – 11 minutes depending on the size of your disks). Let cool for a minute on the baking sheet then transfer to a wire rack to cool completely. Or enjoy warm.
Tried this recipe?
Tag @brandiego on Instagram so I can check it out!
18