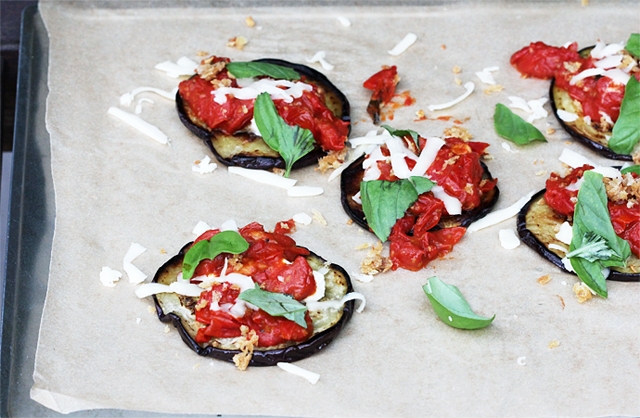 This post may contain affiliate links.
So I'm really hoping that my Italian relatives do not read this article!  I can almost see them shaking their heads at my brazen deviation from traditional Eggplant Parmesan.  Rarely do I stray from my family's Italian recipes (I've been making my mother's tomato sauce for 10 years now!); however, when I saw this recipe in the Times, I almost immediately felt compelled to give it a try.  Lighter and healthier than its traditional counterpart, this Deconstructed Eggplant Parmesan is made by preparing each individual component separately (eggplant, sauce, bread crumb topping) then combining them into single serving bites that are nothing short of scrumptious.  The rustic sauce, made of sweet cherry tomatoes, garlic, fresh oregano and basil, is so simple to make and comes together in about 15 minutes.  If you are steeped in Italian tradition and looking at this recipe with a skeptical eye, I urge you to take a brief hiatus from the norm and give this dish a try.  So tasty.  You won't be sorry!  Continue reading for the recipe.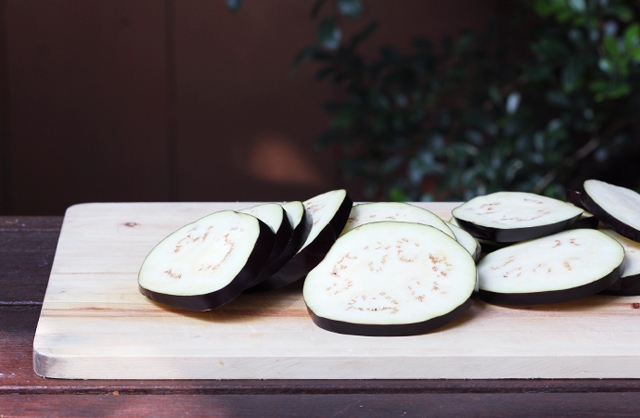 One large eggplant (currently in season) is sliced, seasoned then drained of moisture before hitting a hot skillet.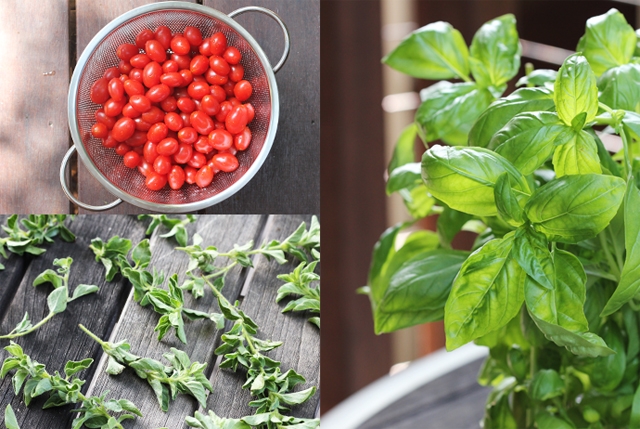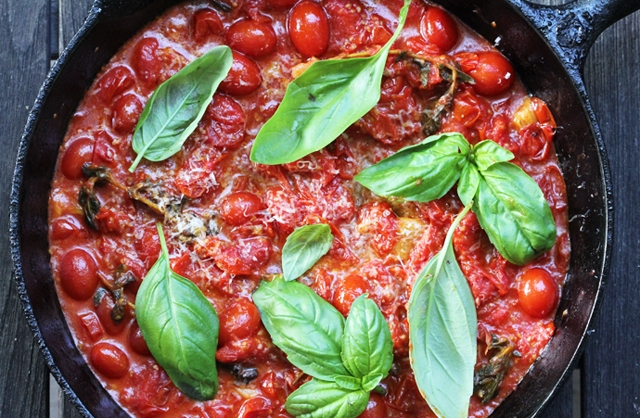 This cherry tomato sauce is an easy, flavorful variation on the classic tomato sauce.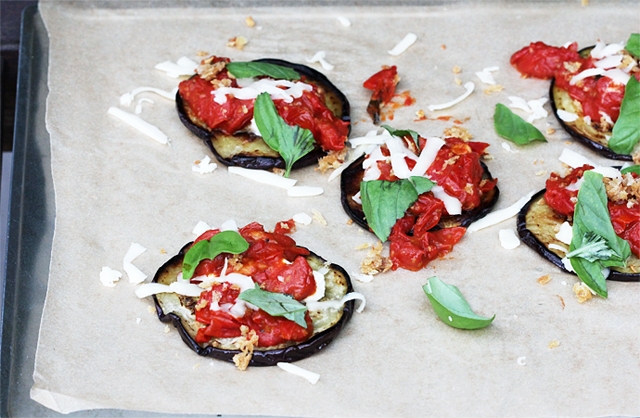 Deconstructed Eggplant Parmesan
Ingredients
1

large eggplant sliced into 1/4 inch thick rounds

1

teaspoon

kosher salt, plus more for seasoning

Fresh ground black pepper

About 3/4 cup extra virgin olive oil, divided (part for eggplant, part for sauce, a bit for drizzling)

5

garlic cloves, divided (4 for the sauce, 1 for the bread crumbs)

4

cups

cherry tomatoes

4

sprigs oregano

3

sprigs basil, plus extra leaves

5

tablespoons

grated Parmesan, divided (4 tablespoons for the sauce, 1 for the bread crumbs)

1/4

cup

panko bread crumbs

1/3

cup

ricotta cheese

2

ounces

shredded mozzarella cheese
Instructions
Lay eggplant slices out in an even layer on a work surface. Season one side with 1/2 teaspoon kosher salt. Flip the slices and season the other side with an additional 1/2 teaspoon kosher salt. Transfer slices to a colander set over a bowl. Set aside for at least 20 minutes. Gently press the mound of slices to drain excess water. Lay out several paper towels. Place slices in an even layer on the towels. Use more paper towels to blot and press any remaining moisture from the slices. Season with freshly ground black pepper.

Working in batches, warm some of the olive oil in a large skillet over medium high heat. Carefully lay eggplant slices into the skillet in a single layer. Be sure not to crowd the pan! Cook the slices, without moving, until deep golden brown (about 4 minutes). Flip and cook the other side until golden brown as well. Transfer eggplant to a paper towel-lined plate. Repeat this process with the remaining olive oil and eggplant.

Turn off the heat below the skillet and let cool for a few minutes. Meanwhile, smash and peel 4 of the garlic cloves. Add three tablespoons of olive oil to the skillet and warm over medium heat. Add the smashed cloves and cook until golden and fragrant (about 3 minutes). Add cherry tomatoes and oregano sprigs. As the sauce cooks, gently break up the tomatoes with the back of a spatula or wooden spoon (aggressively popping the tomatoes can result in a spray of hot tomato juice!). After about 15 minutes, you should have a nice, chunky tomato sauce. Add the basil sprigs and 4 tablespoons of grated Parmesan. Simmer for an additional 5 minutes. Season to taste with kosher salt and freshly ground black pepper.

Preheat oven to 350°F.

While the sauce simmers, prepare the bread crumb topping. Warm 1 tablespoon of olive oil in a small skillet. Mince 1 clove of garlic and add to the small skillet with panko bread crumbs. Cook until bread crumbs are just golden, stirring frequently (about 2 minutes). Remove from the heat and stir in 1 tablespoon of grated Parmesan and a small pinch of salt.

Arrange eggplant slices on parchment lined baking sheet. Place a dollop of ricotta cheese in the center of each slice then top with sauce and shredded mozzarella. Place baking sheet in the oven to melt the mozzarella cheese (about 5 minutes). Remove from the oven and top with bread crumbs and torn basil leaves. Drizzle with a little olive oil and serve immediately.
Tried this recipe?
Tag @brandiego on Instagram so I can check it out!
3