This post may contain affiliate links.
Several weeks ago, a friend of mine from high school requested on my Facebook page that I share a recipe for a fancy pumpkin pie.  Later that day, I was browsing the cookbook section of Williams-Sonoma and surprisingly, I saw this gorgeous recipe for a Pumpkin Ricotta Crostata in a Martha Stewart cookbook.  Flavored with pumpkin, nutmeg, lemon and vanilla, this rich and creamy crostata is exactly what I was looking for.  It captures the spirit of pumpkin pie packaged in decorative, flavorful pastry deliciousness.  I hope she approves 🙂
If you would like me to feature a certain type of recipe on Kitchen Konfidence, please feel free to contact me on my personal Facebook page or on the KK fan page.  Many of my updates on Facebook are public (and open to comments), so you are welcome to subscribe if that's your thing!  Now, on to the recipe…
A silky mixture of pumpkin, ricotta and mascarpone gets spooned into a prebaked shell.  Flecks of lemon zest distributed through the crust lend a brightness to the crostata, lifting up some of the heavier flavors.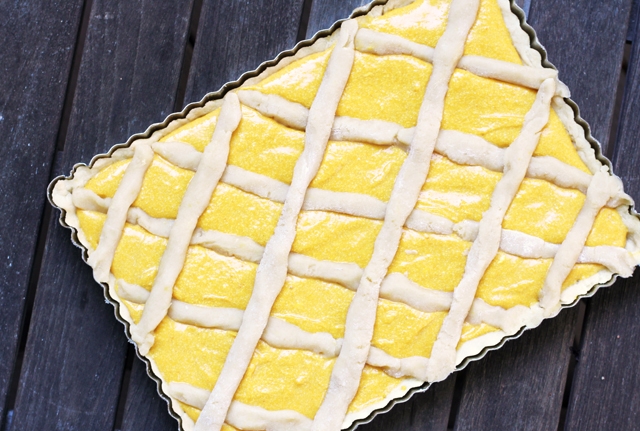 Dough ropes are carefully pressed into the filling giving the appearance of a traditional lattice.  Given that crostatas are typically a rustic pastry, I didn't worry too much about perfection or precision.  I urge you to do the same!
Pumpkin Ricotta Crostata
Ingredients
For the crust:
3/4

cup

1 1/2 sticks plus 2 tablespoons cold unsalted butter, plus more for greasing

2 1/4

cups

all-purpose flour, plus more for dusting

1/2

cup

white sugar

1/8

teaspoon

fine grain sea salt

1

large egg, plus 1 large egg yolk, lightly beaten together

1

teaspoon

vanilla extract

1

tablespoon

finely grated lemon zest

1

large egg white, lightly beaten, for the egg wash
For the Pumpkin Ricotta filling:
1

cup

ricotta cheese

1/2

cup

mascarpone cheese

1 15

oz.

can unsweetened pumpkin puree

1/4

cup

plus 1 tablespoon white sugar

1/2

teaspoon

kosher salt

A heaping 1/4 teaspoon freshly grated nutmeg

1/2

teaspoon

vanilla extract

2

large egg yolks, lightly beaten

2

tablespoons

pine nuts, for garnish
Instructions
Cut butter into cubes, place in a small bowl then transfer to the freezer to chill. Let chill for at least 15 minutes. While the butter is chilling, add flour, white sugar and fine grain sea salt to a food processor, pulsing to combine. Add chilled butter then pulse until mixture resembles coarse meal.

In a small bowl, whisk together whole egg, egg yolk, vanilla and lemon zest. Add the egg mixture to the food processor. Pulse just until the dough starts coming together. Turn the dough out onto a work surface (I use my silpat) and shape into a large ball. Divide the ball into two even pieces then form each piece into a flat disk. Wrap each disk in plastic then refrigerator for at least 1 hour (up to 1 day).

While the dough is chilling, line a basket strainer with a layer of cheesecloth then set over a bowl. Place ricotta cheese in the strainer and let drain until ready to use (at least 30 minutes).

Preheat oven to 350°F. Lightly grease an 8 by 11 tart pan with butter (or a 10 inch pie plate).

Take one dough disk from the refrigerator and let warm on the countertop for 5 minutes. On a lightly floured surface, roll out the disk to a 1/4 inch thickness. This is a fairly wet dough so you may need to lightly sprinkle dough and surface with extra flour if you find that it is sticking. Transfer the dough to the tart pan, pressing the dough evenly into the bottom and up the sides. Trim excess dough from the sides. You want the crust to be flush with the edge of the tart pan. Use the scraps to patch any thin or broken areas. Refrigerate the remaining scraps in plastic wrap. Using a fork, pierce the bottom of the shell all over.

Bake the crust until pale golden (about 15 minutes). Let cool on a wire rack. Increase the heat to 375°F.

While the crust is cooling, prepare the filling. Add drained ricotta to a food processor, processing until smooth. Add mascarpone cheese, pumpkin puree, white sugar, kosher salt, nutmeg and vanilla. Process until well combined (about 30 seconds). Add egg yolks, processing until combined (about 10 seconds). Pour filling into cooled crust and smooth out into an even layer.

Take second dough disk from the refrigerator and set on a lightly floured work surface. Pinch off a small piece of dough then gently roll with your hands to make a 1/4 inch thick rope. Place the rope diagonally across the filling from one corner to the edge. Continue this process to create a lattice pattern (see pictures above). Place three pine nuts in alternating squares of lattice. Brush pastry ropes with beaten egg white.

Bake crostata until the crust is nice and golden brown and the filling is set (about 40 minutes). Let cool on a wire rack before serving.
Tried this recipe?
Tag @brandiego on Instagram so I can check it out!
4