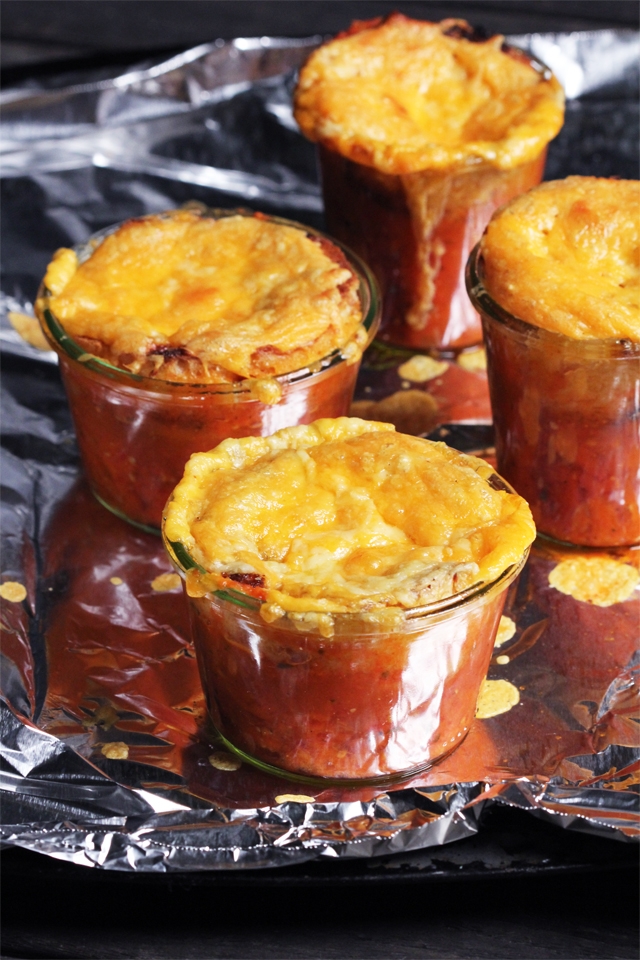 This post may contain affiliate links.
I love making tomato soup.  Especially roasted tomato soup.  It really is very simple.  Roast tomatoes (and possibly aromatics like onion and garlic), puree, add stock, simmer and season.  That's it!  Each year I test out various different recipes for roasted tomato soup and try to build upon the basic techniques I learned many years ago.  I've roasted all sorts of tomatoes – roma, plum, heirloom, cherry and beefsteak.  I've also experimented with the aromatics, substituting in shallots or adding a little jalapeno to the mix.  Seasonings and spices are really only limited to your imagination.  I've tried basil, thyme and rosemary to name a few.  And finally… soup toppers.  Crema, crumbles, croutons and chiffonades have adorned my bowls of soup in the past, offering variation in both flavor and texture.
I'll have to say that throughout my many years of recipe testing, I've never come across a tomato soup recipe as delicious as this Roasted Tomato Soup with Broiled Cheddar.  Topped with an open faced grilled cheesed sammich, this spicy tomato soup is just pure heaven.  An island of bubbling cheese, crispy and melty on top and soft and airy on the bottom, floating in a perfectly seasoned sea of comforting tomato soup.  Delish to the max.  I will certainly try new tomato soup recipes as the years go on, but I somehow doubt they will come close to this one.  You really need to try making this at home.  Continue reading for the recipe.
I used a mixture of mild yellow cheddar and sharp white cheddar to top my roasted tomato soup.  The recipe only calls for 1 cup of shredded cheese, but I would recommend shredding up additional to make your toppers extra cheesy.
Pictured above are bread circles cut from a loaf of white bread studded with roasted garlic cloves.  These circles will be used to top the roasted tomato soup.  If you can't find this type of bread, try sourdough, rye or multigrain.  Just make sure you start with a loaf, so you have control over the shape and size of your circles.  If you want to serve your soup in jars (pictured above), be sure that bread circles are as wide as the mouth of the jar.  Smaller is fine, but you certainly don't want them bigger!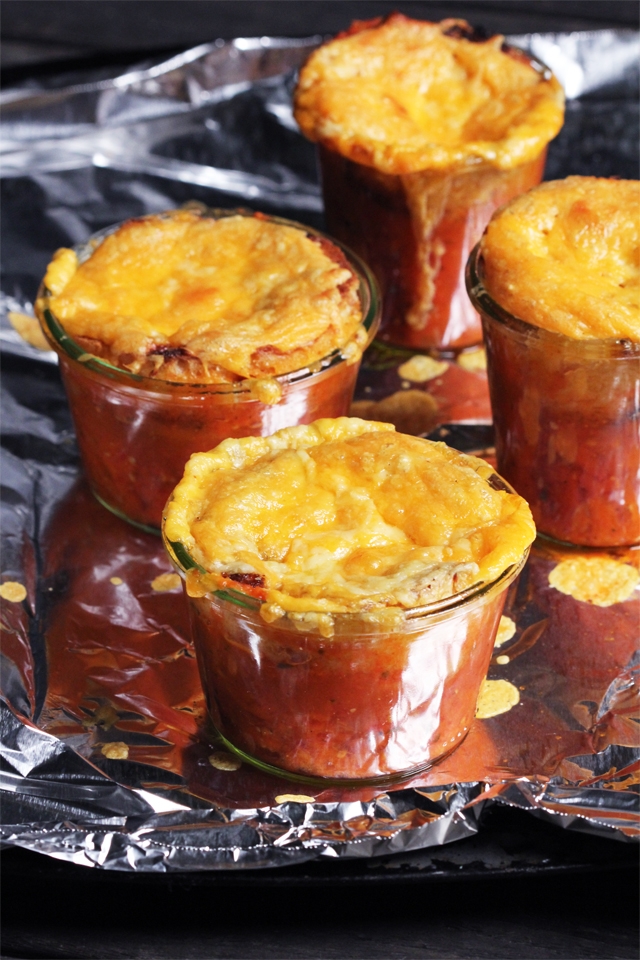 Roasted Tomato Soup with Broiled Cheddar
Ingredients
3

pounds

roma tomatoes, halved lengthwise

Extra-virgin olive oil

Kosher salt

Freshly ground black pepper

4

cloves

garlic, unpeeled

4

cups

chicken stock

1

teaspoon

chopped fresh thyme leaves

1/4

teaspoon

crushed red pepper flake

1

tablespoon

grated raw onion

4 - 6

(1-inch

thick) slices of bread (I used roasted garlic bread, toasted until golden and hard)

Unsalted butter, room temperature

1

cup

coarsely grated cheddar (I used a mix of white and yellow)
Instructions
Preheat oven to 400°F. Line a rimmed baking sheet with aluminum foil (for easy clean up).

Place the roma tomatoes, cut side up, on the prepared baking sheet. Season well with kosher salt and freshly ground black pepper then drizzle with extra-virgin olive oil. Each tomato should be glistening with oil, not swimming in it.

Place garlic cloves on a small square of aluminum foil. Sprinkle with a small pinch of kosher salt and a few turns of black pepper. Drizzle with a little extra-virgin olive oil then wrap the sides of the square around the cloves to create a tight packet. Place the packet on the baking sheet with tomatoes. Roast until the tomatoes tender and slightly caramelized (about 1 hour).

Unwrap garlic and carefully peel (or squeeze). Add roasted garlic cloves, tomatoes and any juices from the baking sheet to a large, heavy bottomed pot. Pour in chicken stock. Using an immersion blender, process tomatoes and stock until a somewhat chunky consistency is achieved (some texture, but no big chunks of tomato). If you don't have an immersion blender, I would recommend pureeing the tomatoes, garlic and juices in a food processor or blender before adding to the pot.

Add thyme and red pepper flake then bring the mixture to a boil over medium heat. Reduce heat to low and cook, uncovered, for about 25 - 30 minutes, stirring occasionally. Take the soup off of the heat then season to taste with kosher salt and black pepper.

While the soup is cooking, preheat oven to 350°F and line a rimmed baking sheet with aluminum foil. Place 4 - 6 ovenproof jars or bowls on the baking sheet.

Stir grated onion into the soup then distribute soup evenly between your jars or bowls. Lightly butter one side of each slice of bread. Top each jar or bowl with a bread slice, buttered side up. Pile grated cheddar on top of each slice of bread. Carefully transfer the baking sheet (with soup) to your preheated oven and cook until cheese is lightly browned and bubbling (15 to 20 minutes). You can also cook the cheddar for an additional few minutes under the broiler to get the cheese extra golden. The soup is extremely hot right out of the oven, so let cool for a few moments before serving.
Tried this recipe?
Tag @brandiego on Instagram so I can check it out!
6