This post may contain affiliate links.
And so continues my journey up the West Coast from San Diego, CA to Guernville, CA.  In my last article, I recounted my experiences in Santa Barbara, CA.  Today, I'm going to share my time spent at Hearst Castle and in Big Sur, CA.  As I was driving up the 154 to San Luis Obispo with Santa Barbara only remaining in my thoughts, I had butterflies in my stomach.  I was venturing into an unknown area with only an iPhone by my side to navigate.  Also, the road from San Luis Obispo to Big Sur is quite treacherous with many sharp, winding turns crammed between rocky, unstable cliffs and sheer drop-offs high above the churning Pacific Ocean.  So you may be wondering why I chose to take this path rather than the safer 101?  Continue reading for the answer.
I decided to make the Big Sur trip for a few reasons.  First, I've had an itch to see the Central/Northern California coast since I started reading 101 Cookbooks (many years ago).  Heidi frequently posts pictures of her journeys up and down the coast and I find them quite inspiring.  Second, I wanted to challenge myself.  I'm not a very good driver 😉  Completing a drive like this would hopefully elevate my skills from bad to somewhat good.
As I made my way up the coast, I couldn't help but smile at the scenery around me.  To my right, expansive pastures home to herds of fat, grazing cows.  To my left, the Pacific Ocean.  An undisturbed coastline.  No houses.  No restaurants.  No stores or gas stations.  Just cliff and ocean.  At one point I pulled off on the side of the road, compelled by the beauty of that particular plot of land.  Sitting on a cliff above frothy, breaking waves the warm wind blew through my hair.  Gazing out into the ocean, I teared up for the first time on my trip.
On the way to Big Sur, I noticed signs for the Hearst Castle.  I didn't know much about this particular landmark; however, I remembered that a friend had suggested I go see it.  I'm so glad I took that suggestion.  This gorgeous, Spanish-style castle was home to William Randolph Hearst, a super wealthy publisher and journalist.
I'm not really going to explain the whole history behind the castle.  That would take way too long 🙂  Instead, I'll share what I really enjoyed about the visit.  I was fascinated with the juxtaposition of the ancient elements (architecture and art) and the modern touches.  Game tables sitting beside Renaissance artwork.  Billards tables in close proximity to a massive, Gothic fireplace.  You could easily tell that entertainment was just as important as art for Hearst.
I was also intrigued by the gardens.  The pathways surrounding the castle were teeming with dahlias, daisies and the biggest hydrangea of my life.  The Neptune Pool pictured above was absolutely stunning.  I could have easily spent half a day exploring grounds around the property, but I had to cut my trip short.  Big Sur was waiting.
On my way to the town of Big Sur I stopped to see a waterfall that lands directly on the beach.  I had come from a place of man-made beauty to a place of pure, raw natural splendor.  I did love the Hearst Castle, but I found myself more impressed with sights I was seeing at the McWay Falls.  Simply breathtaking.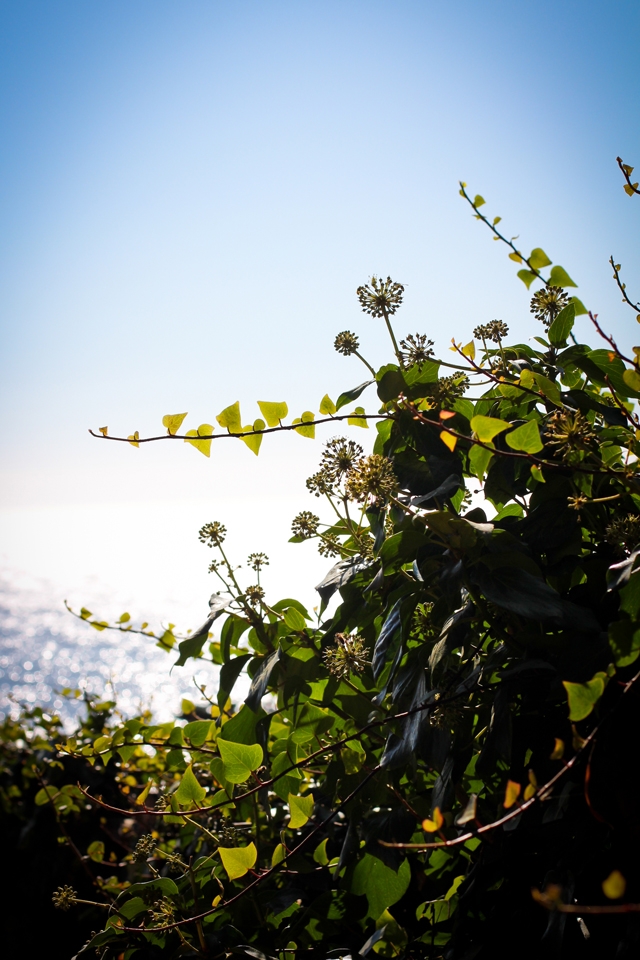 I know I haven't mentioned much food so far in this article.  Throughout the day I decide to snack on treats I have packed in the car so I didn't have to stop for something to eat.  I was on a very tight time table and spending 20 – 30 minutes on eating just wasn't in the plan!  I did however, stop at Nepenthe, restaurant/cafe in Big Sur, for a caffeinated beverage.  And it was also quite spectacular.
Most of the tables and eating areas at Nepenthe looked out over the Pacific.  I unlocked my iPhone with thoughts of checkins and picture sharing running through my head when I noticed I had no service.  I was completely disconnected.  As I looked out at the forrest covered mountains clashing with the vast, blue ocean, I realized I was actually quite connected.
Refueled and recharged, I got in my car and made my way further up the 1, stopping at countless vista points along the way.  Many hours later I arrived in San Francisco.  One would think I would be tired after spending 12 hours on the road; however, I felt quite invigorated.
I finished the evening with an amazing dinner at Nojo.  Over several pints of beer and Japanese small plates, I shared stories of my trip thus far with a friend.  Particularly delicious bites included:
Tempura of Maitake Mushrooms, Green Beans, Meyer Lemon and Spicy Ponzu Mayo.
Chicken Skin with Matcha Sea Salt and Lemon
Escarole, Cauliflower, Radish, Katsuo Bushi and Soy-Caper Vinaigrette
I was asleep in a matter of moments that night.  Next stop: Guernville.
2