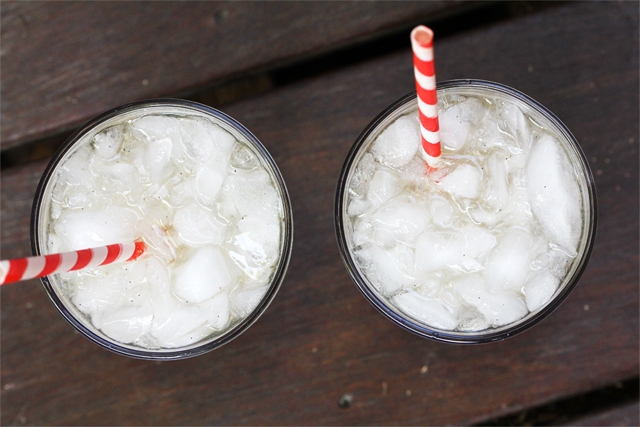 This post may contain affiliate links.
I've mentioned before that Cream Soda is one of my favorite carbonated beverages.  So when I was asked to provide non-alcoholic drinks for a local charity/networking event, this homemade Cream Soda almost immediately came to mind.  A rich amber caramel made of organic cane sugar is flavored with fragrant vanilla bean and lemon then mixed with bubbly sparkling water.  The finished soda is nothing short of pure heaven.  Flecks of fresh vanilla bean excitedly swim around the soda when introduced to their carbonated counterpart.  As the glass approaches your mouth, you'll experience the sweet smell of caramel and vanilla.  A scent that is sure to arouse your senses.  When the soda hits your taste buds you'll recognize the familiar taste of Cream Soda with lemon juice and seltzer to balance out the sweetness.  Based on the reactions I saw at the event as attendees took their first sip, I'm going to have to say this one is definitely a keeper.  Continue reading for the recipe.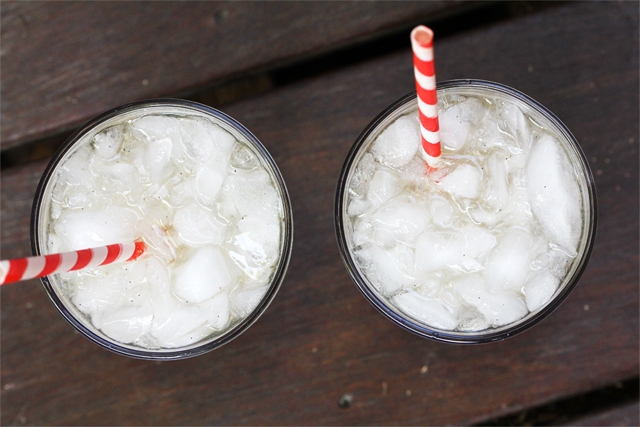 Cream Soda
Ingredients
2

cups

organic cane sugar

Juice of 1 lemon

1

vanilla bean, split and seeded

Seltzer water, for serving

Ice, for serving
Instructions
Caramelize the sugar. Add cane sugar to a medium non-reactive saucepan with 1/4 cup water, stirring to combine. Cook over medium high heat until amber and caramelized.*

Flavor the syrup. Carefully add 2 cups of room temperature water and lemon juice. The mixture will bubble and splatter, so stand back while pouring. Once the mixture calms, stir until smooth. Add split vanilla bean and seeds. Bring mixture to a boil then turn off the heat and let steep for 1 hour.

Strain and serve. Pour syrup through a fine mesh basket strainer into a clean bowl. Discard solids. To serve, pour 1 oz. of syrup into small glass filled with ice. Top off with seltzer water and gently stir. If you find the soda to be too sweet, add more seltzer water (or less syrup next time!). If the soda isn't sweet enough, add more syrup.
Notes
* I would recommend covering your pot with a see through lid while the sugar caramelizes. This will prevent sugar crystals from forming around the sides of the pot. Also, using a candy thermometer makes this process a bit easier. You will know your caramel is done when it reaches 280°F.
Tried this recipe?
Tag @brandiego on Instagram so I can check it out!
20