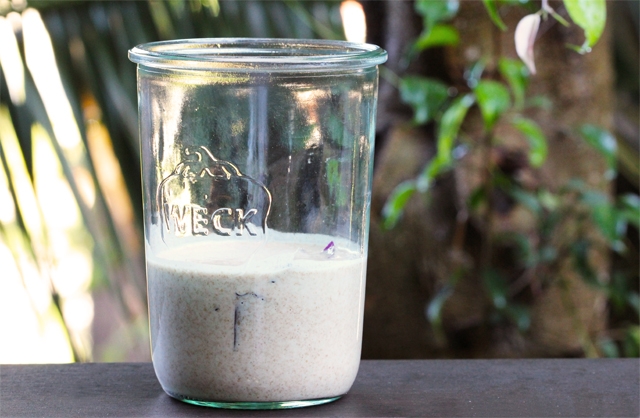 This post may contain affiliate links.
Today I am attempting my first ever Sourdough Starter.  Sourdough Starter is a mix of flour and water that houses an active wild yeast culture.  When making bread, use this starter in lieu of store-bought yeast, resulting in a tastier finished product.
I considered going through this process throughout the week, then reporting back to you all with the results afterwards.  Instead, I have decided to make this a live experiment where I will post frequent updates on my progress.  The process that I have in mind is a combination of several recipes I researched earlier in the week (here, here and here).  Assuming this is a successful experiment, I will post a final recipe at the end of the process.  Start to finish, I should have a live starter in under 7 days.  Continue reading for my Day 1 instructions.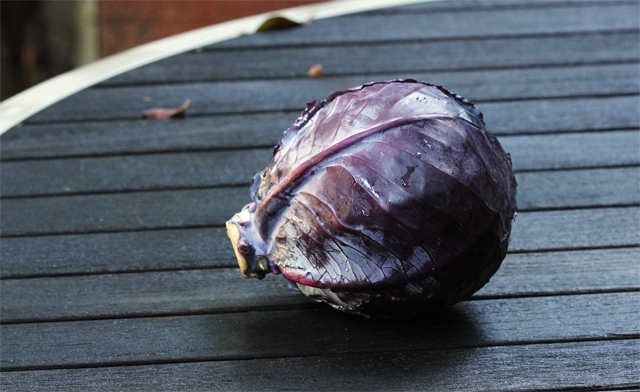 Start with a clean, large jar or container.  To the jar, add one cup (by volume) whole wheat flour and one cup water, stirring to combine.  Add a leaf of organic red cabbage to the flour mixture and stir.  I tore my leaf up into big pieces.  Leave your jar on the countertop uncovered for 24 hours.  Stir the mixture 2 to 3 times (for about 1 minute) during that time period.
Notes
Using whole wheat flour will promote more yeast activity.
Adding the cabbage to the flour mixture should also help get the yeast party started.  The white film on cabbage, as shown on the picture above, is actually yeast.
Stirring the mixture occasionally will aerate the starter.  Providing yeast with more oxygen will help speed up reproduction.
Well that's it for today!  See you tomorrow.
13