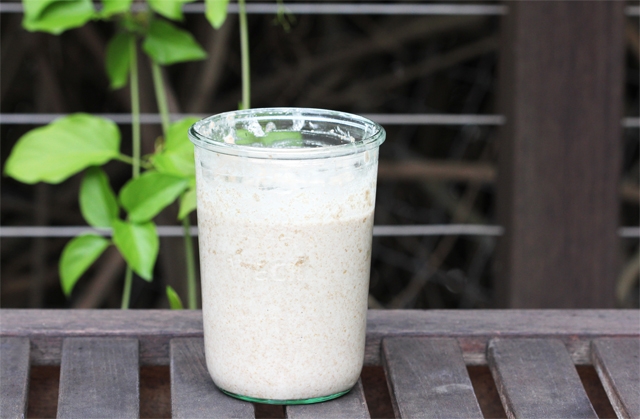 This post may contain affiliate links.
It's day 2 of my Sourdough Starter experiment.  After 24 hours, I haven't really noticed much of a change.  It takes two to three days for the yeast to mix, mingle and start reproducing, so I wasn't expecting to see any drastic changes.  One thing I did notice after my day 2 procedures is that my jar is too small :p  I do love my beautiful Weck jar, but, unfortunately, it's gotta go.  I will transfer my starter to a larger jar tomorrow before any major yeast activity begins.  Continue reading for my day 2 process.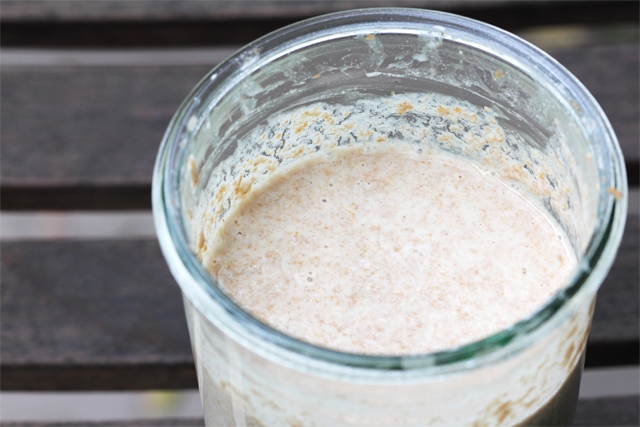 Start by fishing out the red cabbage leaves.  The yeast from the leaves should be incorporated into the starter after 24 hours.  Discard leaves.  To your jar, add 1 cup (by volume) whole wheat flour and 1 cup (by volume) water, stirring to combine.  This is known as feeding.  Leave your jar on the countertop uncovered for 24 hours.  Stir the mixture 2 to 3 times (for about 1 minute) during that time period.
Notes
Using whole wheat flour will promote more yeast activity.
Stirring the mixture occasionally will aerate the starter.  Providing yeast with more oxygen will help speed up reproduction.
That's it for day 2.  Hopefully I'll start seeing more bubbles tomorrow 🙂
17