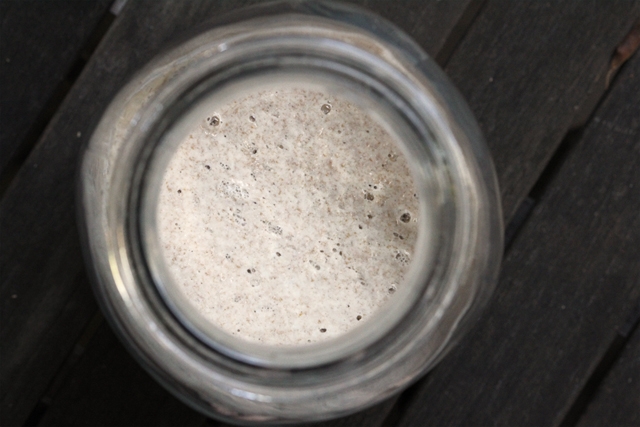 This post may contain affiliate links.
And so continues my Sourdough Starter experiment. If you are just joining in, you can find the previous three days here, here and here. On the evening of Day 3, I noticed that my starter had formed a considerably large amount of hooch. Tangy and yeasty, the hooch actually had quite a nice smell to it, so I didn't pour any of it off. Instead, I stirred it back into the starter and gave it another feeding. Pictured above is my starter the following morning. Nice and bubbly!
On days 4 and 5 I continued this double feeding regimen to keep my starter happy and well fed. After each feeding, the starter bubbled up then slowly formed a thin layer of sweet yet tangy smelling hooch. Bubbles were usually small and the volume of the starter never increased. These traits are characteristic of a 166% hydration Sourdough starter (see notes below for details). So you might be wondering, if the starter doesn't increase in volume (a typical indicator of potency), how will I know it is ready for use? Continue reading for my thoughts (and my day 4 and 5 processes).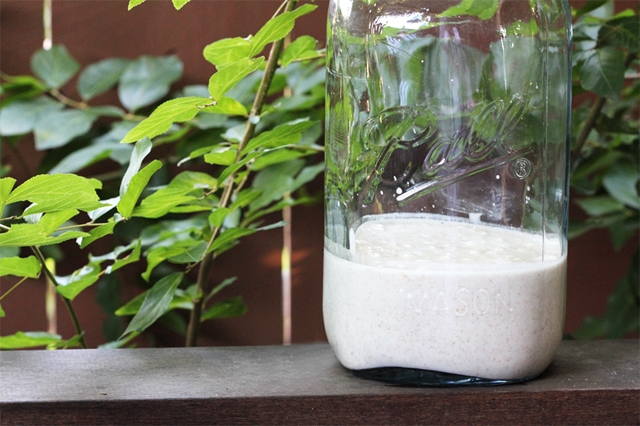 On the 4th day, give your starter a good stir to redistribute the hooch into the mixture. Feed your starter once in the morning then again in the evening. To feed the starter, discard half of the mixture (or transfer to another jar to start another starter). Then add 1 cup (by volume) all purpose flour and 1 cup (by volume) water, stirring to combine. Leave your jar on the countertop covered in between feedings. Repeat these steps daily until you achieve a vigorous starter.
Notes
Keeping the starter in a warm area will promote yeast activity. Conversely, cooler temperatures will slow down yeast growth. Try to keep the starter between 65°F to 85°F. When adding water to the starter, be sure it's room temperature.
Feeding the starter with different amounts of flour and water (different hydration ratios) will change the result of your finished product. The amount of flour and water suggested above has a 166% hydration ratio (fairly thin). So what does this mean? The starter will produce smaller bubbles and will not rise as much in volume. Also, the starter will have a tangier taste.
When establishing a new starter, the presence of hooch is not a bad thing. It actually contains a good amount of desirable flavor. With an already established starter, visible hooch can be an indicator that your starter needs to be fed. Keep in mind that if the hooch is ever gray, cloudy and giving off a bad odor, you'll want to drain it off before stirring.
To see if my starter had reached full potential, I decided to bake a sourdough boule! The results show not nearly enough rise. I will have to say though, the boule had some great flavor! I will continue to nurture my starter over the next several days and report back once I have more conclusive results. Thanks for following along!
127