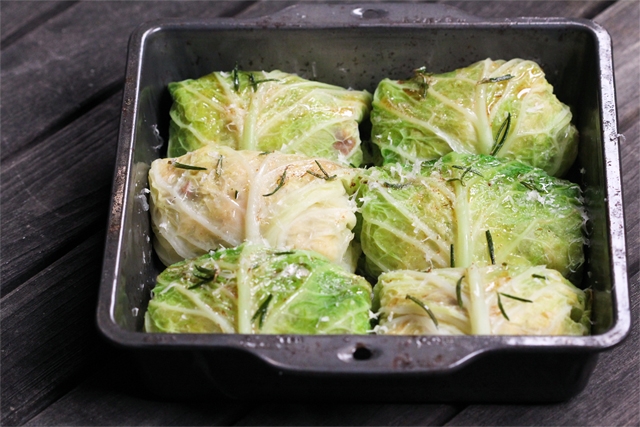 This post may contain affiliate links.
I can't even believe Thanksgiving is just 3 days away.  It really snuck up on me this year.  To get my act together, I sat down with my "sous chef" this past Saturday evening and devised a Thanksgiving plan over a bottle of wine.  Here's what we came up with:
Sunday:  Food shopping and organization
Monday:  Soup, appetizers and sorbet
Tuesday:  Desserts and cocktail elements
Wednesday:  Sides
Thursday:  Turkey, more sides and finishing touches
Now you may be thinking, "4 days of cooking Brandon?  Really?  Ya crazy."  My rebuttal?  Yes!  4 days of cooking 🙂  Thanksgiving is one of my favorite holidays throughout the year and I just love taking the time to make sure everything is perfect.  I could probably complete all dishes in a shorter time period; however the plan outlined above will ensure that I get everything done without having to rush or stress about anything.
Over these next several days, I will be posting frequent Thanksgiving preparation updates on Twitter.  You can follow along here: #KKTday2011  Come say hi :)!  And now on to this a. mazing recipe for Stuffed Savoy Cabbage with Rosemary Brown Butter.
Textural leaves of savoy cabbage are blanched then stuffed with sautéed bacon, garlic and shredded greenery.  Finished with a drizzle of aromatic rosemary brown butter and a dusting of Parmigiano-Reggiano, these stuffed cabbage rolls are unbelievable.  The whole is definitely greater than the sum of it's parts.  I would highly recommend adding this side dish to your Thanksgiving spread this year.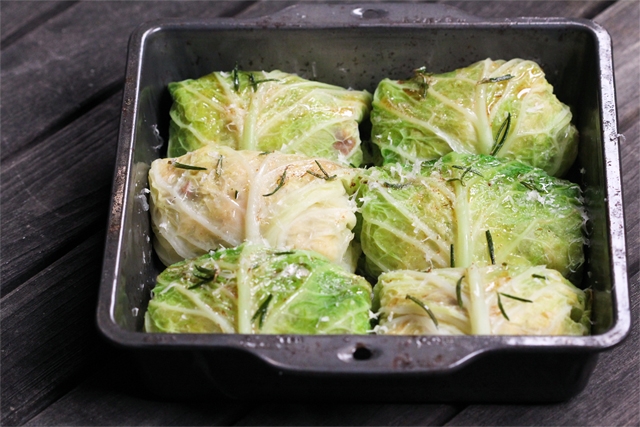 Stuffed Savoy Cabbage with Rosemary Brown Butter
Ingredients
2

heads savoy cabbage (about 1 1/4 pounds each)

Kosher salt

3

tablespoons

extra virgin olive oil

4

slices

thick-cut bacon, cut into 1/4 inch strips

2

garlic cloves, minced

Freshly ground pepper

2

eggs, lightly beaten

2

cups

bread crumbs, preferably freshly made

1

cup

finely grated Parmigiano-Reggiano

4

tablespoons

1/2 stick unsalted butter

Leaves

from 2 small rosemary sprigs
Instructions
Carefully peel 6 outer leaves off each head of cabbage and set aside (you'll have 12 leaves total). If you are having difficulty peeling the leaves, trim off part the root end and peel from the bottom. Cut the remaining cabbage into quarters then core and shred.

Bring a large pot of water to a boil over high heat. While you are waiting for the water to boil, prepare an ice bath (fill a large bowl with ice and cold water). Once the water is boiling, add a few large pinches of salt. Add 6 of the outer cabbage leaves to the boiling water and cook for 2 minutes, then transfer to the ice bath. Repeat with the remaining 6 outer cabbage leaves. Once cooled, transfer the cabbage leaves to a paper towel-lined baking sheet (you will probably need 2).

Preheat an oven to 350°F. Butter a 9 x 13 baking dish and set aside.

In a large, heavy bottomed pot, warm extra virgin olive oil over medium heat. Add the bacon strips and cook, stirring occasionally, until golden and crispy. Add the garlic and cook for 1 minute. Add the shredded cabbage, tossing to coat in the oil (I used my tongs here). Cook the cabbage until tender and wilted, stirring occasionally (7 - 8 minutes). Season with kosher salt and freshly ground black pepper then let cool slightly.

To a large bowl add eggs, bread crumbs, 1/4 cup grated Parmigiano-Reggiano and the cabbage mixture, stirring to combine.

Lay the outer cabbage leaves out on a work surface with the inside facing up. Spoon the filling evenly on to the center of each leaf. Roll up each leaf similar to rolling a burrito (fold up the bottom up, then fold in the sides, then roll into a tight cylinder). Place each role, seam side down, into the prepared baking dish. Cover with foil then bake for 30 minutes.

After 20 minutes, start preparing the sauce. In a small skillet, warm butter over medium low heat. Cook until the butter starts to brown (5 - 7 minutes). You will know the butter is done when it gives off a nutty aroma and you see small brown flecks swimming around. Take the skillet off of the heat and add the rosemary leaves.

Take the baking dish from the oven and uncover. Sprinkle the stuffed cabbage with the remaining 3/4 cup cheese then drizzle with rosemary brown butter.
Tried this recipe?
Tag @brandiego on Instagram so I can check it out!
22