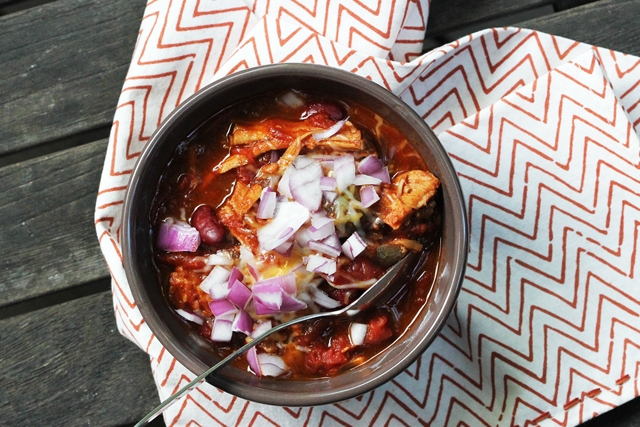 This post may contain affiliate links.
Evenings here in San Diego have been getting quite cold recently.  Several days ago I found myself craving a warm bowl of spicy chili.  The type of chili one could enjoy while sitting on the couch wrapped in a cable-knit granny blanket watching recorded Cooking Channel shows.  This Turkey chili was my answer to that craving.  Bold and comforting, this Turkey Chili is spiced with a flavorful blend of chili powder, red pepper flake, cumin and black pepper.  My favorite part of this soup is it's texture.  Stewed tomatoes are used rather than tomato sauce and shredded, whole turkey rather than ground turkey.  The resulting soup is unbelievably satisfying.  Each hearty bite packs a spicy punch that is guaranteed to banish any cold weather doldrums.  PS.  This chili is the perfect use up for leftover Thanksgiving turkey.  Continue reading for the recipe.
Onion, garlic and green bell pepper provide a flavorful base to build our soup upon.  The spice blend below features mild chili powder, hot chili powder, ground ancho, red pepper flake and cumin.  I like my chili very spicy.  If you are sensitive to heat, I would recommend substituting in additional mild chili powder.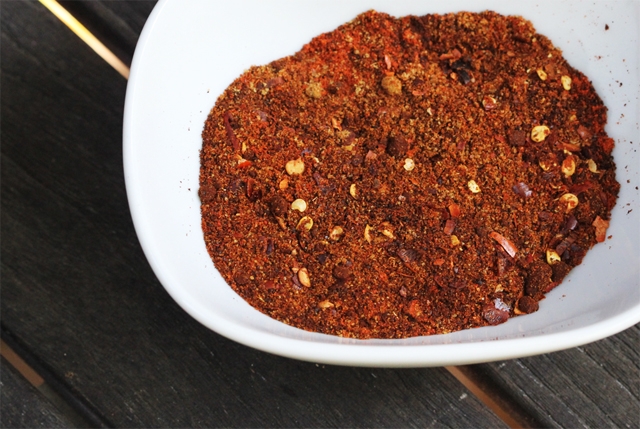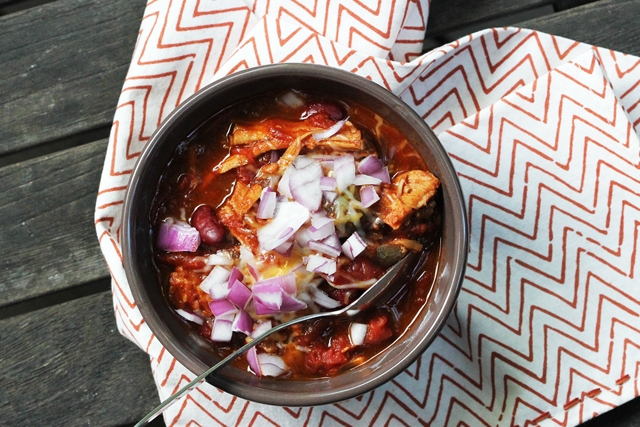 Turkey Chili
Ingredients
1/4

cup

extra virgin olive oil

1

medium brown onion, chopped (about 2 cups)

1

green bell pepper, chopped (about 1 cup)

4

garlic cloves, finely chopped

3

tablespoons

chili powder*

1

tablespoons

ground cumin

1

tablespoons

red pepper flakes

70

oz.

canned stewed tomatoes with juices (that's 2 big cans and 1 smaller can)

2 15

oz.

cans kidney beans, drained and rinsed

2

tablespoons

tomato paste

3/4

cup

chicken stock

1

teaspoon

dried oregano

1

tablespoons

kosher salt, plus more to taste

1/2

teaspoon

freshly ground black pepper

4

cups

of shredded, cooked turkey meat

1

teaspoon

sugar, plus more to taste
Toppings: shredded cheese, chopped red onion, sour cream
Instructions
Warm extra virgin olive oil in a large, heavy bottomed pot over medium high heat. Once the oil starts shimmering, add the chopped onion and green bell pepper. Cook until soft and slightly caramelized, stirring occasionally (about 5 minutes). Add garlic, chili powder, cumin and red pepper flakes, stirring to combine. Cook the spices for a few minutes, stirring often.

To the pot add stewed tomatoes with juices, kidney beans, tomato paste, chicken stock, oregano, kosher salt, freshly ground black pepper and shredded turkey meat. Bring the mixture to a simmer then reduce heat to low. Simmer, uncovered, for an hour.

Stir in sugar then season to taste with additional sugar and kosher salt.

To serve, spoon chili into soup bowls and top with shredded cheese, chopped red onion and sour cream.
Notes
*I used a blend of various chili powders. 1 tablespoon of mild chili powder, 1 tablespoon of extremely spicy chili powder and 1 tablespoon of ground ancho chili. The resulting flavor and spice level were perfect (to me!). Feel free to make adjustments based on your own taste.
Tried this recipe?
Tag @brandiego on Instagram so I can check it out!
6