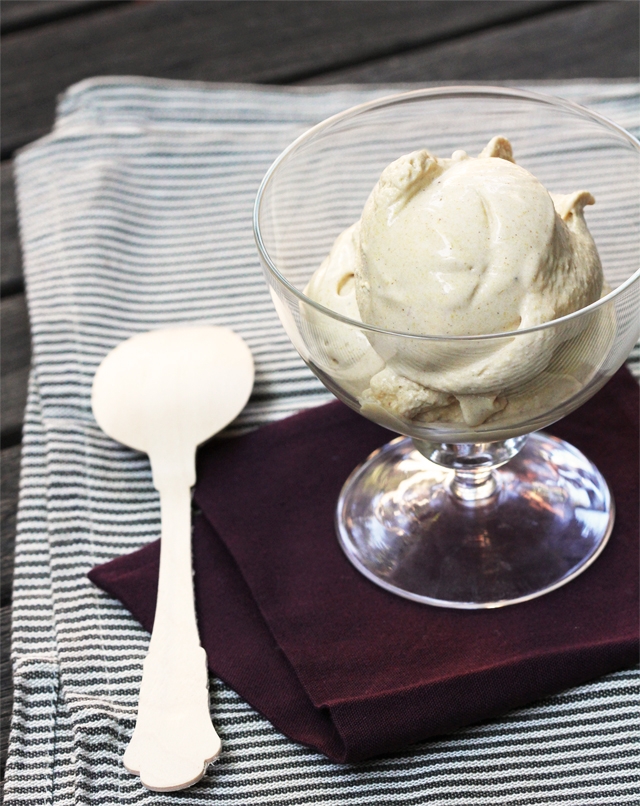 This post may contain affiliate links.
Before I get to my live demo announcement, I need to tell you about this ice cream.  The combination of pumpkin and Chinese five-spice is pure perfection.  A mixture of star anise, clove, cinnamon, fennel and Sichuan pepper, Chinese five-spice is similar to pumpkin pie spice with the volume turned up.  This ice cream recipe is made with roasted pumpkin puree, Chinese five-spice powder, cream cheese, honey and brown sugar.  With one bite, you'll immediately recognize the anise, clove and cinnamon, flavors typically associated with pumpkin.  As you finish the bite, the fennel and Sichuan pepper will provide some heat and depth of flavor.  Seriously addicting.
I should also mention that this is not one of my typical ice cream recipes.  Normally I make ice cream in the French fashion preparing an egg custard base.  This recipe doesn't have any eggs.  Instead the base is thickened and stabilized with cornstarch and corn syrup.  Continue reading for the recipe and info on my live demonstration.
On Thursday, December 8 at 6:00pm, I will be doing another live cooking demonstration at the San Diego west elm!  The theme of this demonstration will be Holiday Entertaining.  west elm's design specialists will be giving tips on setting the perfect table and I will be demoing some scrumptious dishes to serve up at your next Holiday party.  And yes… there will be plenty of food to enjoy throughout the evening.
If you live in the San Diego area, I seriously hope that you can come to this event.  My last demo was super fun and super delish.  Also, the new west elm Holiday collection is amazing.  Over the past year, west elm has been focused on releasing more kitchen, dining and entertaining product.  Some of the pieces are totes adorebotz 2012 (aka totally adorable).
Even though the store will be open to the public that evening, this free event does require an RSVP.  I am collecting RSVPs on Facebook here.  If you can't RSVP on Facebook, please send me an email at brandon [at] kitchenkonfidence [dot] com.  See you there!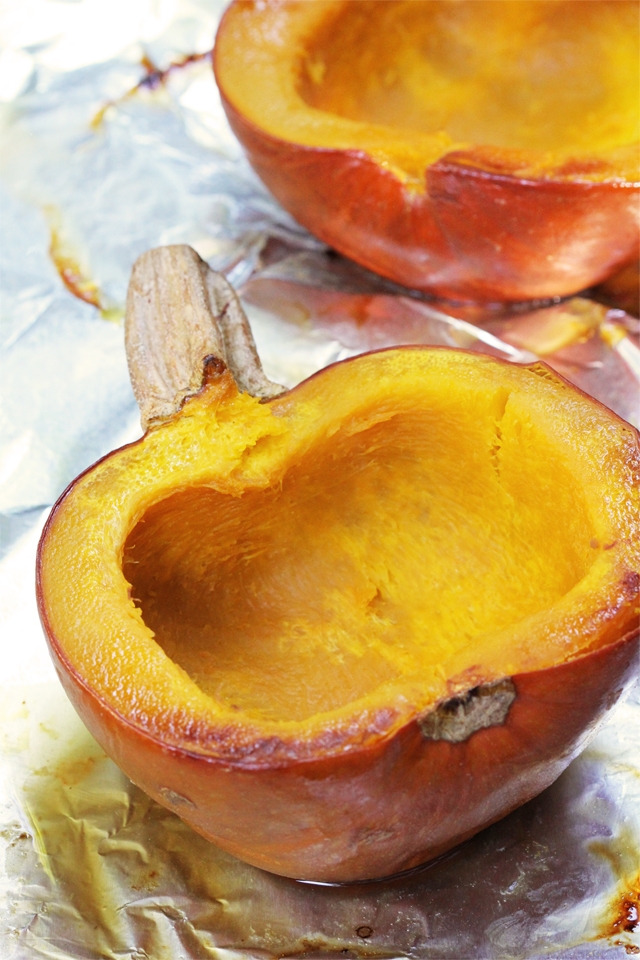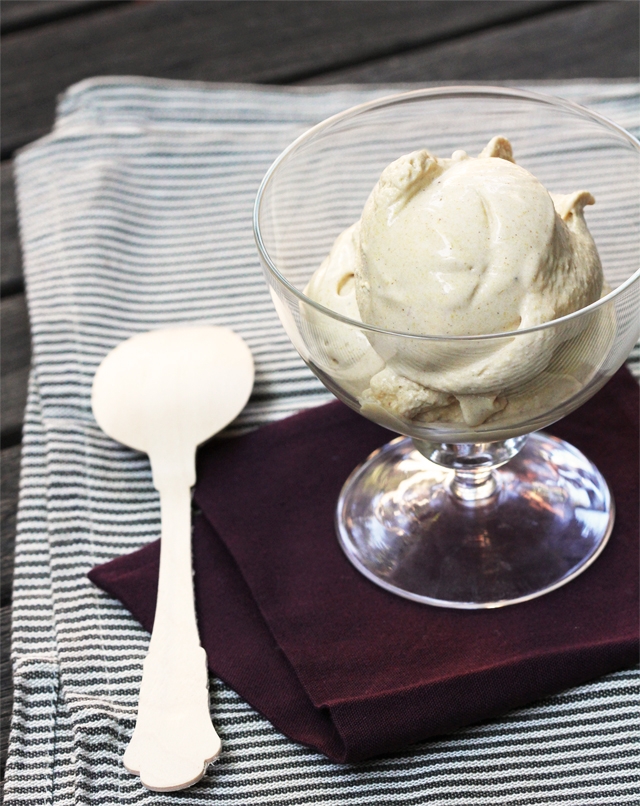 Roasted Pumpkin Five-Spice Ice Cream and A Live Demo
Ingredients
1

small pie pumpkin (about 2 pounds or 3/4 cup pumpkin puree)

2

cups

whole milk

4

teaspoons

cornstarch

3

tablespoons

cream cheese, softened

1/4

teaspoon

fine grain sea salt

1/4

cup

honey

1 1/4

cup

heavy cream

2/3

cup

packed light brown sugar

2

tablespoons

light corn syrup

1

tablespoon

Chinese five-spice powder
Instructions
Preheat the oven to 400°F. Line a baking sheet with aluminum foil.

Cut the pie pumpkin in half and scoop out the guts (seeds and strands). Place the pumpkin cut side down on the prepared baking sheet and roast for 35 - 40 minutes. You will know the pumpkin is ready when an inserted knife meets no resistance. Let cool.

Scoop the flesh from the skin and place in a food processor or blender. Discard skin. Puree the flesh until completely smooth. Measure out 3/4 cup pumpkin puree and set aside. You can use the remaining puree in other dessert or cocktail recipes (or to make pumpkin spice lattes!).

In a small bowl, add 2 tablespoons whole milk and cornstarch, stirring to combine. Set aside.

Add softened cream cheese and fine grain sea salt to a medium bowl and whisk until smooth. Add the 3/4 cup pumpkin puree and honey, whisking until smooth. Set aside.

Prepare an ice bath in a large bowl (cold water and ice).

In a medium saucepan, combine remaining whole milk, heavy cream, light brown sugar, corn syrup and Chinese five-spice, stirring to combine. Bring the mixture to a boil over medium high heat and let bubble for 4 minutes. Remove the saucepan from the heat and gradually whisk in the milk-cornstarch mixture.

Bring the mixture back to a boil over medium high heat, stirring frequently. Cook until slightly thickened (about 1 minute). Remove from the heat.

Slowly pour the hot milk mixture into the cream cheese-pumpkin mixture, whisking until smooth. Float the bowl containing the ice cream base in the prepared ice bath and chill until cold (about 30 minutes). Stirring the mixture occasionally can speed this process up.

Refrigerate until thoroughly chilled (at least 4 hours). Freeze ice cream base in an ice cream maker according to the manufacturer's instructions. Finish by freezing the ice cream until hard or enjoy soft immediately.
Tried this recipe?
Tag @brandiego on Instagram so I can check it out!
1